Last week we finished a unit on US Government and Civics using The United States Government 7th-12th grade lapbooking unit from Knowledge Box Central. It was a great refresher for me and a super way to teach my children everything from the history of the Constitution to the design and procedures of our government to the rights and responsibilities we have as citizens.

This post contains affiliate links.
A Very Thorough US Government Unit
We should all be teaching US Government and Civics anyway, but in light of so many political issues in our country right now, it's extremely important to teach our children the fundamentals of how our government is supposed to work and what we can and should do about it when it isn't working like it should. (Sorry for the run-on sentence and the soap box.)
Our Lapbooks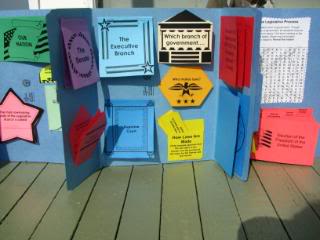 I've been a fan of elementary lapbooks for a long time, but I was skeptical about using them in middle school. Honestly, this particular lapbook knocked my socks off. It was a complete study of the executive, legislative and judicial branches of the government – and very thorough.
Final Exam
To be sure they understood the wealth of information learned during the unit, I gave the kiddos a US Government test. Mahayla scored 100% without help.  Caleb was allowed to use his lapbook when he came across a tough question.  With the help of his lapbook, he scored 100%, too!
Be sure to take a peek at our unit study and culminating projects on the Presidents of the United States, too!