If you're anything like me, art tends to take somewhat of a back seat to other subjects during the school year. So, I've decided to make an art center that will stay around all summer long!
I plan to fill it with all sorts of goodies, but only a few at a time. I'll change out the supplies every week or two to keep the center fresh and exciting. I'll also check out a couple of books on a new artist every couple of weeks to put in the center, too.
The center is in my kitchen (where we spend a lot of time!), with an old sheet underneath. There's plenty of wall space for the artists to display their work, too!
Here's what the first week's table looks like – a Picasso
book, colorful clay
, tie dye kit, oil pastels
and plenty of paper. I picked really colorful supplies because Picasso used lots of bright color in his art.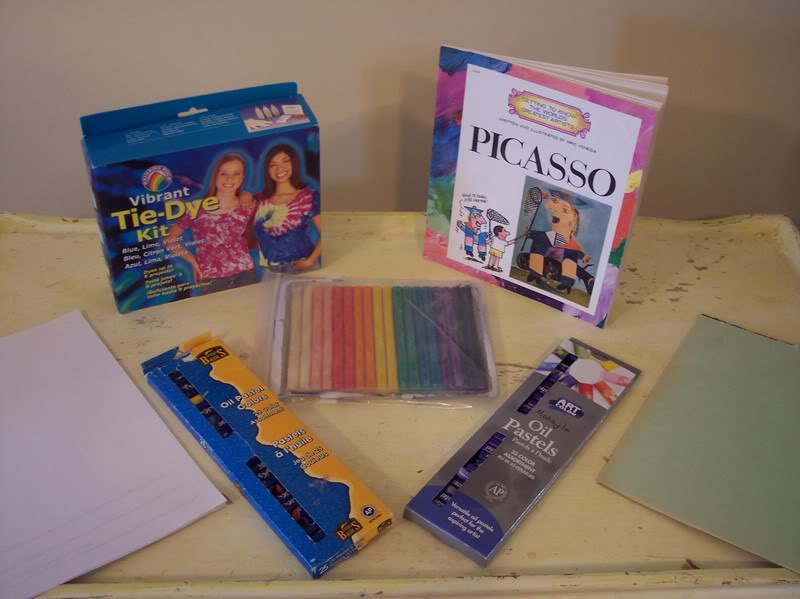 I don't know what other artists I'll spotlight just yet, but I have quite a stash of supplies on hand to use throughout the summer. Keep an eye out for art supplies at yard sales and Goodwill! I stock up on many things in July at the Back-to-School sales, too. I also use a lot of recyclables.
Whether young or old, I think all ages can benefit from an art center. Even if you school year 'round, you could easily incorporate this sort of center into your regular schedule.
You might be interested in our monthly artist studies, too!