The Tractor and the Giant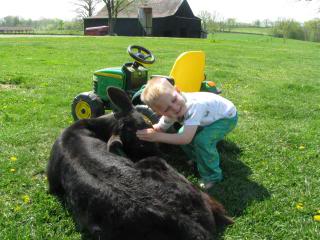 You may remember me telling you about our bottle fed calf that was truly a giant baby when he was born. Well, not only is he still a literal big baby, he's a figurative big baby as well! I've never seen a calf take to my children like this one. He follows them around the yard, sits on my porch (!!) and generally just hangs out like any normal pet.
The most curious thing is his friendship with Eli's tractor. If the tractor is in the yard, Giant is sitting beside it. If Eli rides around and drops it off in another part of the yard, Giant wanders over to sit beside it. If the tractor ends up on the porch, Giant comes up to the porch and sits beside it. He even loved up on it so much one day that he knocked it off the porch!
(If anyone has a hint about why my pictures are fuzzy, I'd love to hear it! They aren't at all fuzzy on my camera or once I transfer them to my computer. It seems to have something to do with uploading them to Photobucket. Any ideas??)