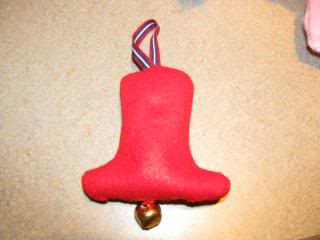 These turned out so cute, and they were fairly easy for a beginning to intermediate sewing project.
Draw the shape onto a piece of felt, making it about 1/4″ bigger than you'd like the finished product to be.
Double the felt and cut out the front and back pieces at the same time.
Decide which sides will face outward.  Go ahead and sew any buttons, beads or other small pieces onto each piece.
Place the fronts together so that you can only see the "wrong" sides.
Sew a straight stitch all the way around the felt, leaving about a 1/4″ seam.  BE SURE TO LEAVE 1″-1 1/2″ OPEN SO YOU CAN TURN THE ORNAMENT INSIDE OUT.
After turning the ornament inside out, fill it with popcorn sized pieces of batting until it's as fluffy as you desire.
Sew up the opening with a simple straight stitch.
The kids chose to add a little piece of embroidery thread afterward as a hook, but I sewed a ribbon hook into mine (bell) as I stiched around the edges.  My hook is much stronger and more attractive.