Life in a Brook Nature Study
Hello, NaturExplorers! Thanks for joining me for a wet and wild nature walk today. I'm Mrs. Cindy from No Sweat Nature Study LIVE and I'm excited to help you discover life in a brook today.
What is a brook?
Rather than a brook, you might call it a stream or a creek, but generally, a brook is a small body of running water that's not too deep and not too wide. Brooks are usually shallow enough to walk through and sometimes you can even jump from one side to the other.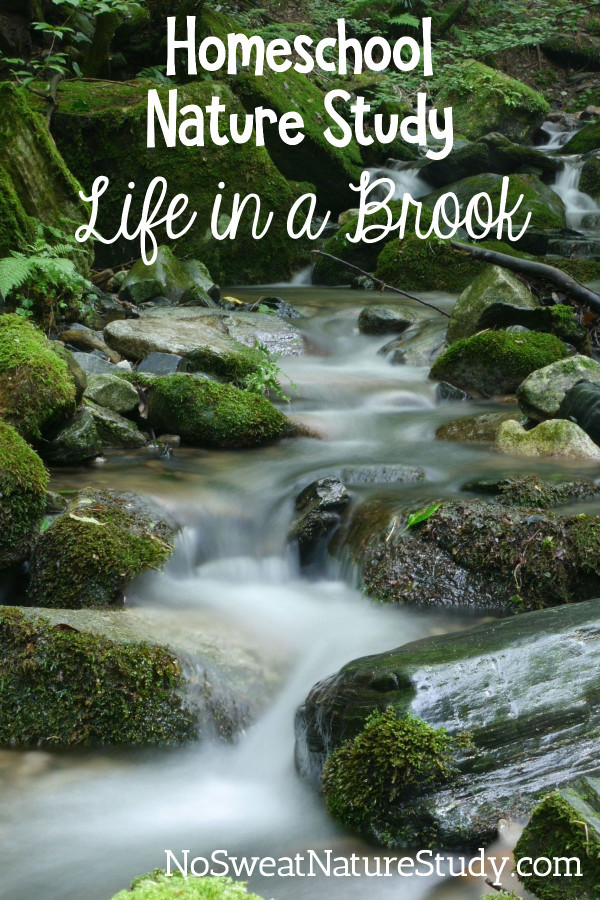 This post contains affiliate links.
Have you been to a brook before? We have a brook in the middle of our farm that winds its way eventually to a much larger and deeper creek on the back of the farm. That's the thing about running water – it's always going somewhere.
Brooks run until they dump their water into bigger creeks. Creeks run until they dump their water into bigger rivers. And, rivers run until they run into bigger rivers or lakes or the ocean.
Life Around a Brook
You would think all that running water winding this way and that might be a hectic place for plants and animals to live, but brooks can be a home for lots and lots of life!
Have you ever heard of the riparian zone? It's the area of land right next to the sides of any body of freshwater. That area is abundant with plants of all sorts. They grow so well because of all that wonderful water nearby. In the riparian zone, you can find grasses, wildflowers, shrubs, and trees – all providing wonderful shelter and food for plenty of animals.
As you can imagine, tons of animals visit brooks. They might stop by to find a hiding place in the plants of the riparian zone, enjoy a bite to eat, or, of course, grab a drink. Here are ten common animals you can find visiting a brook: blue herons, raccoons, deer, snakes, lizards, turtles, dragonflies, fox, muskrat, and even a cow.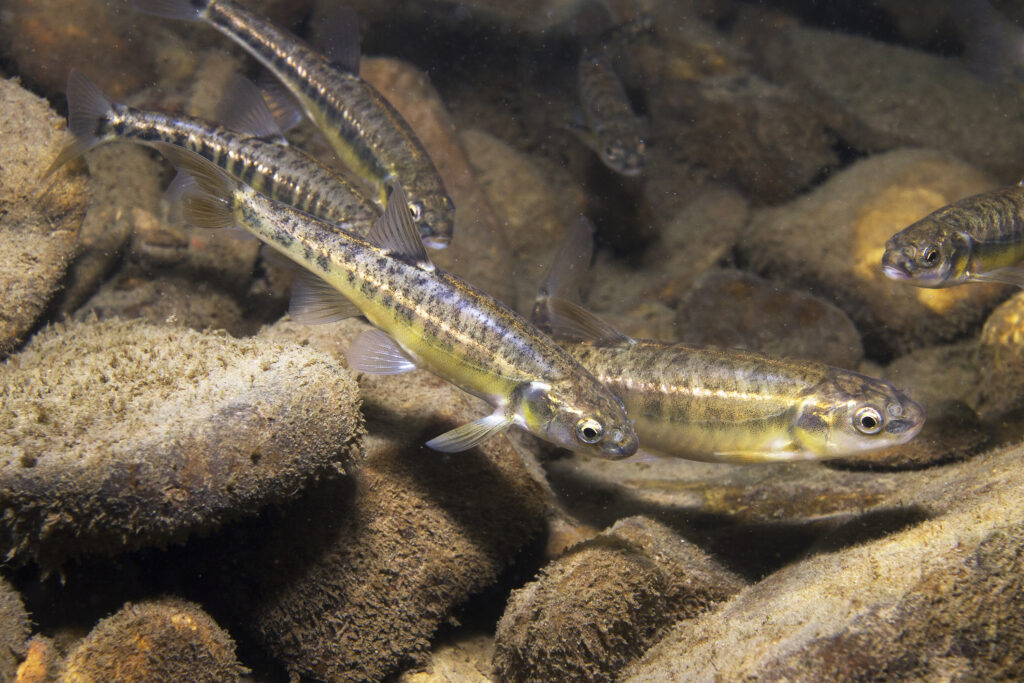 Life in a Brook
Whether you can see them or not, plenty of animals live in a brook, too! When you think of water, you probably think of fish. Fish do live in most brooks if the brook isn't too shallow or narrow. The term minnow is given to a small fish and those are what you typically find in a brook.
You can sometimes find snails, crayfish, and freshwater mussels in and under the rocks of brooks, too. Insects in every stage from eggs to adults can also be found in the water. Each of these four things – snails, crayfish, mussels, and insects – is an invertebrate. These aquatic (or water) animals have a special science name called macroinvertebrates. That's a big word. Let me say it one more time – macroinvertebrates. That's just a fancy name to say they are invertebrates (or animals without a backbone) that you can see without needing to use a microscope.
Macroinvertebrates are the opposite of microinvertebrates. I bet you can guess what microinvertebrates are? Yep, they are animals without backbones that you would need a microscope to see – and there are plenty of them living in brooks, too!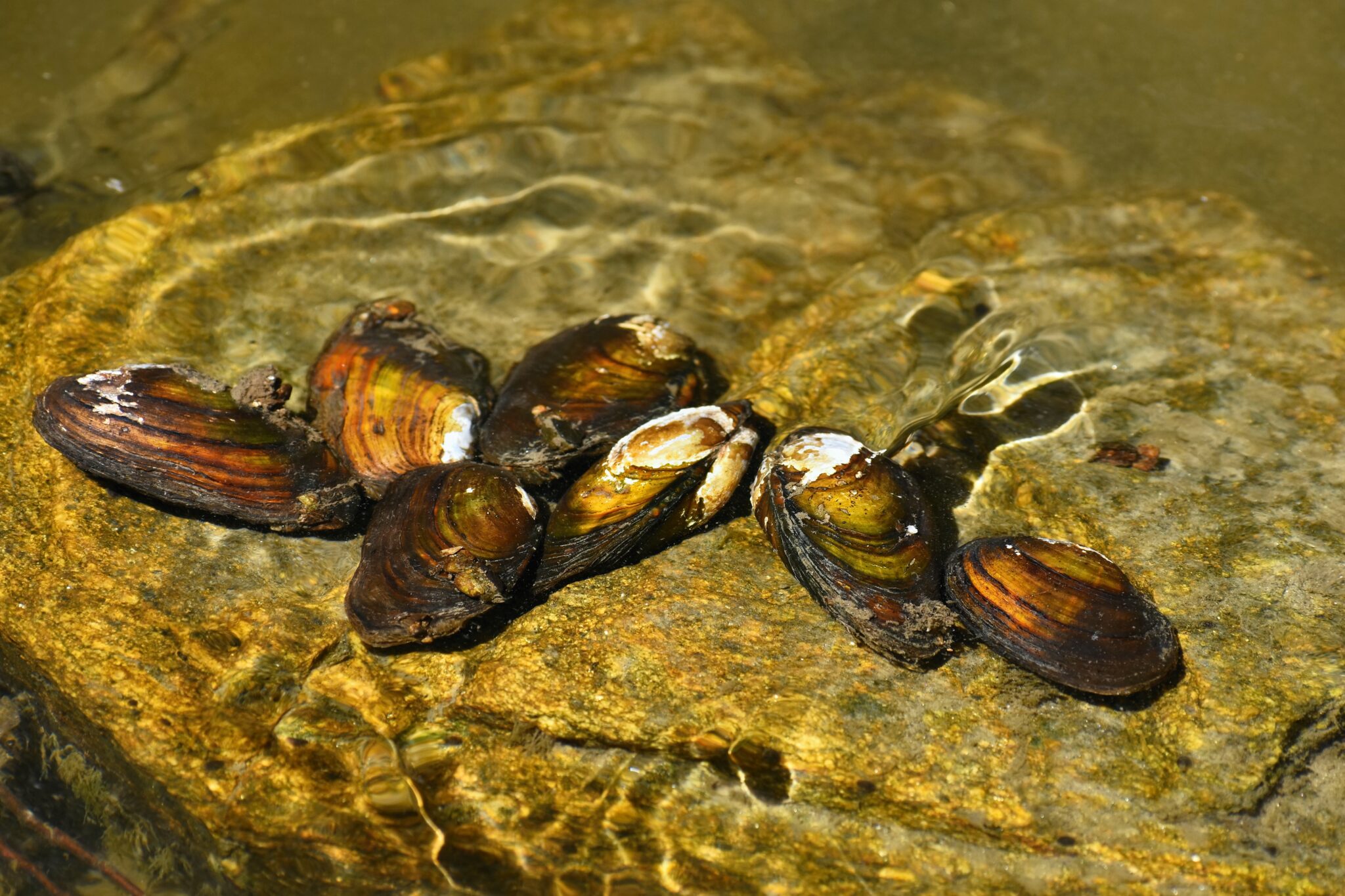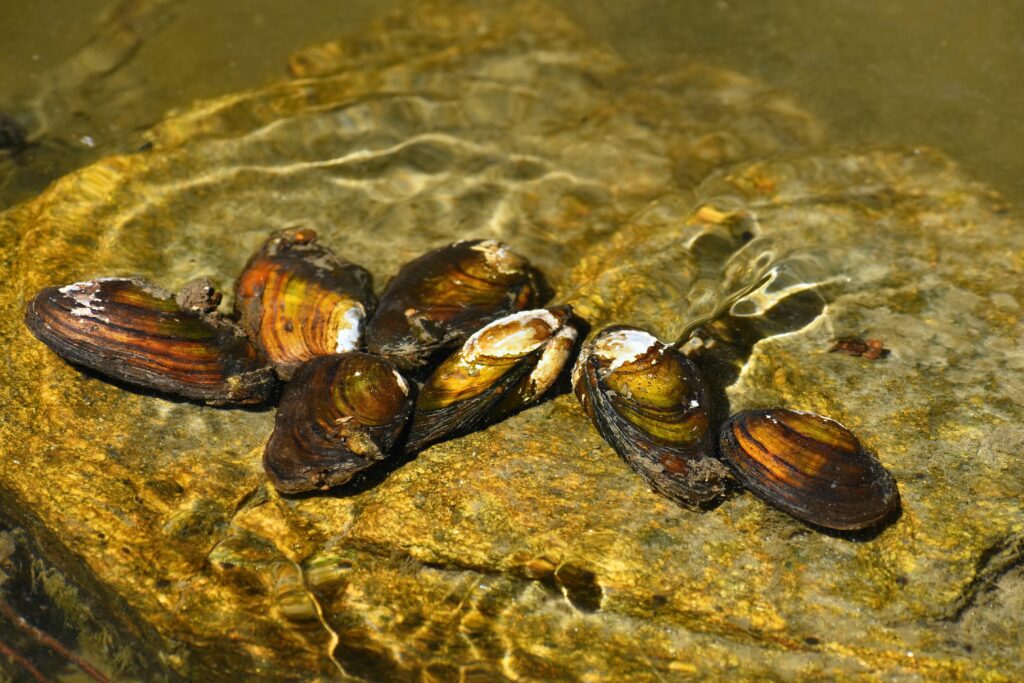 Homeschool Nature Walk Challenge
For today's nature walk challenge, I hope you can find a brook to visit. Something larger like a creek or river would work, too, but it sure would be nice if you can find a place where you can get close enough to observe the plants and animals in the riparian zone and maybe even splash around in the water safely.
Before we go any further in your challenge, I want to remind you that safety is always the most important thing when you're on a nature walk. Anytime you're around water, you need to bump the safety precautions up even more. Okay?
Before you go, grab your nature journal, some watercolors and a paintbrush, and a bottle of water. It will be helpful if you can pack a blanket or folding chair to be more comfortable as you paint in your nature journal.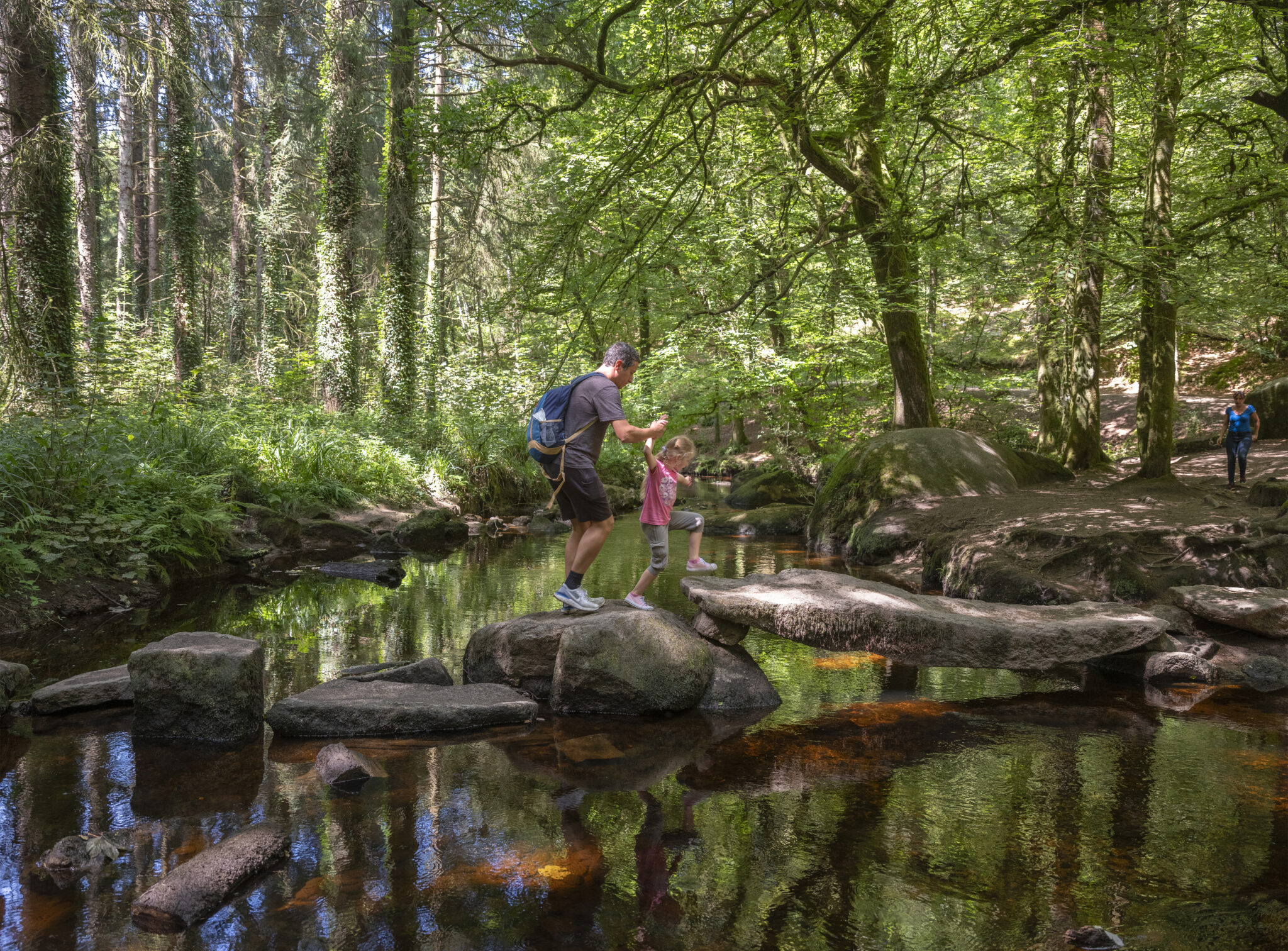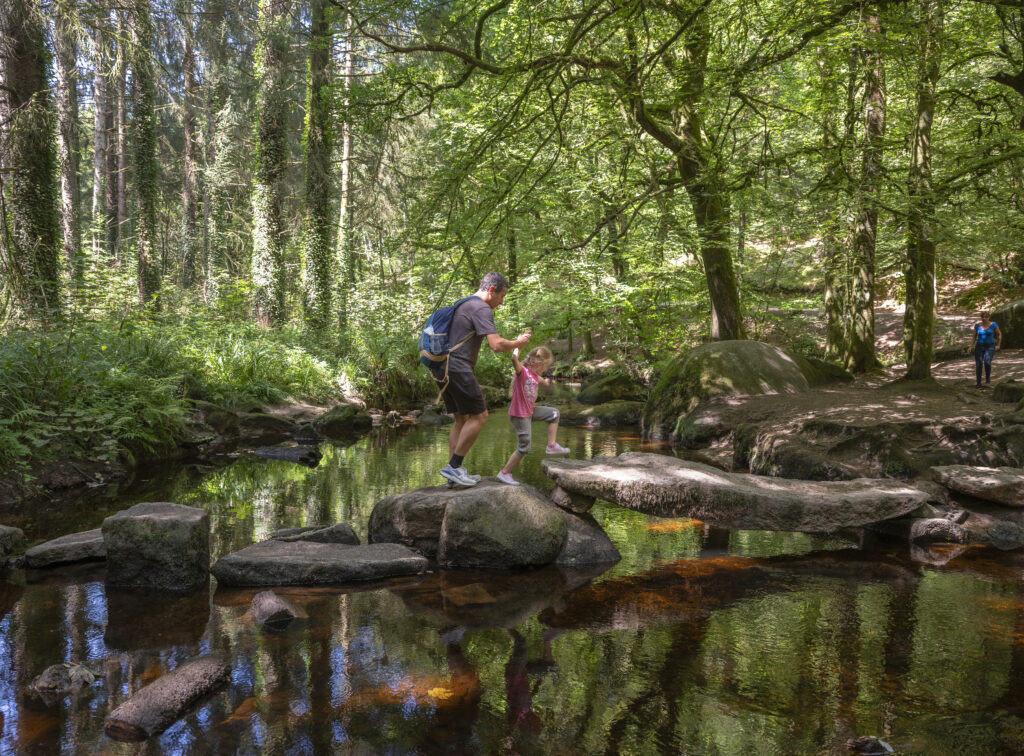 At the brook, it's best if you don't get in the water or stir it up with anything like a stick at first. In order to observe the life in and around a brook, it's easiest to simply sit nearby and watch for a little while. Notice the movement of the water. Watch for animals moving around in the riparian zone and in the water and notice the different types of plants.
Take out your watercolors. Use the water in your bottle to wet your paintbrush and paint the scene you see. Try to capture any bends in the brook created by the movement of the water and then add whatever flora, fauna, and even rocks that you see. Do you remember what flora and fauna are? Flora means plants and fauna means animals.
After you've finished your nature journal page, feel free to play around in the brook if it's entirely safe and if you have permission.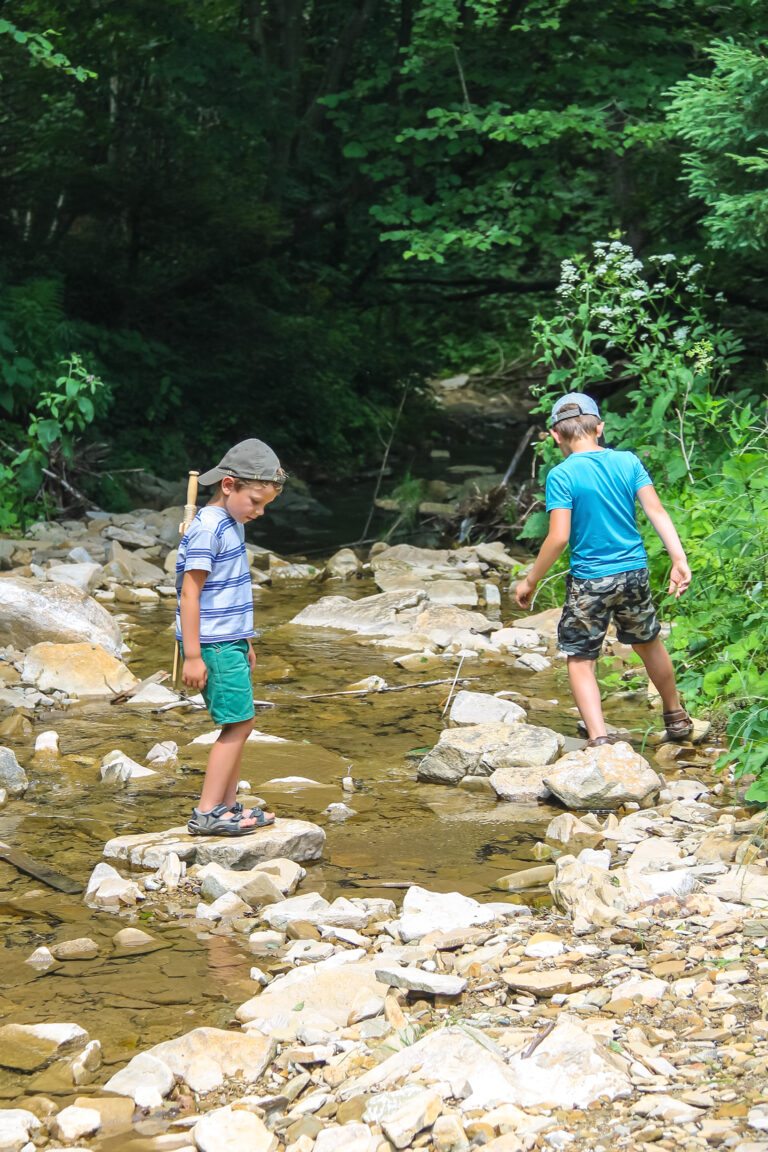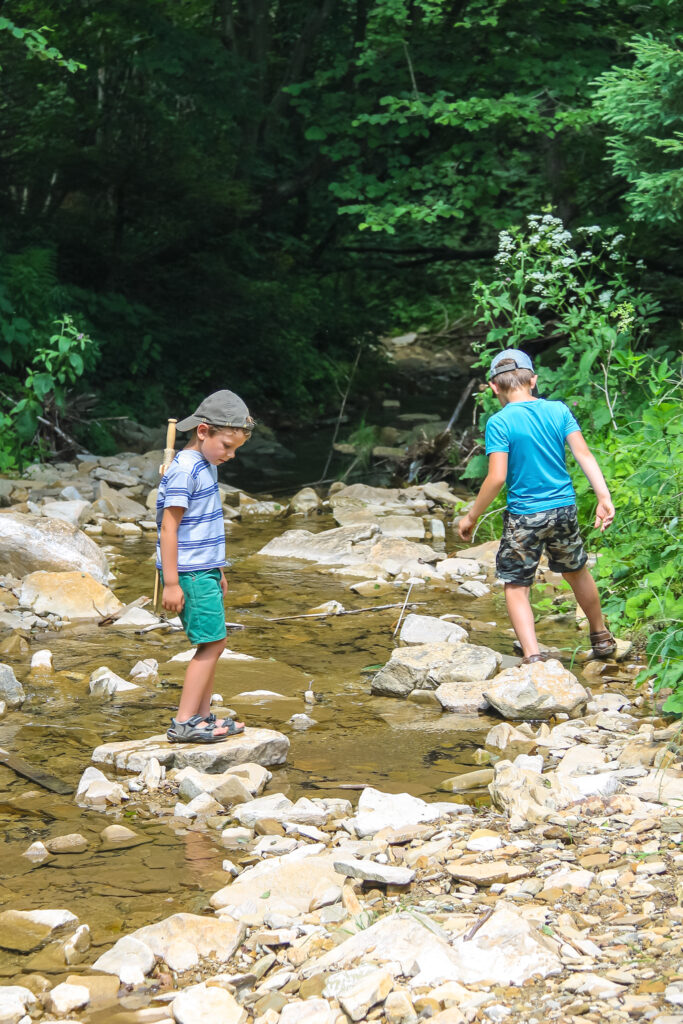 Have fun visiting a brook! Next week, we'll be looking upward to the night sky as we learn about the stars of summer. Until then, happy nature exploring!
Nature Study Curriculum
Life in a Brook Resources
Please leave a rating or a review on your podcast app! It helps the podcast to show up for more people…which means more families can enjoy science through the wonderful lens of nature study! Thank you!
Would you like to record a voicemail to answer this season's nature study question?
At the end of each No Sweat Nature Study Podcast episode, Mrs. Cindy includes messages from a few of her friends. You have the opportunity to record a message that she might use on an upcoming episode!
All children must have their parents' permission before leaving a recording. Parents are welcome to record an answer, too!
Each season, there will be a different question to answer. You can see this season's question below. Think about your answer first and then follow these simple directions:
Click the button that says "start recording".
Tell me your first name. (If you want to tell your age and/or where you live, feel free to do that, too.)
You will have 60 seconds to answer the question, but try to be concise.
Push the play button to listen to your recording before sending it to be sure it is recorded properly. If not, simply record it again.