Lessons at Blackberry Inn
Ah, it's summer break and I've finally found some time to nourish "mother culture".  Charlotte Mason encouraged momma's to dive into living books, too!  If we're truly encouraging the idea of a lifelong love of learning in our homes, then we must also love learning.  (I must admit that my "selfish" moments of "learning" are far more enjoyable than they should be!)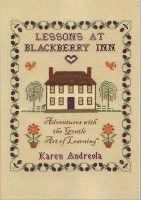 In Lessons at Blackberry Inn: Adventures with the Gentle Art of Learning Karen continues the story of Carol and her depression-era family that you might have originally met in A Pocketful of Pinecones.  If you haven't met this precious family already, it's okay.  You won't need any other introduction besides what you find in the pages of Lessons at Blackberry Inn.  (Although, A Pocketful of Pinecones is wonderfully nourishing as well!)
In A Pocketful of Pinecones, Carol (the mother) and her children embark on their first year of homeschooling.  Carol chooses to follow Charlotte Mason's principles and prepares gentle, meaningful lessons.  In Lessons at Blackberry Inn, Carol and her children embark on their second year of homeschooling with this gentle approach.  Woven throughout the storyline you will find much instruction about how to implement such a style of teaching – everything from poetry, composers and picture study to reading, history and science lessons, and even field trips, chores and handiwork.
Karen has done a brilliant job of weaving an example of Charlotte Mason style homeschooling into the rich storyline that will entice you to keep reading.  Just like a Charlotte Mason education doesn't start and stop on the clock, but is intertwined with the daily happenings of life, so this book includes all of the happenings of daily life.  Through the family's work at a bed and breakfast, the husband's job at a canning factory, the need to help the church for a time and the introduction to a mysterious guest you will watch as continual learning and Christian character are a part of every task we do.
Carol, the main character, must overcome a few obstacles along the way, too, much like some of the obstacles we face.  She finds herself having to work very hard while pregnant, being discontented with her living situation and having to love those who might be unlovable.  I think this theme stuck out to me above all the others – nothing in this world will ever be perfect, yet we must put forth our best effort with as much joy as possible in order to live a life of contentment.  At the end of a busy, busy homeschooling year, this book was truly the heart lightening refreshment I needed to remind me why (and how) I homeschool.
Thank you, Karen!