Kindergarten Complete: All-in-One FUN Unit Study Curriculum
The new school year is just around the corner! Parents of kindergarteners (or smarty-pants preschoolers), I've found a fun curriculum that you're going to want to check out!
(I received a copy of this curriculum for free and was compensated for my time spent reviewing it. As always, I only share my honest opinions. This post contains affiliate links, too.)
Save time with Kindergarten Complete
In the early homeschooling years, I like to pull together mini-units that last about a week and cover all sorts of topics that interest little people. Preparing mini-units takes time. Time to decide on the topics. Time to search for meaningful learning activities. Time (and money) to print off all the pertinent printables I find around the web. Time to search for living literature to go with the theme. Time to organize the lesson ideas to make sure I've covered a wide range of academic areas.
Lots. of. time.
If I had kindergarten to do all over again, I'd save my time because Debra Arbuthnot, MEd., author of Kindergarten Complete, has done ALL the thinking for me!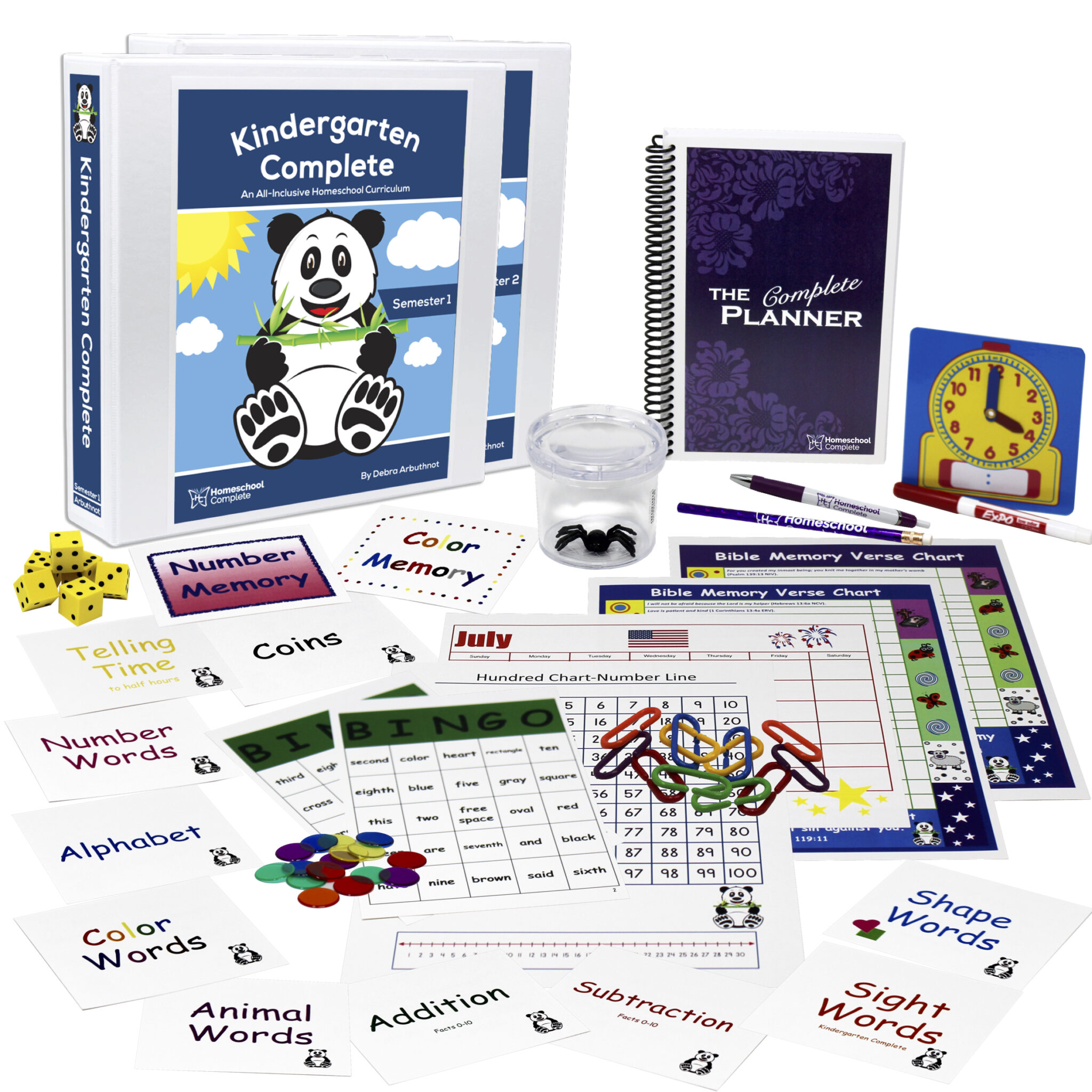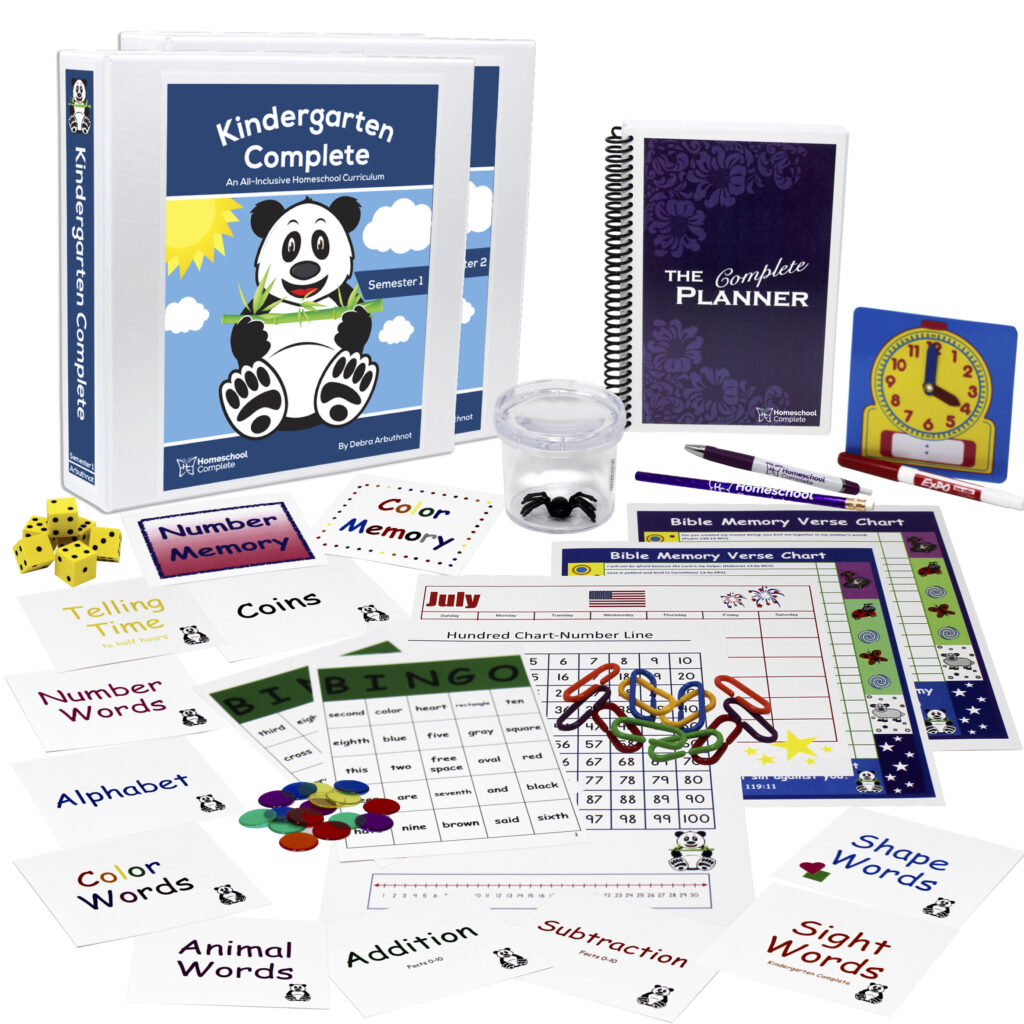 Kindergarten Complete is just what the name implies – a complete kindergarten curriculum.
Thirty-four weekly, thematic units cover all academic areas with fun and meaningful lessons. Simple teacher notes tell you exactly what to do each day and all the printables are included.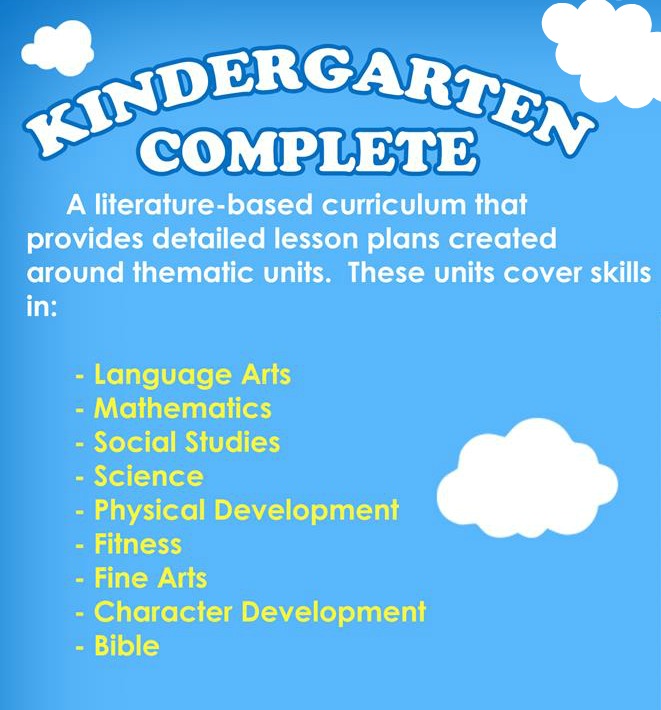 Everything, really?
You will need basic supplies (that you likely have around the house already) for some of the activities. Things like playdough, balloons, yarn, paints, and popsicle sticks will be used for crafts and as manipulatives for various lessons.
You will also need to supply reading books. This is easier than it sounds, though, because living literature lists are provided for each week and most are easily found at your local library.
The curriculum includes daily flashcard practice. You can easily make the flashcards on index cards, or you can purchase the full year bundle which includes all the flashcards you'll need through the year.
Other than pulling together those few things each week, yes, one thick binder per semester includes everything else you need. Really.

What's in it for the children?
What four to six-year-old wouldn't enjoy learning about fun topics like farm animals, transportation, insects, the five senses, the solar system, all the holidays, and more? Besides attention-grabbing topics, children will love the colorful worksheets – and the fact that there are only one or two worksheets per day. The other lessons are hands-on or conversational or game-like or manipulative-based or musical or active or a mixture of all of these!
I'm telling ya, this is exactly how I would write a kindergarten curriculum!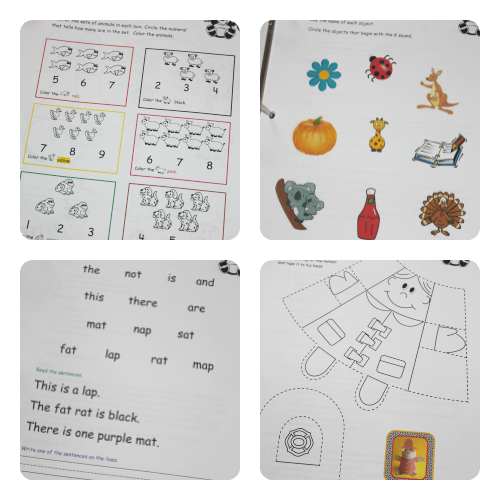 Is it thorough?
Kindergarten Complete is fun and will grab the attention of 4-6-year-old children, but does it cover necessary kindergarten skills, and are the activities both meaningful and meaty? Yes.
There are two sides to my perspective on kindergarten. The first is that "school time" should be minimal for little people. And the second is that the time actually spent on "school work" should be meaningful and worthy. I've found Kindergarten Complete to meet both those criteria.
All the activities for the day can be easily completed in about an hour. Wait a minute! Don't gasp and move on to another website! An hour of focused school work is plenty for young children. That doesn't mean you can't read together, cook together, take nature walks, complete puzzles, play games or do other life & learning activities throughout your day. It just means that you really can get in all the math, phonics, and other academic "school work" in a fairly short amount of time with four-six-year-old children.
Daily, the lessons include:
Calendar time (which also includes things like poetry, songs, and pledges)
Math activities and a worksheet
Language arts activities including one or more of the following: phonics, sight words, handwriting, reading comprehension, or vocabulary development
Bible lessons, Bible memory, and/or character lessons
Art, Music or Physical Education
One (or more) enrichment activity such as an experiment, game, or craft
Storytime
Debra has included a lengthy scope and sequence list that shows all the skills covered over the course of the year. As a certified teacher myself, I feel confident that the skills list is quite thorough. It can even serve as a checklist (report card of sorts) for you to mark when skills are mastered.

What's the cost?
There are several options for purchasing – per semester, curriculum only, full year bundles.
Each semester's material comes in a two-inch-thick binder that is chock full of everything you need. Remember that you don't have to copy even one worksheet! Week-by-week, you have all the lesson plans and worksheets for 34 weeks of school (if you purchase both semesters.)
All the pages are printed in color. At an office supply store, you would pay approximately 59¢ per color copy page. There are at least 300 pages per binder, some of them front and back. You wouldn't come close to the same cost if printing the pages yourself.
Each day's lesson plans and worksheets are organized together in a three-ring binder so you have all you need for the day right in front of you. Not to mention, the three-ring binder format allows you to easily remove student worksheets or entire lesson plans if you need to do school on the run. Convenience is the key.
Besides a tad bit of preparation time in gathering the few materials and books you need each week, this curriculum is worry-free and easy to implement.
Enjoy your little ones and have a great kindergarten year!
Homeschool Complete is now available as a full elementary homeschool curriculum for Kindergarten through 5th Grade. Each year of the curriculum contains everything that was included in Kindergarten Complete — Teacher's Manuals, Student Workbooks, Skills Lists, Lesson Plans and much more.
Other Posts You Might Like