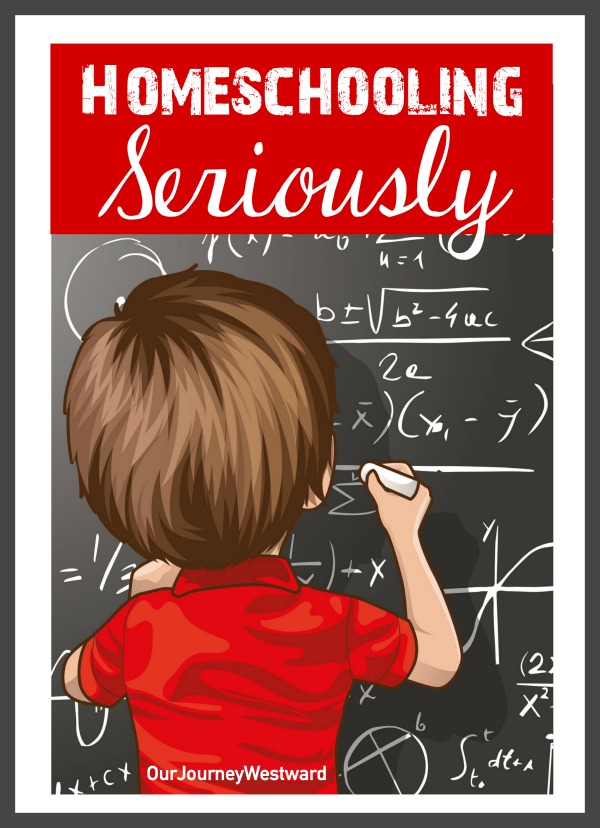 "My child will never have a job where he needs to know algebra.  We're just teaching consumer math and being done with it."
"I know God isn't preparing my child for college, so I don't plan to worry too much about high school requirements."
"As long as my kids know the Lord, the rest of it doesn't really matter."
"Neither my high school children or I are interested in history.  I think we're just going to do a quick lapbook (*written for elementary students) and count it as a credit."
"My kids give me so much grief about science that I've decided to stop teaching it for now.  It's just too hard to fight them."
"I know I need to get more serious about school, but ball practice two mornings a week, ball games at least one or two nights a week and co-op classes on Monday afternoons are really messing up my schedule.  We're trying to fit school in, but we're so behind."
"God will fill in the gaps."
Above are actual comments I have heard within the last four months.
They concern me.
---
Read or listen to this post!
---
Homeschooling Seriously
I am a homeschooling parent.  A parent who is responsible for teaching my children about the Lord and preparing them for their futures.  I take those responsibilities seriously – as should every single parent who decides to call herself or himself a homeschooler.
Believe me when I say that I am all for creative learning!  If a certain curriculum isn't working, I don't hesitate to switch.  If one of my children learns better in a hands-on way, I will try to honor that through the assignments I dole out.  If a certain subject just doesn't jive with a particular kid, I'll try to make it as painless as possible.  If I personally can't stand a subject (or don't know enough about it), I'll find other "teachers" – like field trips, documentaries or co-op classes – to fill in for me.
And, most importantly, believe me when I say I'M NOT PERFECT.  I say yes to way too many events and find schoolwork taking the back seat sometimes.  I get lazy about planning and executing lessons sometimes.  I feel like I'm in uncharted territory with a high schooler and often wonder if I'm on the right course…
Also, I don't have perfect children who absolutely love each and every task I assign.  Hardly! There are days when I would much rather give up than deal with another whine.  There are days I HAVE given up in place of dealing with another whine!
But, I am their teacher.
Because it is my responsibility to teach them – and their responsibility to learn, we keep on keepin' on.
While I DO believe God will fill in the gaps, I also believe that it would be unfair for me to assume my role as teacher is meaningless.  Yes, He could choose to fill my children will every bit of knowledge they need, but why would God have given me such an honorable task if He didn't expect me to do something with it?
And, while I DO believe each child has gifts and talents, sometimes very obvious, I think it's very prideful of me (or my child) to assume we KNOW what God has prepared for the future.  In other words, why wouldn't I prepare my child with at least a college-bound education so that God can do whatever He plans to do?  If college isn't in the future, will it really hurt my children to have the extra education?
In fact, whether college-bound or not, Christians should be fully able to carry on an intelligent conversation about apologetics, world history from a Biblical perspective, or political-Christian issues, for example.  If not for changing the world, maybe such conversations will be part of bringing people to Christ.  In any case, our children will need to be able to stand strong against the wily devil and his schemes – no matter what their future "work" becomes.  And when standing strong against the devil, it never hurts to be "smart" about the things of this world.
Homeschooling is a serious responsibility.
Don't misunderstand me.  I'm not touting academics above discipleship of your children.  Nor am I saying academics come before opportunities to be the hands and feet of Christ in a very thirsty world.  I'm simply encouraging you to take homeschooling seriously.  All parts of it.
I'm encouraging you to realize the awesome responsibility you've been given and honor the Lord with it.  To give you a pep talk as you begin to prepare for a new semester.  To remind you that you can never do any of it in your own strength, but only through constant prayer and guidance from the Lord.  Ask Him how you're doing.  Ask Him what He needs you to work on.  Not only will He give you the answers, He'll supply the strength!
Overachievers, hear me.
Some of you over-achievers are going to read this and think I'm talking to you.  I'm not!  In fact, I might actually advise you to back off a bit.  Give yourself and your children a break.  You know who you are!  Others will start comparing themselves to everyone else.  Don't.  If you're following God's leading, it won't matter what everyone else is doing.
Most of the homeschoolers I come in contact with are doing a GREAT job!
I'm proud to be among such a God-honoring, high-achieving, creative group of people.  I wouldn't want to give the impression that homeschoolers in general have a lackadaisical attitude.  I have written this article to the few who need to hear it and to encourage the rest of us in our resolve.
I gave this homeschooling seriously talk as part of a devotion during a speaking event recently.  It was well-received there and I pray it serves to encourage here rather than stir controversy.  I welcome all comments, though, whether you agree or not.   
You may also be interested in:
 Legalism in Homeschooling Methods
 10 Reasons I'm Thankful for Homeschooling
 Homeschooling Middle School
Homeschooling Seriously has been linked to: