For those of you who know Melissa from blogging, consider yourselves blessed. But, if you're lucky enough to know her in person, how much more blessed you are! It was such a treat to spend time with her last week. Not only that, she took on all three of my children while I spoke at the THINK meeting AND hosted us overnight so we didn't have to drive home late. Thank you, Melissa. I know I owe you one for sure! (Toddlers who know how to escape out of the house are so much fun, aren't they??)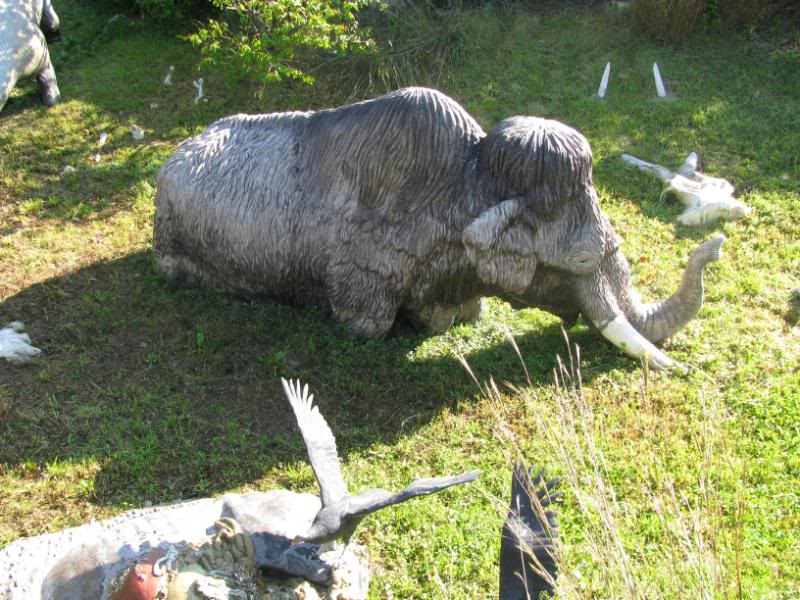 On our way home from Melissa's Wednesday morning, I spied a sign for Big Bone Lick State Park. It had been so long since we'd been there, I decided to take an impromtu field trip. This is a place where bison, mastadons, wooly mammoths and the like came for salt many years ago. Of course, that means Native Americans and explorers found their way to the area as well. We even found (and smelled) a sulphur water spring that became a supposed "healing water" hot spot in the early 1800's. If you can't tell, the water is almost a creamy white coming out of the spring.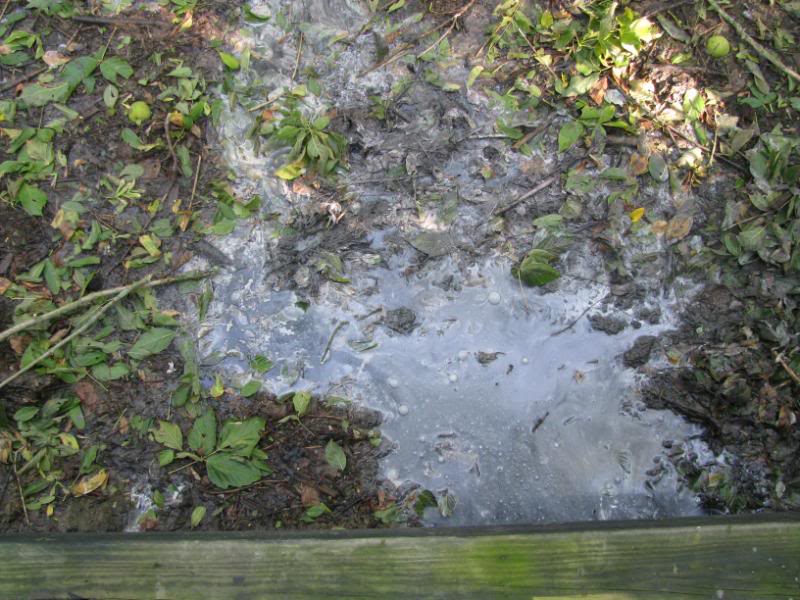 Answers in Genesis has really helped me to be prepared to speak to my children about "millions of years" when we're at a place like Big Bone. Nearly everything we read talked about the animals roaming the land 300 million years ago, when SO MUCH proof was right in front of our eyes that pointed to a world-wide flood. Imagine, they found fossils of sea-like creatures smack-dab in the middle of Kentucky?? Imagine, large deposits of salt were found in Kentucky?? I'm so proud that my children can point out the obvious. They do listen to me!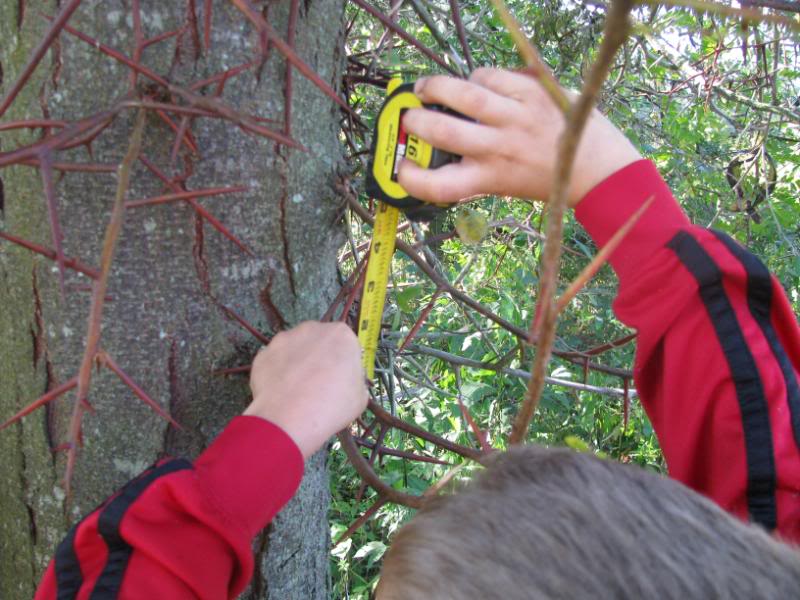 Notice the tape measure in the two pictures above. Caleb just happened to bring along a tape measure and binoculars on our trip. When I asked him why in the world he would have packed those things (not having a clue we were going to do any sort of nature study), he said, "Well, you never know when they might come in handy." Indeed they did! (I wonder what else he had packed!!)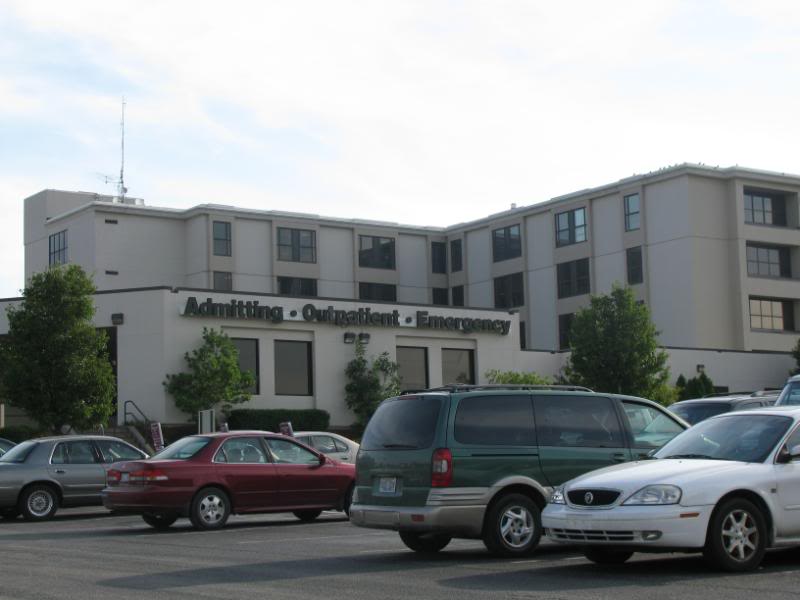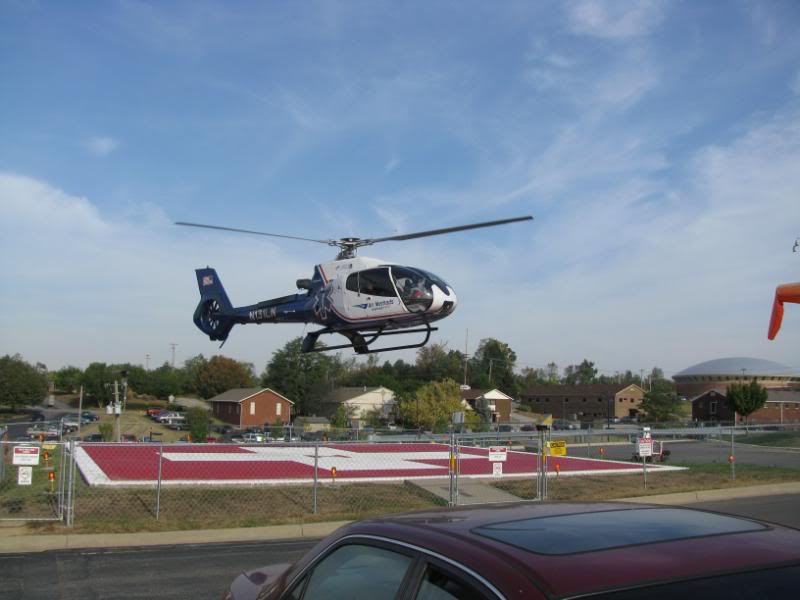 We were again blessed later in the week when my parents took care of the kiddos and hosted us overnight so I could talk at the CACH meeting. On Friday, we were able to talk my Dad into a tour of the lab in the hospital where he works. We're studying Christian Kids Explore Chemistry
this year and seeing all the lab equipment, chemists and live "experiments" in person turned out to be a great visual for the kids. (My dad used to be the lab manager and I remember spending many a day watching all the lab techs do their work. I only wish the lab were as safe now as it was then. I was probably over-protective, but I didn't want to take any chances with all the lovely things hospitals deal with now-a-days.)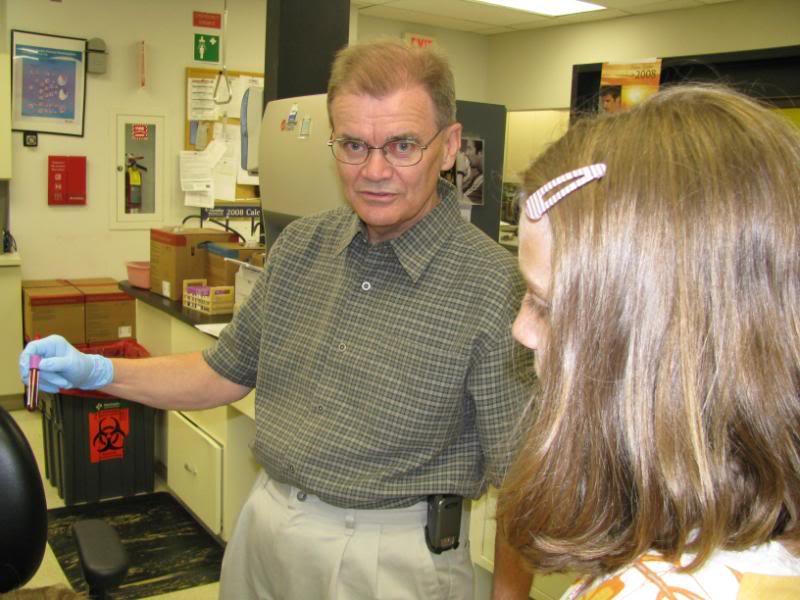 The coolest part by far was the pathology area. The pathologist was in and gave the kids an awesome look into his world. We watched him dissect gall bladders, tonsils, colon polyps, knee shavings and more. He even offered the kids a chance to open up a gall bladder. I think the picture below shows their answer best.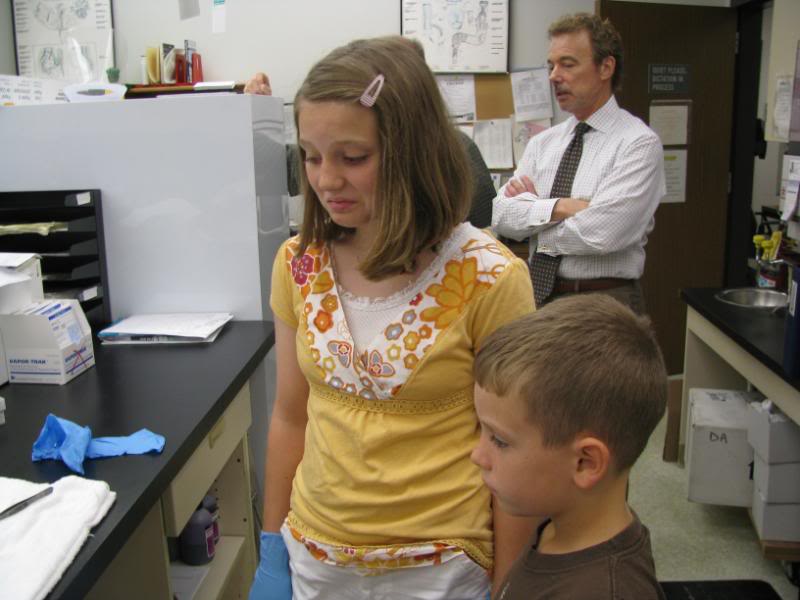 Okay, so I might not have a pathologist in the family, or a med tech, or anyone who goes remotely near a hospital on purpose. God knows what He has in store for them and I'm excited to see what awaits!
We had a busy week, but it was a good one! And by the way, Happy Birthday, Daddy!!
And thank you VERY much THINK and CACH for allowing me to come visit with your groups. You are both full of very friendly and encouraging ladies (and gentlemen.) It was a complete joy for me to share my heart with you. :o)