Help! My Child is Devouring Homeschool Curriculum!
Almost nothing gets a homeschool mom's heart racing like the sight of a brand-new curriculum, stacked clean and neat, ready for a new year of learning. We've done the research, placed the orders, and planned out the next several months, complete with themed weeks, finale projects, and even a few well-timed field trips.
The butterflies and beating pulse that come with a new year, new books, blank pages, and a tidy planner… sigh. Top that feeling off with a sniff of the new books and the spine crack of an unopened text, and the beginning of the school year is downright intoxicating.
But, as veteran homeschoolers know, it often doesn't take long for that color-coded calendar to need some tweaking, re-arranging, or maybe even brand-new pages altogether. Some lessons take longer or someone gets sick and before you know it you've fallen behind schedule. It's a scenario we can all relate to and generally have enough grace to push through.
But what about when your plans are destroyed for a completely different reason? What happens when your carefully planned schedule is blown up not because you need to catch up, but because you can't keep up?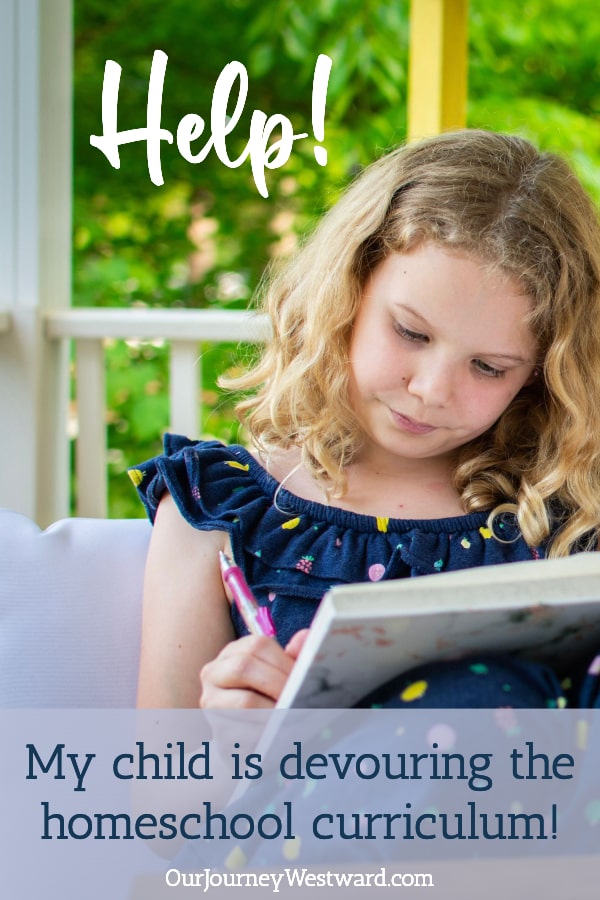 This post contains affiliate links.
Devouring Homeschool Curriculum
Some kids, one of mine included, are pros at devouring homeschool curriculum. They eat history texts for breakfast or snack on math concepts before bed, smashing the best-laid lesson plans to smithereens. Whether it's due to giftedness, excitement, enjoyment, or just quick learning, sometimes the kids we've so carefully outlined the curriculum for just gobble it up before we have time to adjust.
What is one to do when faced with a hungry learner, when your plans – and budget – have allotted for a years' worth of use out of a curriculum that only takes a month or two to finish? How do you proceed when it seems like you're trying to fill a bottomless pit?
Tips for Kids Who Move Quickly Through Curriculum
The most expensive option is to simply get more curriculum. But, it's not always financially feasible to just keep buying more and more books and programs and kits, oh my!
Curriculum, as you know, can get pretty pricey, so simply ordering a few grade levels worth of material at once isn't always an option. You can, however, check out Facebook groups that offer used curriculum for buying, selling, and trading – or tap into your homeschool co-op to see if anyone has extra-curricula to sell.
There are lots of options besides moving into the next level of a curriculum, though!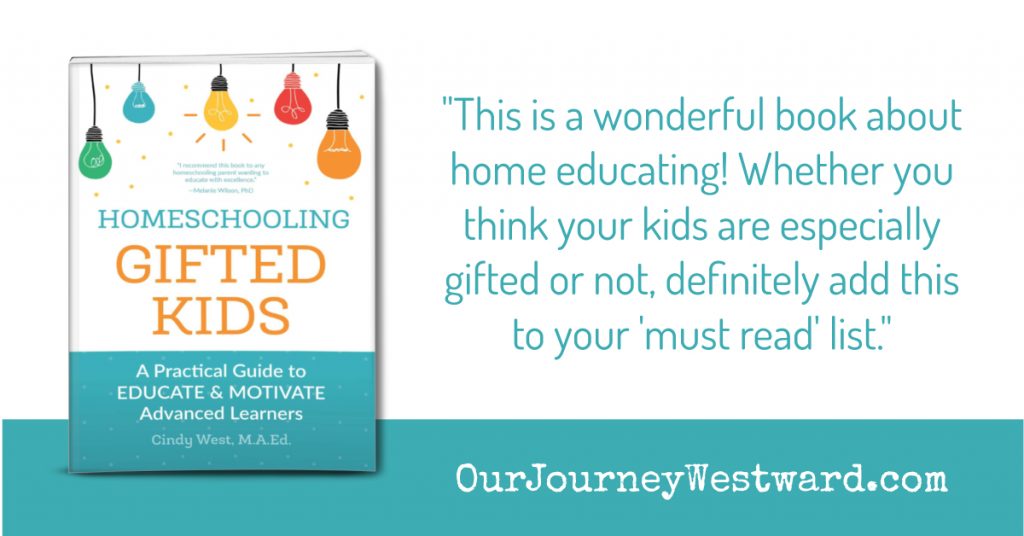 Go Deep and Wide Instead of Devouring Homeschool Curriculum
The best way to handle a child who devours curriculum, in my experience, is to go deep and wide. Instead of powering through and checking off boxes of what's next, spend time learning all that you can, beyond what is expected or typical.
Rather than simply tacking on more and more in an attempt to feed the unending educational hunger, find ways to stretch a topic for all its worth. History is one of my daughter's favorite subjects. She could never seem to get enough history, and no single curriculum was ever enough for her.
What might I have done if she had, for example, finished a medieval history curriculum way too early? Oh, the possibilities! We could have taken a deep dive into almost any topic – the feudal system, knights, medieval architecture, games and hobbies from the middle ages, plagues, medieval weapons, and warfare techniques.
Learning deep and wide can include books, videos, field trips, hands-on activities, research-based projects, and more. For instance, visit a renaissance fair, make your own chain mail, try several medieval recipes, create stained glass art, write on scrolls, learn about heraldry and make your own coat of arms, or use ink from berries to write your an illuminated manuscript.
With just a little thought and effort, there are so many "extras" you can do to make learning go deep and wide. You might be surprised at how much more real learning takes place during a deep dive as compared to a quick run through a curriculum, too.
One of my favorite ways to reduce my responsibility load for planning all of the extras is to use project-based learning.
More Ideas For Depth and Breadth in Learning
Some curriculum companies offer extension options on their websites for further study or extra challenges. Websites like Teachers Pay Teachers also have a plethora of extension ideas and supplemental activities that you can tack on to what your children are already doing. And, of course, there's always Pinterest to browse for extension ideas!
If you're fortunate enough to live within driving distance of museums, pay attention to temporary and permanent exhibitions that might supplement what your family is learning. Is there an art museum displaying medieval art or a children's museum where you can build a castle from blocks, for instance? Some museums offer special cultural days, half-price admission days, and even family events, so be sure to keep an eye on their calendars to take advantage of everything they have to offer!
Community colleges and universities can be a great resource for education-hungry kiddos. My children have attended plays and musicals, sports, and summer STEM camps for kids at nearby colleges. See if they allow public viewing of research experiments. We once toured the experimental agriculture farms at a nearby university with a very insightful tour guide! You could even try emailing a professor for their own suggestions on further reading, ideas for what could pose a greater challenge, and generally how to go deeper and wider.
Other community resources can be extremely helpful with depth and breadth of learning, too. For example, our 4-H program has offered special workshops and classes for homeschoolers in all sorts of academic areas like gardening, home economics, arts and crafts, life skills, community service, and even STEM.
Your local library is another budget-friendly way to augment learning. In addition to reserving books and documentaries that compliment your chosen subjects, many libraries offer various opportunities such as interest-driven clubs, writing contests, and guest speaker events. Our library has offered single classes and semester-long classes on topics like art, writing, author studies, research, math puzzles, STEM, robotics, LEGOs, and even cultural studies!
Extra Subjects Can Add Depth and Breadth
It may sound like a lot of extra work to ADD more things to the daily schedule, but I've found that children who devour curriculum generally love more challenges across the board. Adding extra subjects slows them down a bit in devouring homeschool curriculum while offering a much richer learning experience overall.
Consider adding a subject or two that will stretch thinking like logic and critical thinking, vocabulary, foreign language(s), or apologetics. Surprisingly, even nature study has a high potential to stretch thinking because of the higher-order thinking skills it inherently encourages.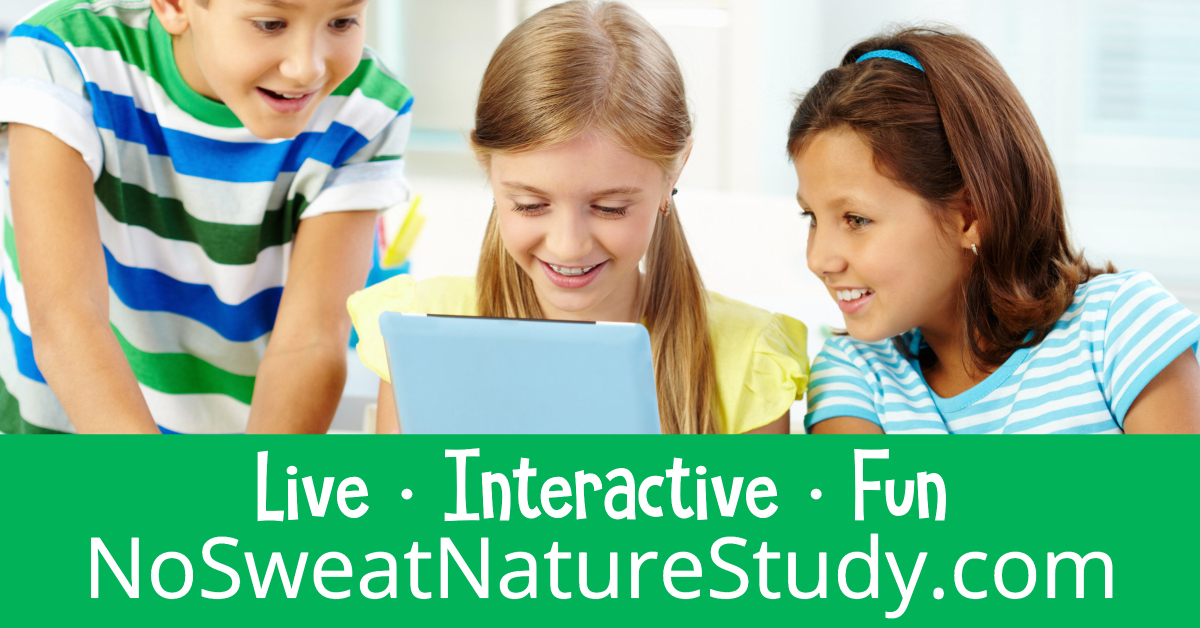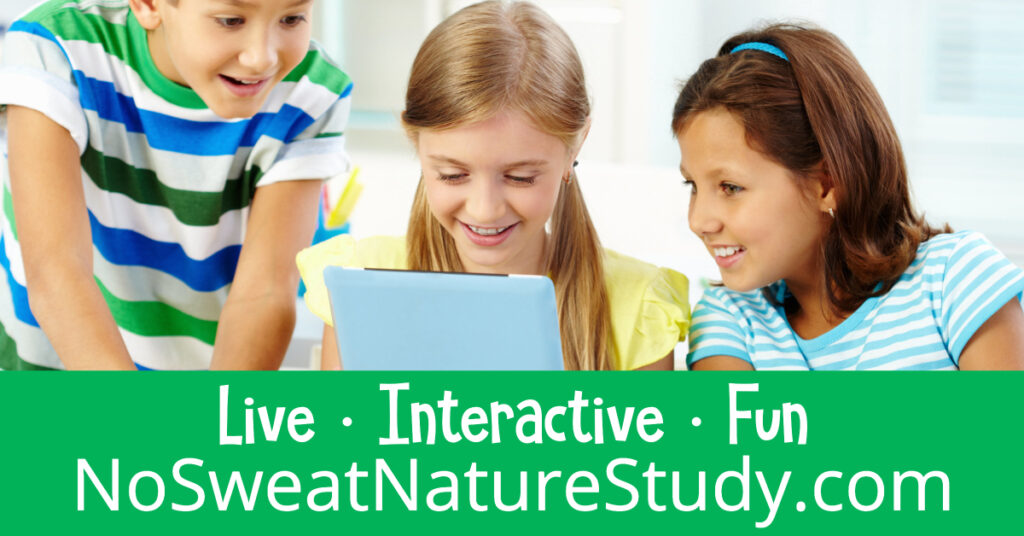 Allowing students to choose learning based on interests is always a good option, too. Self-led unit studies, project-based learning, tinkering, formal lessons in something like music or sports, etc. are fantastic for hungry learners to take some of the reigns to satisfy their own hunger without adding too much burden on yourself.
If you have a child who seems to devour curriculum, who can't make a year-long program last a month, who you feel you just can't keep up with, don't worry. You're not destined to go broke buying books and you're not supposed to take that as a sign that homeschooling isn't enough. Just take it as an opportunity to learn outside of the curriculum, beyond the pages of textbooks, and from multiple different sources.
Your brilliant kiddo who is flying through a homeschool year isn't a challenge to be reigned in or slowed down, he's an opportunity to open up a world of learning that will fascinate him and last longer than whatever was on those pages he devoured. If your children are completing their work at a break-neck pace, they're simply making more time for you to explore the subject – and the world – together.
Homeschool Masterclasses You Might Like
Blog Posts You Might Like