4-H Sewing Class and County Fair News
I LOVE 4-H! We have awesome extension agents and helpers who are very serious about helping kids learn! Mahayla was able to take a sewing class this semester where they made laundry bags, pillow cases, backpacks, garment hanging bags and a roll-up for accessories. We still have one more lesson where the girls will make pajama pants, too!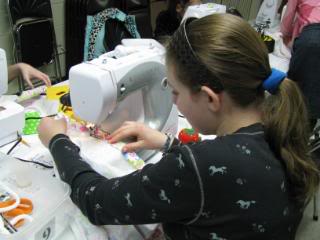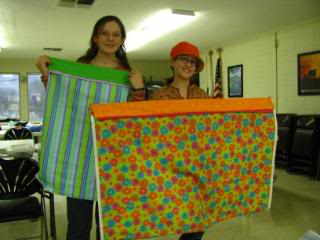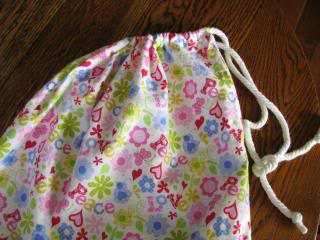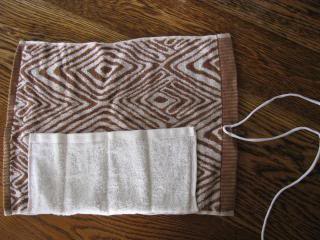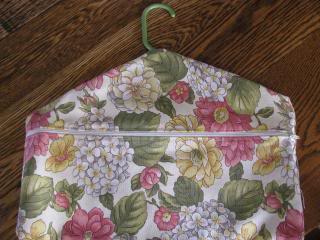 Mahayla entered most of her sewing projects into the fair and won Grand Champion on two of them!
Between Mahayla and Caleb, they entered 14 different projects in the categories of sewing, homemade soap, canned veggies, beaded jewelry and art and came home with FIVE Grand Champion ribbons, 12 Blue Ribbons and 2 Red Ribbons. The Grand Champion items will go to the State Fair in August! (Caleb wanted me to insert here that his projects were only in canning, soap and art – he DID NOT make any jewelry or sew any girlie stuff.)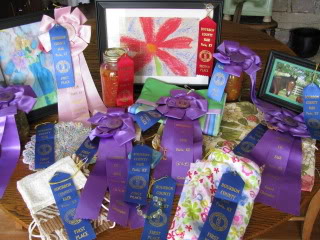 And together, they brought home $41 in prize money to boot!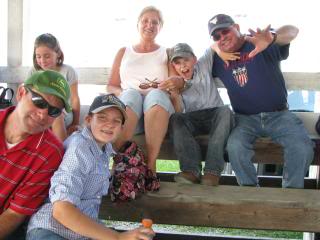 Goat showing, well, it didn't go quite as smoothly as planned. We were complete newbies – and everyone there knew it! Ha! From where to go and what to do, we didn't have the first clue. Granted, after many required hours of goat and livestock classes we should've known what was going on, but the classes didn't ever teach the practical side of show day. Oh well, live and learn is a saying that truly fits in this situation. We'll know better next time. In fact, we were so lost that we completely missed showing goats during one round because we had no idea that we weren't finished after the first showmanship round. There is apparently a showing class based on the weight of the goats that took place while our kids were screaming at the top of the ferris wheel! Oops!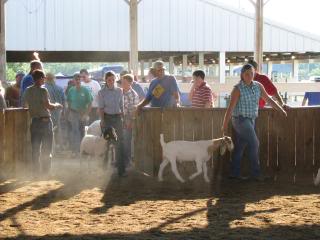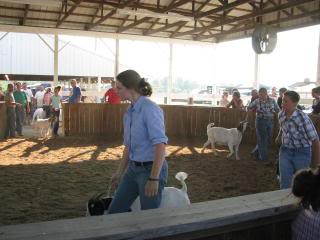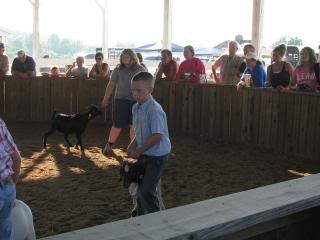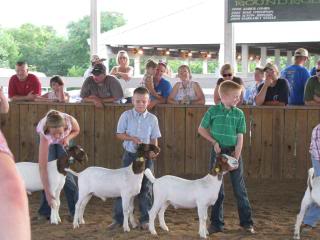 Below is Mahayla with her Daddy. They were watching Caleb show goats. Caleb was able to watch a few more rounds than her, which gave him a distinct advantage in the ring. She's busy telling her dad how ticked she is that he didn't work his goat NEARLY as often or as hard as her, but was placing higher.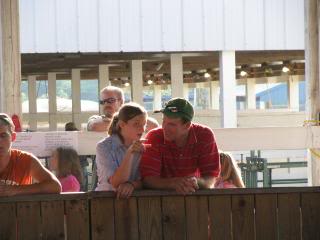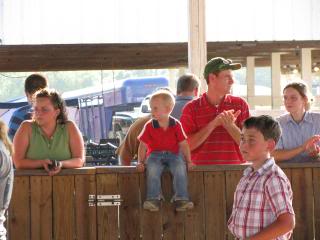 Eli was SO cute! And made everyone melt as he talked to the judge. Again, we had no idea the kids would be questioned by the judge, so that's yet another thing we were unprepared for. But the kids held their own even under the surprise pressure.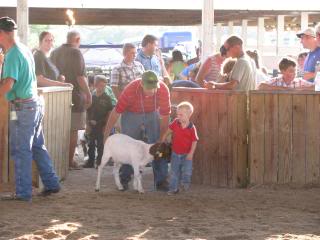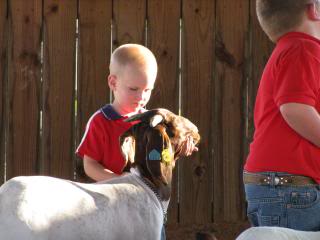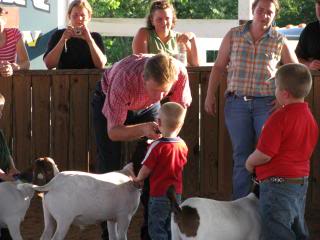 Here's Eli's conversation with the judge. He didn't skip a beat.
Judge: And what's your name young man?
Eli: Eli
Judge: How old are you, Eli?
Eli: Two (He's not, he's three and a half!)
Judge: Wow! Two? (Eli shakes his head 'yes'.) And what's your goat's name?
Eli: Sister, but this is my brother's goat, Brother. (Eli's goat had a hurt foot, so he showed Caleb's goat, which Eli calls Brother.)
Judge: That's a really long name! What do you like best about your goat, Eli?
Eli: When he pets me.
Judge: You like when the goat pets you? (Eli nods 'yes'.)
🙂