Our All-Time Favorite Living Books
Loving Living Literature
Welcome to my Loving Living Literature Series of posts! As a Charlotte Mason homeschooler, of course I love living literature. But, you don't have to follow Charlotte Mason's principles to appreciate really good books in your homeschool!
In this post, I'm sharing with you our Top 10 all-time favorite living books that we have often used as family read-alouds. Everyone in the family got a vote – and, boy, are these goodies!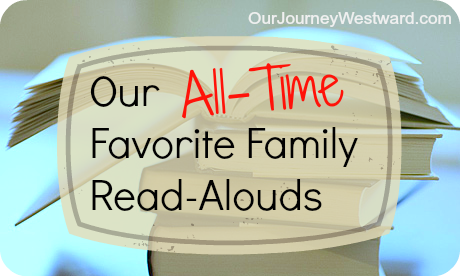 This post contains affiliate links.
Our All-Time Favorite Living Books
The Railway Children by E. Nesbit, one of our favorite authors as you will see, had us hooked from the very beginning. A family must move to a home near a railroad after the father is falsely imprisoned. The children visit the railway frequently and make friends with a man who eventually helps free their father. As in all E. Nesbit books, there are many twists and turns that kept us on our toes and enthralled.
Five Children and It, another book by E. Nesbit, made quite an impression on my children. Five children discover a grumpy sand-fairy who grants their wishes. However, as each wish is granted – whether well-thought out or not – dangerous consequences ensue. The children learn that getting what you wish for isn't always the best option.
The Enchanted Castle, again by E. Nesbit, is another fantasy book along the lines of Five Children and It that teaches "be careful what you wish for." In both books, there is lots of adventure due to poor decisions, but happy endings with children who have learned important lessons in life.
Ella Enchanted is so, so very good. The movie doesn't even begin to compare – not even close. It's a bit like a Cinderella story with much more plot to the storyline and twists and turns to the adventure. I cannot adequately put into words how much our family enjoyed this book – even the boys.
The Chronicles of Narnia is one of those book series that every Christian family simply must read. The allegories C.S. Lewis develops in the story lines are priceless as we consider things of heaven and earth – and our eternal destination. I highly recommend every book in the series.
Charlotte's Web just had to make it to the top 10 list, right? Who can forget the precious friendships and acts of love presented throughout the book? What a great example for our children as Christian servants in this world.
The Adventures of Tom Sawyer is a book we've read and my children have listed to more than once as a book on tape. They crack up each and every time over Tom's adventures and misadventures. Honestly, this book is the least of my favorite on our top 10 list, but the kids insisted so here it is.
The Invention of Hugo Cabret is a book that I would never have imagined to make our top 10 list when I first saw it. Different in layout from any other book I've read, we came to love the illustrated format and the intricate story. Hugo, an orphan boy who fends for himself in the hopes of fixing one of his father's inventions, taught us quite a lot about perseverance, too.
The Family Under the Bridge takes place in Paris where an old man enjoys living by himself, homeless. One day, he finds that some children have been abandoned under the bridge where he lives. His solitary life begins to change for the better when a true family-like friendship begins to develop among the group. It's such a sweet story.
The Secret Garden gives us an ever-winding plot that ends in the happiest of places, just like we prefer. With heart changes, attitude changes and life changes, this book is truly heartwarming. A selfish little girl and a crippled little boy become the best of friends through non-ideal situations and both grow tremendously.
Oops, make that Top 11!
Mrs. Piggle-Wiggle stories have been enjoyed over and over in our home, so I just had to include them on our top 10 list, too! Mrs. Piggle Wiggle is a magical little lady who helps parents devise plans to train better habits into their children. We love her silly solutions to real-life problems!
What are your all-time favorite living books?
Click to find lists and lists of amazing literature!

More Great Posts: