Slavery and Civil War Unit Study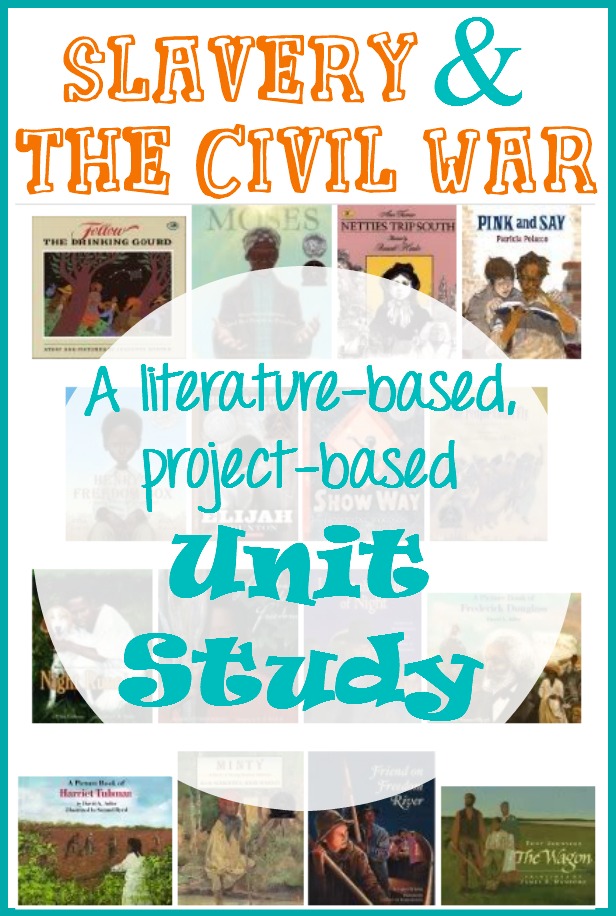 Our history unit about slavery and the Civil War has been completed, and what a wonderfully rich unit it was!
Slavery and Civil War Teaching Resources
You might remember from my post about Planning a Large Unit Study, that I pick and choose the best ideas for our learning styles and learning objectives from many resources.
While this particular study was mostly literature-based, there were some fabulous materials that provided many of my lesson plans. By mostly literature-based, I mean: we chose really good books and learned about the life of slaves and struggles of the Civil War through the living literature (listed below.) Between books, field trips and hands-on projects, I don't think there's a much better way to learn history!
This post contains affiliate links.
 The Underground Railroad for Kids: From Slavery to Freedom with 21 Activities (For Kids series)
 The Civil War for Kids: A History with 21 Activities (For Kids series)
 Civil War Days: Discover the Past with Exciting Projects, Games, Activities, and Recipes
National Geographic Underground Railroad Interactive
Civil War Interactives for Kids
Eyewitness to History – Nice for Research
Here's the order in which we covered the topics…
What is slavery?
When did slavery begin?  How did it begin in America?
What was it like to be a slave in America?
Who played major roles in the abolition movement?
What were major events of the abolition movement?
What was the Underground Railroad an who were some major figures in helping slaves escape to freedom?
What was the Civil War?
For what reasons did the Civil War take place?
What were several major battles and who were several major figures of the war?
What was the war like in Kentucky (a divided state)?
What is the Emancipation Proclamation?
What was life in America like directly after the war?
How did life change for former slaves after the war?
What struggles did former slaves still face after the war and for many years to come?
Where is slavery still taking place in today's world?
Slavery and Civil War Living Literature
I can't tell you enough about how we have been blessed by reading these books. They were so fantastic – in information, emotion and ability put us in the midst of the time period. I highly recommend each and every one of them!
I've been asked several times how we fit in all the literature we read for our units. It's really very easy! Many of the chapter books are checked out as books on tape and we listen to them in the car. We usually read one or two other chapter books together over the course of the unit, while some of them are also reserved for individual reading time. Those reserved for individual reading time will have been browsed ahead of time by me. We also still read a lot of picture books. I'm a sucker for picture books and I don't think you're ever too old to stop reading them! In all, we read together about 30-45 minutes a day. The kids read on their own 30-45 minutes each day. And we listen to books on tape almost anytime we're in the car.
The Last Safe House: A Story of the Underground Railroad
Addy's Boxed Set (American Girl Collection)
Sweet Clara and the Freedom Quilt (Reading Rainbow Books)
Follow the Drinking Gourd (Dragonfly Books)
Moses: When Harriet Tubman Led Her People to Freedom (Caldecott Honor Book)
Nettie's Trip South (Aladdin Picture Books)
Pink and Say
Henry's Freedom Box: A True Story from the Underground Railroad
Elijah of Buxton
Show Way
The People Could Fly: American Black Folktales
Night Running: How James Escaped with the Help of His Faithful Dog
Night Boat to Freedom
Under the Quilt of Night
A Picture Book of Frederick Douglass (Picture Book Biographies)
A Picture Book of Harriet Tubman (Picture Book Biography)
Minty: A Story of Young Harriet Tubman (Picture Puffin)
Friend on Freedom River (Tales of Young Americans)
The Wagon
Up the Learning Tree
Lincoln and His Boys
Alec's Primer (Vermont Folklife Center Children's Book Series)
Cassie's Sweet Berry Pie: A Civil War Story
Dadblamed Union Army Cow
Abe's Honest Words: The Life of Abraham Lincoln (Big Words)
The Gettysburg Address
Bull Run
Steal Away Home (Aladdin Historical Fiction)
Rifles for Watie
Across Five Aprils
Shades of Gray
Forty Acres and Maybe a Mule
Project Week
The final week of our study was project week, which means the children were assigned several projects to "show what they learned" and had all week to complete them.  At the end of the week the projects were presented to the entire family.  Project presentations are always a precious time for me! I get to see how much my kiddos soaked in during the study and how creative they can be in completing projects. For those of you wanting to do "school" in ways that better meets the individual needs/gifts/learning styles of your children, projects are a great tool!


The Project Choices
Last Friday, I handed each of the kiddos a project list that looked something like this:
Choose one famous slave. Learn all you can about that slave and be prepared to tell us about the slave in first person. Don't forget to create an authentic costume.
Choose one Civil War battle. Create a model of the battle front and tell everything you can about the battle as you reenact it with the model.
Choose one famous Civil War figure. Prepare a file folder biography about that person. Be sure to include pictures or illustrations when applicable.
Either read or recite the Gettysburg Address.
Work Through the Week
On Monday morning, we headed to the library so the kids could find books to help them learn more about their chosen topics. The rest of the week was spent on math and completing projects.
A Peek Into Project Night
Mahayla portrayed Harriet Tubman and Caleb became Henry "Box" Brown.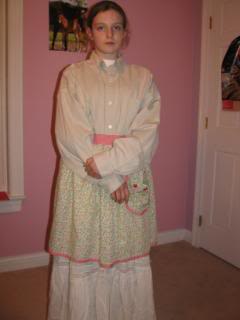 Mahayla set up this model of the Battle of Perryville – a battle that took place not to far from us in Kentucky.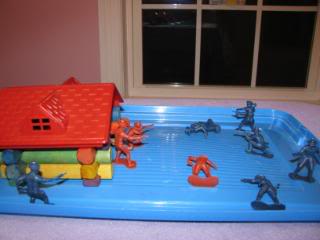 Caleb chose the Battle of Bull Run. They both gave very detailed information and maps of their battles. They even found photographs of the battle sites to share.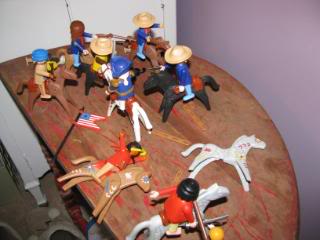 Caleb's Civil War figure was Robert E. Lee. He was very impressed with himself for finding pictures of all of Lee's family, his home, his college and more. We looked at pictures for quite some time!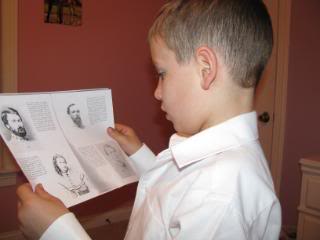 Mahayla's Civil War figure was Ulysses S. Grant. You can see the file folder template we used below. It came from Easy File Folder Reports. We love that book!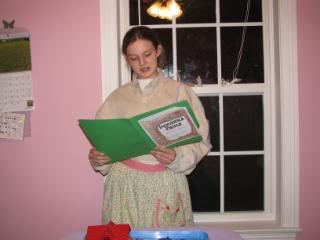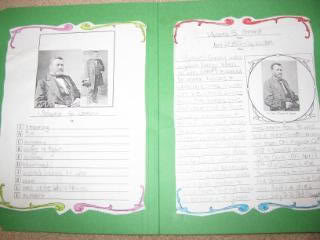 Caleb practiced and practiced reading the Gettysburg Address throughout the week. He didn't miss a word on project night!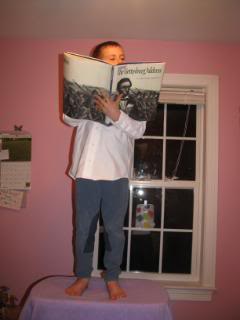 Mahayla created little copies of the Gettysburg Address for each of us so we could follow along with her. Eli enjoyed his upside-down!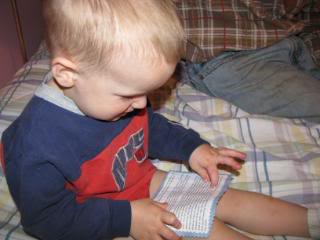 Field Trips
And that brings us to the end of another history unit!  I mentioned that we took several field trips during our study.  There are two, especially, that you might be interested in learning more about:
The Freedom Center in Cincinnati, OH
National Underground Railroad Museum in Maysville, KY
Enjoy your children and enjoy your homeschooling!
Other posts you might enjoy:
 Homeschool Unit Studies
 Living Literature Booklists
 Nature Study IS Science
This post has been linked to: