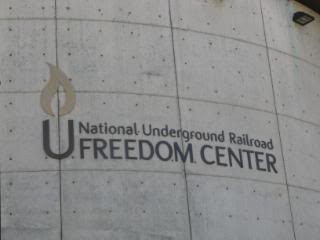 Words cannot adequately express our trip to the Freedom Center in Cincinnati yesterday. After spending so much time in our unit study learning about slavery in our country before and after the Civil War, we have become immersed in the sadness, courage and strength of slaves, abolitionists and those who risked their lives to help on the Underground Railroad. It may be because of this that the Freedom Center touched us so deeply, although I think it would probably touch just about anyone who walked through the doors.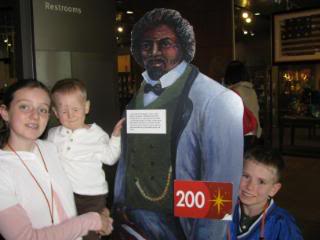 Besides the emotional impact, it's a terrific state-of-the-art museum with top-notch displays. They offer classes and tours for groups, but we chose to just take the self-guided tour – and I'm ever so glad we did! Upon arriving for a self-guided tour, they give you a map and listening devices that you wear around your neck. There are separate tours available for families with children or adults alone. We took the family tour which means we looked for the red signs near displays, pressed the number into our listening devices and listened to just enough kid-friendly information about the displays.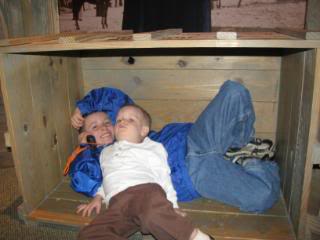 Not only were the listening devices a great interactive tool, there were many displays that allowed the children to listen, touch, or experience various things in a hands-on way. Above is a picture of the boys sitting in a crate similar to the crate Henry Brown mailed himself in to gain freedom from slavery. Below are just a few of the displays that were beautifully crafted and brought the stories of slavery and the Underground Railroad to life.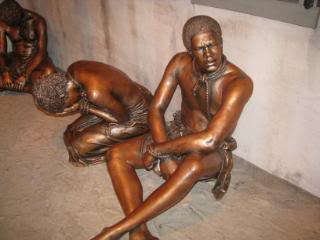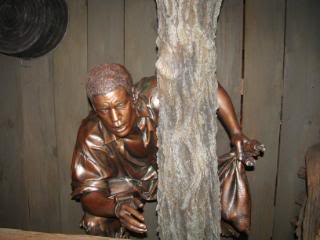 Best of all were the films that were interspersed between exhibits. You first meet Harriet Tubman in a simple, nearly voiceless film that is very powerful. Then, you watch a film that lasts only three or four minutes, but brings home the sadness of a slave choosing to leave his family in order to attempt an escape to freedom. But the most moving of all is a documentary introducing you to the real-life facts of two very brave abolitionists who helped slaves cross the Ohio River from Kentucky into Ohio – ex-slave John Parker and Reverend Rankin. After this documentary, you're led down a dark path to a theater that is down by the "river". You watch two young slaves in their attempt to cross the Ohio River with the help of conductor John Parker and attempt to make it to safety the station located in Rev. Rankin's barn. This movie not only brings you right into the story, but helps you to understand the unbelievable courage and risk on the part of those who helped slaves.
Even after all the wonderful displays, moving films, and welling of emotion, nothing touched me more than these two actors. They weren't even sitting on the porch of this authentic slave pen as actors. In fact, I think they were just taking a rest. But after snapping this picture, it hit me all of the sudden. Real people who loved each other dearly were taken away from one another in an instant in the name of money and power. Real people faced a life of loving, knowing that they might lose that love – whether a spouse, parent or child – without ever getting a chance to say goodbye. Real people were often treated worse than the cattle we raise on our farm. Real People. God's children. Of course, I knew this all along, but something about seeing these actors brought floods of emotion over me. I can't imagine how slavery was ever thought of as acceptable – and still is in many parts of the world.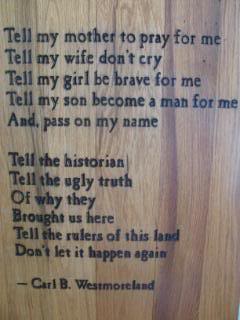 And just so I don't leave this post on a downer note – the Freedom Center is located on the Ohio River right between the Paul Brown Stadium – home of the Cincinnati Bengals – and the Great American Ball Park – home of the Cincinnati Reds. Because Caleb loves baseball so much, we took a little walk to visit the Reds' stadium. He was overjoyed!