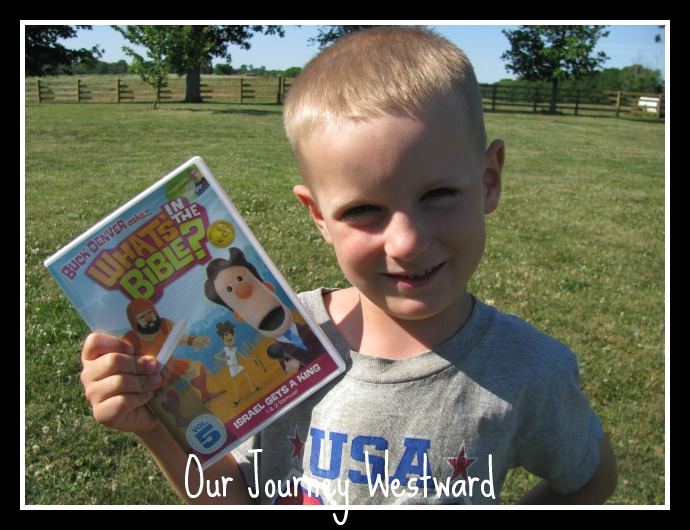 Have you been looking for a unique and engaging way to teach the Bible chronologically?  Boy, have I found some goodies – What's in the Bible? DVD's!
What's What's in the Bible?
Created by Phil Vischer (of Veggie Tales fame), the What's in the Bible? series uses puppets, animations and actors to clearly teach Bible truths through stories, skits and songs.  Volume 1 in the series begins with the topics of what the Bible is and who wrote it.  Each subsequent DVD continues chronologically teaching the history, people and lessons of the Bible.
The format of the DVD's is goofy enough to make your children laugh all the way through, but serious enough to result in some super in-depth Bible knowledge.  Besides the basic "stories" of the Bible, you'll even find maps of Biblical lands,  charts of lineage, and Bible vocabulary to be presented in kid-friendly ways.  It's for all the depth that I suggest even older children can benefit from watching What's in the Bible? DVD's!
About Volume 5: 1 & 2 Samuel
As part of an iHN review blitz, I was lucky enough to recieve Volume 5 of What's in the Bible?  This DVD includes (2) 25-minute episodes covering the main content of 1 and 2 Samuel.  (Plus a bonus short video about the importance of honesty.)
The first episode covers:
Samuel the prophet
Saul as a king who doesn't obey God and follows his own vain desires
David anointed
Davis and Goliath
Saul chasing David
A lesson about the Trinity
The second episode covers:
David becoming king
The tribes and trials
The capture of Jerusalem
The Davadic Covenant (Jesus coming from the lineage of David)
Bathsheba and Uriah
David's repentance and forgiveness from God
Consequences
Solomon
I kept thinking, "I can't believe how much real content is presented in 25-minutes of fun!" My kids loved the episodes as much as me and asked when we could get the rest of the series.  Besides our homeschool, I can see using these with church classes, too!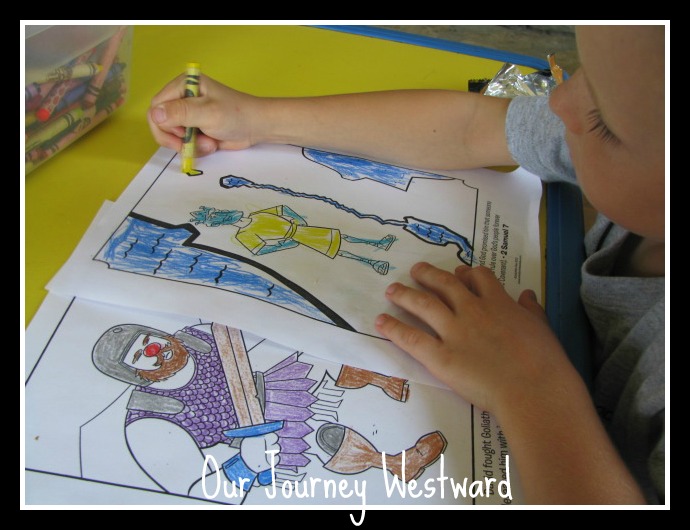 There's More!
On the What's in the Bible? website, you can find coloring pages, crafts and games to reinforce the DVD lessons.  It looks like their will be study guides available for all the DVD's soon, too!
You can even see some clips from Volume 5 if you're not convinced yet!
 Would You Like to Win One?
Disclosure:  I received DVD's and compensation from What's in the Bible? in exchange for a fair and honest review.  As always, my reviews are strictly my opinion and I do not have to give a glowing review.