Standard Deviants Accelerate: High School Lessons Online
(I received a complimentary subscription to Standard Deviants Accelerate and was compensated for my time preparing this review. As always, all opinions are strictly my own.)
My 9th grader is a visual/auditory learner who doesn't like to waste time in school. Well, let me rephrase that last part. He does like to waste time in school, however, he doesn't like to have his time "wasted" with lessons he deems boring, long or frivolous. Sound familiar to any other moms of high school boys?
Meeting My Son's Learning Styles
This year, I've been actively searching for curriculum that fills his brain with important things AND meets his learning styles. Standard Deviants Accelerate has been one such program!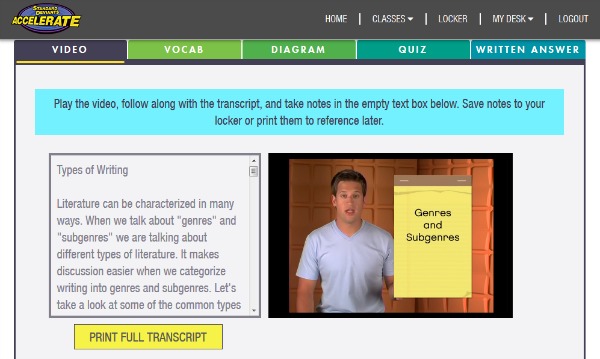 The Standard Deviant Accelerate lessons have been exactly what my son needs and wants:
relatively fast
video-driven
interactive review activities
online quizzes
As you can see from the image above, each lesson is taught via video. A full transcript of the video (aka the text of the lesson) can be read as the video is playing – or reviewed before a quiz. The text can even be printed for students who prefer to hold the text in their hands and/or highlight important parts.
The video lessons are contemporary and fast-paced (but not overwhelmingly so.) They utilize a variety of modes to hold attention – teen teachers, cartoon-like graphics and maps, for example. I especially like the visual cues included that highlight important things to remember.
Standard Deviants Accelerate Courses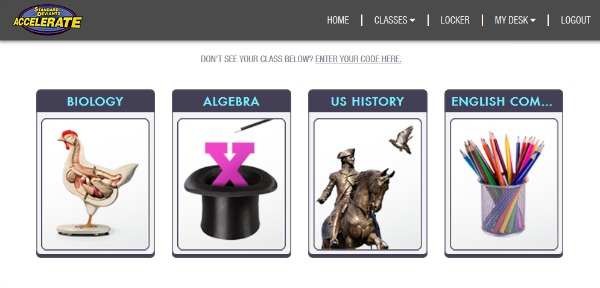 Caleb is currently going through four courses that support this year's schedule. While I could easily ask him to go through each of his Standard Deviants Accelerate courses from start to finish, I'm giving him particular assignments that reinforce things he's already learning in our regularly scheduled curriculum.
I've chosen to give assignments for two reasons. First, not all of the Standard Deviants Accelerate courses provide quite enough for a full high school credit. Some provide more than others, so you will have to use your own judgement about whether to use a particular course as a stand-alone or supplementary. Second, in the instance of biology, there is some evolutionary content that doesn't fit our worldview.

There are several courses currently available. You'll notice that several of them are just as appropriate for middle school students as they are for high school students.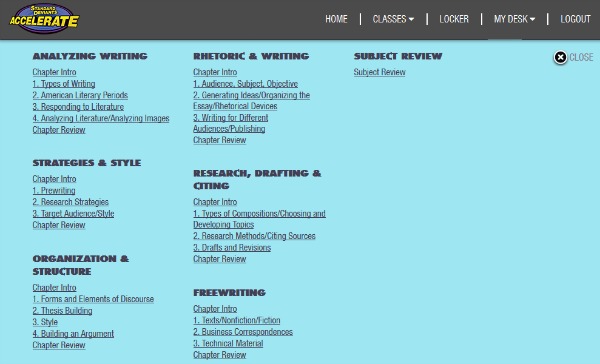 Each course has a full table of contents available to you or your child at the click of the mouse. This has come in super-handy for me when planning weekly assignments and makes it very easy for Caleb to jump right into the appropriate lesson each day.
A Peek Into the Lessons
Each lesson begins with a video lesson that lasts less than ten minutes. I have my son complete all the lesson activities directly following the video. You could, however, do the activities on another day(s) if it fit your schedule better. A great aspect of Standard Deviant Accelerate is your freedom to choose to do lessons and activities when and if you want.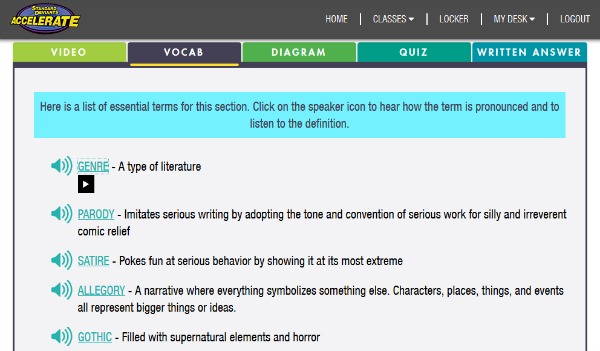 Vocabulary isn't my son's favorite activity, no matter how you slice it. It only takes a minute or two to review the day's vocabulary – whether he reads through or listens to the list. Knowing the vocabulary is important for success in the review activities and quizzes.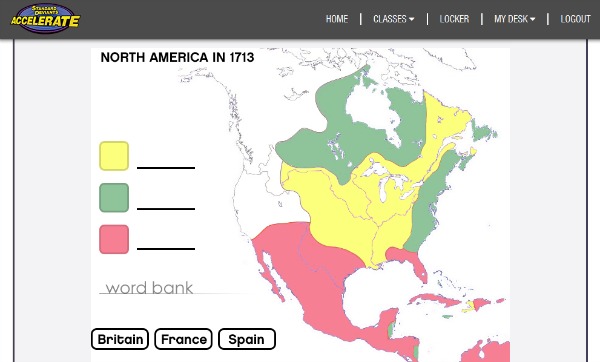 Following the vocabulary review is a "diagram" or interactive review activity. If my son paid attention during the lesson, these activities are a breeze.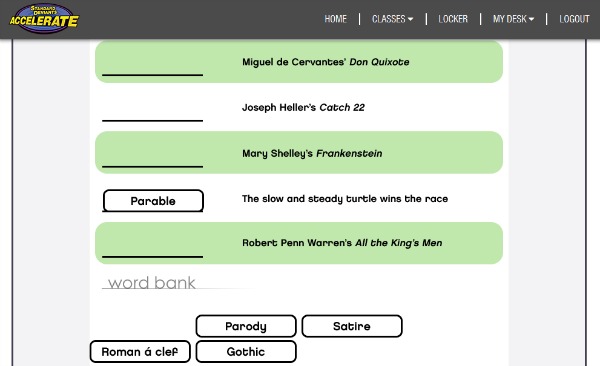 A quick, interactive quiz follows the review activities.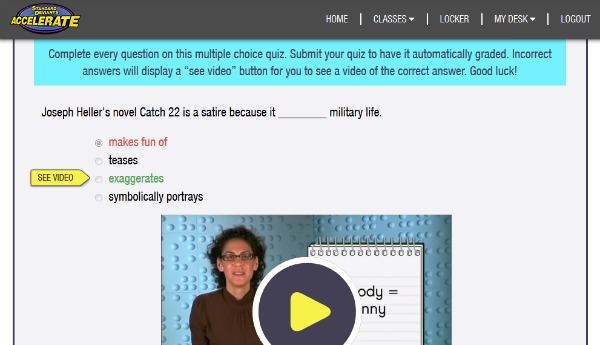 I love, love, love that he can't continue with the quiz until he corrects wrong answers. Even better, he must watch a quick video segment reminding him of the answer. And even better, the video clip automatically appears without anyone having to search for anything. On my end (the teacher's portal), I see the original quiz score.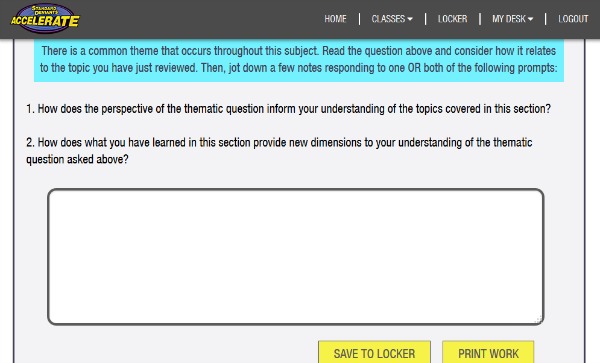 After the multiple-choice style questions, there is a written portion to the quiz. Caleb truly appreciates that he can type the answers directly onto the page and they will be saved for me to view later in the teacher portal.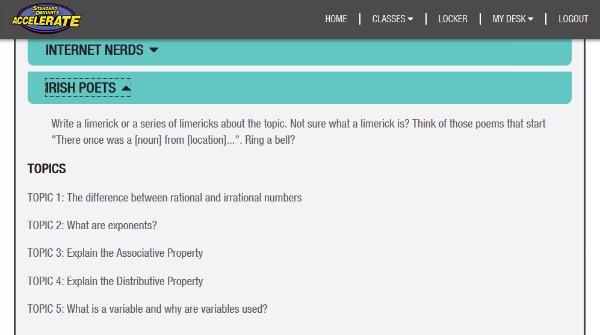 There is a group activity component at the end of each chapter. While we obviously don't have a group around our kitchen table, we choose to skip these occasionally. Most of the time, however, I've found them to have such great critical thinking and/or project-based assignments, that I've assigned them anyway – to be completed by himself.
Of course, at the end of each chapter and at the end of each course you'll find final reviews and quizzes. These are very much like the reviews and quizzes I've already mentioned, except they cover much more information.
For Mom's Eyes Only

Parents have their own teacher portal that uses a completely different email address and password, so no sweet child can mess with his or her assignments or grades.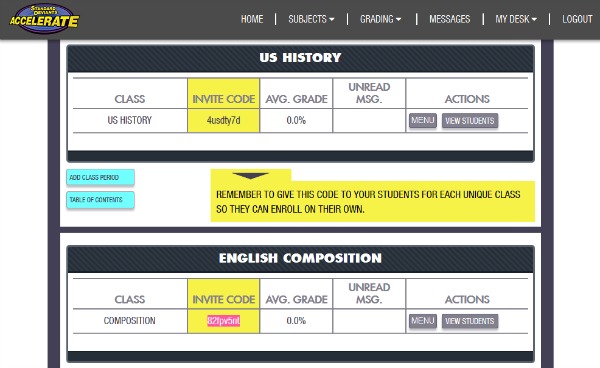 Before your child can ever start a course, you have to assign it to him and give him an invite code. This process took me a few minutes to figure out, but once I got started, it was very easy and didn't take much time at all. As you can see, average grades will show up once your child begins taking quizzes. I took this photo just as I was setting up our accounts, so Caleb had not taken any quizzes at this point. As I log in now, it's super-easy for me to see his current grade.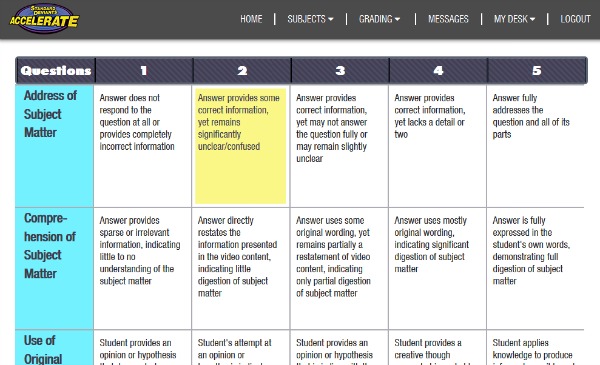 Another cool aspect of the teacher portal…there are prepared rubrics for scoring the written questions. Rubrics show you (and your child) exactly what kind of work gets specific grades. Notice the yellow box above. When highlighted, the teacher can fully edit the rubric to say exactly what she wants.
You will NOT want to miss this!
Are you convinced Standard Deviants Accelerate will benefit your homeschool? Great! Get SIX MONTHS FREE! Not convinced Standard Deviant Accelerate is right for your homeschool? No problem! Get SIX MONTHS FREE to try it out!
Hurry though! I'm not sure how long the FREE SIX-MONTH SUBSCRIPTION to Standard Deviants Accelerate will last, so don't tarry! What have you got to lose?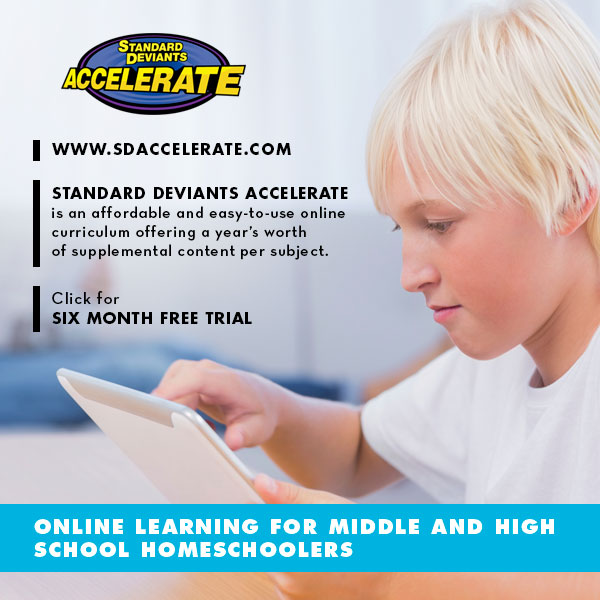 Have you used Standard Deviants Accelerate?  I'd love to hear your thoughts in the comments!
Check out these other resources: