Enjoy A St. Patrick's Day Fun Day in Your Homeschool
Sometimes funschooling can be as simple as spending time in the kitchen creating super-easy themed food and reading a giant stack of really good books. Enjoy a laid back day of St. Patrick's Day fun that will still go down as a wonderful memory in the minds of your children.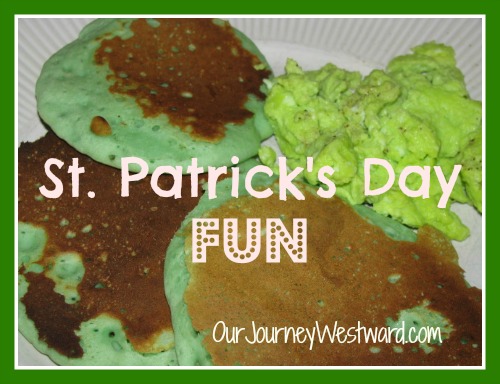 This post contains affiliate links.
We love to celebrate holidays in our homeschool! Taking a day off for funschooling doesn't have to require massive amounts of planning and preparation, though. This St. Patrick's Day fun day is one of these easiest to implement with a quick grocery list and a run to the library.
St. Patrick's Day Fun Meals
Grab some green food coloring and maybe just a few special ingredients the next time you're at the grocery store and you'll have everything you need for a day of fun in the kitchen with your children.
A Goofy Green Breakfast
Choose from two or three of these ideas to get the day rolling with a greenish breakfast.
Green eggs (and ham, perhaps)
Eggs cooked inside a shamrock-shaped slice of green pepper
Egg with spinach quiche
Avocado toast
Green pancakes
Cinnamon rolls with green tinted icing
Lucky Charms cereal
Green smoothies
Green yogurt parfaits
Kiwi, honeydew, green grapes, green apples, and green pears
An Irish Inspired Lunch
These traditional Irish dishes don't take too long to whip up and make a nice, hearty lunch.
Carrot, potato and cabbage soup
Irish brown bread
Toffee shortbread
A St. Patrick's Day Supper
For dinner, we like to go back to the green theme. Our go-to favorite dinner is easy…because cooking a third meal with my children in a single day needs to end on an easy note.
Spinach linguini with pesto sauce
Garlic bread with a sprinkle of chopped parsley (You might even use a shamrock cookie cutter!))
Dark green salad with cucumbers, green peppers, and avocado with green goddess dressing
Lime sherbet and sprite floats
St. Patrick's Day Fun Books
Of course, we'll read some Irish and St. Patrick's Day themed books throughout the day!
Other St. Patrick's Day Fun Activities
If you need a break between books and the kitchen, pull out all the green art supplies and let your children create. Or, choose from your favorite Irish artist or composer to do a little artist or composer study. How about watching some Irish dancing on YouTube to get moving, too?
Whatever you choose, have a wonderful funschooling day!
Other Posts You Might Like