Project-Based Learning: NaturExplorers
Project-based learning goes with any subject at just about any time. Really. Since nature study is so near and dear to my heart, I'll take a little time today to show you how to take a regular ol' walk and turn it into project-based learning.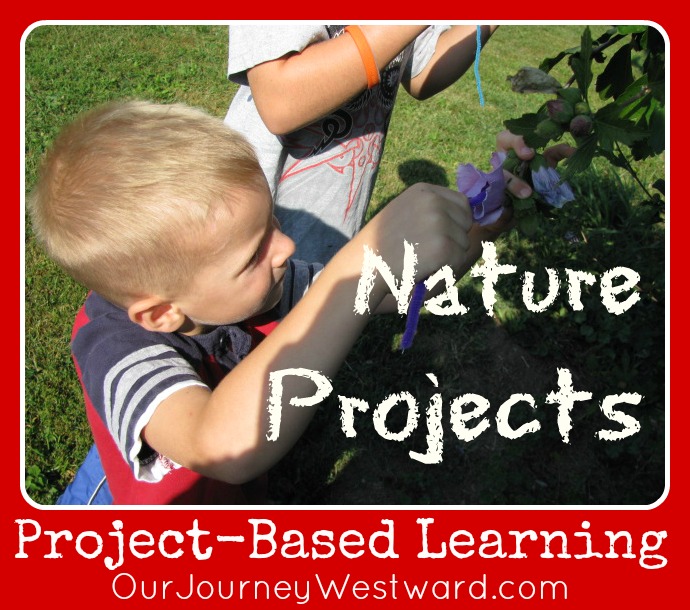 Note: Charlotte Mason homeschoolers, turning a nature walk into PBL wouldn't have been Ms. Mason's cup of tea. Her nature study methods are based much more on simple, yet detailed observation and documentation. However, because her methods encourage a great deal of inquiry, I've found my children naturally crave to dive deeper into their discoveries. Projects have been a wonderful way to give my children a learning path on which to explore.
The NaturExplorers curriculum series was written to celebrate both the traditional Charlotte Mason style of nature study and the inquiry-based exploration of project-based learning. Which ever style you prefer, any of the 19 studies can be perfect for you. You simply pick and choose what you and/or your children want to. A simple walk, nature journaling, in-depth walks, experimentation, creating models, designing research projects…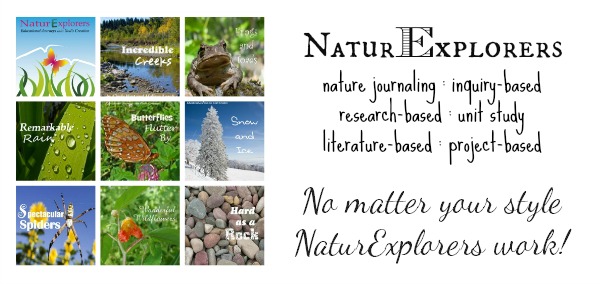 Project-Based Learning in Nature
Now, on to some practical examples of adding project-based learning to nature study:
Let's say you've come across a hill of active ants in your backyard. Your son is fascinated, making all kinds of observations and asking questions. LISTEN FOR QUESTIONS! Questions lead to inquiry-based learning, which is very easily turned into project-based learning. You say…
Honey, I just heard you ask about what ants like to eat best. How can we find out? Yes, let's run into the house and gather a small bag of foods. (A few minutes later) How will we determine which foods they like best? OK, let's place all the various foods around the ants' paths and see which foods they flock to. Should we document this? How? Yes, good idea! We'll draw pictures/make a graph/draw a diagram of what happens. Of course we can show dad the results when he gets home!
Now, let's suppose you are headed to the local arboretum. This time, you've planned ahead for the project and have packed a few supplies. After a few minutes of free exploration, you say…
I have a fun project for us to do today! Each one of us will create a scavenger hunt of nature related items in the arboretum. Then, we'll exchange papers and see who is the first to complete the scavenger hunt they've been given.
Pull out clipboards, nature scavenger hunt printables and pencils. Set a time limit and boundary lines for creating the hunts, then race to the finish! This super-fun project encourages nature identification, attention to detail, critical thinking, writing and drawing, and physical exercise. Not bad for an hour in the sunshine, huh?
One more. This one uses a nature walk to springboard an at-home project. On a nature walk through the local nature preserve, you notice several trees full of tent caterpillar webs. You and your daughter begin to notice that only certain trees house these tents. Your daughter is very interested in what will come out of these and you know that these little critters have the potential to cause major damage to the trees once they hatch. So, you say…
Honey, I'm not sure why these tents are only on certain trees or what exactly will come out of the webs soon. I do know, though, that these little creatures can do some damage. I have a great idea…why don't we ditch regular writing and science lessons for the next two or three days so you have some time to research these caterpillars and put together a project to teach the rest of us about them?
Want More?
I wrote an entire 10 Days of Nature Study Series that gives you TEN more ideas for nature walks and follow-up activities that you might like to read!
Don't miss tomorrow! I'll share a HUGE list of go-to project-based learning ideas!
Learn More About Project-Based Learning
I taught a Homeschool Masterclass that can give you an overview of project-based learning, along with reasons why it's a powerful tool in your homeschool and all kinds of practical ideas to make it successful!