Mahayla was baptized this weekend! Praise the Lord! We have sensed for some time that the Lord was working on her precious heart. What a blessing it was to hear her say she was ready to accept Christ!
It just so happened that we were celebrating Caleb's 9th birthday this weekend with family, so we decided to surprise them by asking them all to take part in Mahayla's baptism while they were here. It was so neat to see their faces when we told them!
Mahayla wanted to be baptized on the farm, and she chose one of her favorite spots – the barn! I was rolling my eyes about this choice, but my wonderful preacher's wife (all of her family also came for the baptism) said, "If Jesus could be born in a barn, I think it's perfectly acceptable for Mahayla to be baptized in one."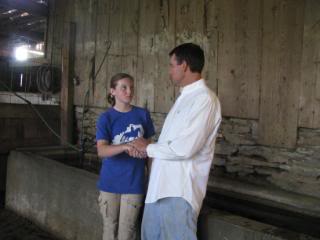 Her daddy had the pleasure of immersing her in the watering trough!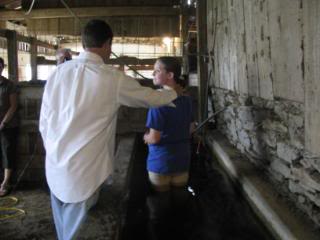 Afterwards, we all gathered in a circle to sing Amazing Grace and everyone took turns praying for Mahayla. It was truly beautiful to hear each and every family member praying for her!
Later, Eli said, "Sissy got in the water with Daddy and God." How true!
He also said, "I get in the water, too?" I replied, "Yes, you'll get in the water, too, when you get bigger." He answered matter of factly, "When I get bigger boy, I get in the water with God." 🙂
I can't forget a picture of the birthday boy, we did hi-jack his day after all!  What a good little brother – he didn't mind a bit!