How to Keep Active Kids Busy During Read-Alouds
No matter what has changed in our homeschool over the years or how old my children have grown, one thing has remained constant… read-aloud time. My children still remember so many of the books we've enjoyed as a family – and so do I!
Sometimes snuggled under blankets on the couch, sometimes lounging on a lawn, read-aloud books have been a daily highlight for years. But, as enjoyable as it's been reading stories with my children, the experience hasn't always been one of stillness. I learned early on that I needed some tools in my toolbox to keep active kids busy during read-alouds on most days.
Some kids are just wiggle-worms. The most exciting tales can keep a child's mind rapt with adventure, but their bodies still just move. Some learners listen best when their hands or bodies are otherwise occupied, offering a run-off for excess energy and allowing for more focused attention. Other children are so young that they can't quite follow the storyline, but they want to participate. No matter the exact circumstances or dynamics of your family read-aloud time, it is always wise to plan for some hands-on activities or fidgets to keep busy hands and busy bodies from causing distractions.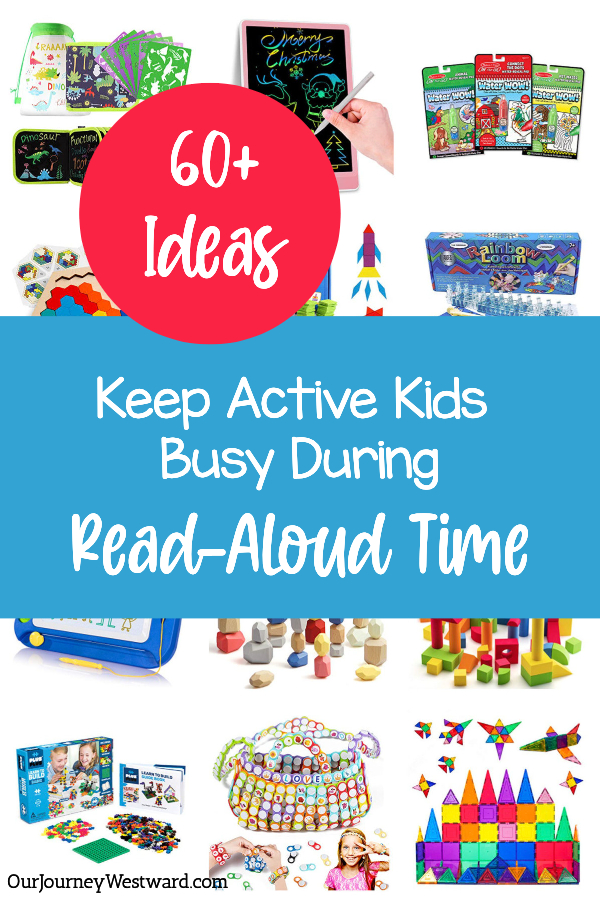 This post contains affiliate links.
Ideas to Keep Active Kids Busy During Read-Alouds
I've rounded up a large list of items that are perfect for listeners who could use a quiet activity to keep the mind and body from wandering too far. I find it best to reserve these items for read-aloud time only. I also like to switch out the items so that only one or two are available at a time. Both of these tactics keep the active learner engaged without becoming overwhelmed.
No-Mess, No-Noise Toys for Read-Aloud Time
Oftentimes, parents are hesitant to introduce toys during a read-aloud for fear that they will be more distracting than they are helpful. However, the items listed below offer hours of open-ended play with no sirens, bangs, or stains. They can be used to build, bend, and balance aimlessly while listening to fantastic tales out loud. No paints to spill, no instructions to distract, just easy fun that can be reused as often as your library card!
Art Supplies to Use During Read-Aloud Time
Numerous studies have shown an impressive correlation between art and intelligence. In fact, regular old doodling can help the brain hold on a little tighter to what's being heard. Some learners have found that painting what they're hearing can help them not only better process the stimuli but remember what they're listening to in a more substantial and personal way.
Art and crafting during read-aloud time serve the double duty of keeping active kids busy and strengthening the mind! These supplies can help your children create a masterpiece to accompany a favorite book or just enjoy making a temporary treasure to lengthen the listening attention span.
Read-Aloud Wiggle Worm Supplies
Sometimes, kids just have to move. These particular kids need to wiggle, bounce, roll, shift, and stir. The items listed below are fabulous finds for children who struggle to settle. Nothing distracts from a wordy description of some far-away land faster than a kiddo who can't calm his body, and nothing is more frustrating to a fidgety kid than being unable to direct her energy somewhere while she's trying to focus on something important.
Check out these items created specifically for kids with a little extra energy and try a few to keep your very active kids busy during read-alouds.
Read-aloud books are a cornerstone of homeschooling, beneficial to the learning process and the building of relationships. Whatever you read, however often you read, don't let a case of the wiggles derail the tales you're sharing.
Active kiddos can enjoy read-aloud time without needing to sit as still as statues or count down until the passage is over. It's just a matter of finding the right outlets for their energy! Load up on plenty of supplies to keep active kids busy during read-alouds and you'll extend and enrich your family's time together!
Other Posts You Might Like