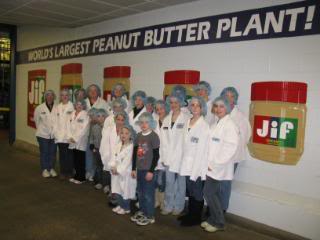 Jif Peanut Butter Tour
Our homeschool group went on a wonderful field trip today to the JIF Peanut Butter Factory in Lexington, KY. It's a tough tour to book, so we were especially thankful to the entire staff for welcoming us with friendly faces, lots of information and some really cool things to see and do!
Above you can see our crew dressed and ready to start the tour. We weren't allowed to take pictures inside, but they were very gracious to show us every aspect of the assembly line from packaging the fresh peanut butter all the way to the shipping dock.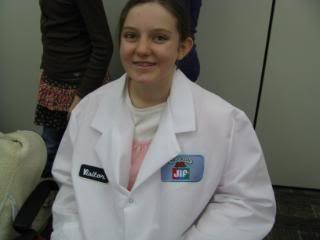 Favorite Part? The Taste Test!
The favorite part of the tour by far was taste testing in the lab. We were allowed to taste each and every peanut butter product they make at the factory and vote on our favorites. Which products were tops on our list? Their new natural pb ranked 1st, followed by peanut butter with honey, with original creamy sliding in at 3rd. Our least favorite? The reduced sodium and sugar variety. I have to say, though, the lower fat version was quite good.
They even gave each one of us a goodie bag before we left with, what else – jars of peanut butter!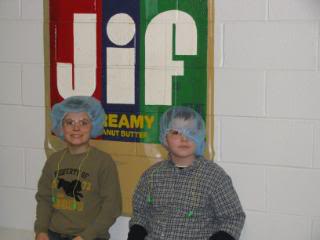 What made the trip even more worthwhile was a Facebook comment from one of the teens telling me it was the best field trip she's taken in four years!  🙂