I continue to be impressed by the materials Prufrock Press sends me for review. Believe me, if I didn't like something, I wouldn't post about it! And if I don't actually use it in my homeschool, I won't post about it either!
Hands-On Geometry is a book we used in our school once a week for the last seven weeks as part of our out-of-the-textbook learning time. It was awesome for the 5th grader, 7th grader and ME!
Using only a compass and a straight edge, the seven chapters of this book take your children through geometric 2-dimensional constructions. They learn how to correctly create perpendiculars, parallels, kites, triangles, quadrilaterals and more. And all I had to do was copy the worksheets!
Each chapter consists of four to seven worksheets that include step-by-step directions for completing one of the 2-D constructions. The directions were so clear that it didn't matter that I never remembered doing this even in high school geometry. Man, if only geometry HAD been this "hands-on" in high school, I might have enjoyed it more! But this isn't even intended for high schoolers! It's written for upper elementary and middle school children.
I've been asked many times where I find living/fun/logical/hands-on math to do on "the other two days" of the week when we step away from our Saxon textbooks. Here's a perfect example!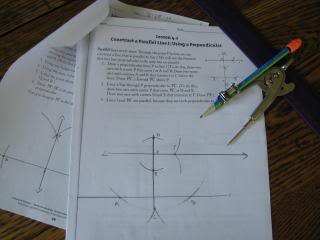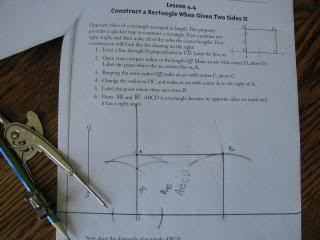 Living Math Learning
If you're interested in learning more about our living math days, you might check out my living math posts or my living math Pinterest page.