15 of the Best Group Games for Families
These group games for families are perfect for any special gathering! Games have always been the go-to activity when family or friends get together because they are so much fun and keep everyone actively involved in the party.
We don't have a giant extended family, but every holiday or birthday celebration will find the 10 of us gathered around the living room for at least a couple of (sometimes rowdy) games. When friends come over, it's the same story.
Over the years, we've had lots of opportunities to host large groups, too. Youth groups, birthday parties, sleepovers, and hay rides on the farm have all usually included group games. Because almost every event ever has included kids, it's been important to have a stash of games that are family-friendly and that's what this list includes.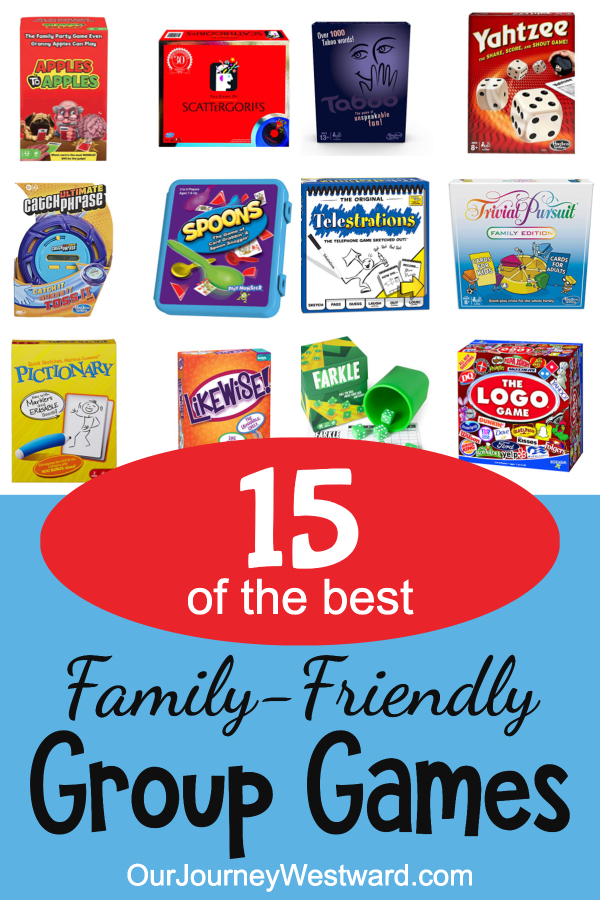 This post contains affiliate links.
Group Games for Families
These 15 games have been the most fun and most used over many years of family-friendly gatherings in our home. They are also the games we pack up and take with us when visiting friends or hosting a party at church. Some of them will require movement, others quick thinking, and still others certain skills (like reading or adding). Read the descriptions to find the games that will most likely fit your purposes and add a new game or two for your group gatherings!
Apples to Apples is the game we go to more often than not during extended family gatherings. It's easy enough for children (as long as they can read), fast enough to hold everyone's attention, and can be hilarious as everyone turns in cards that they think best match a certain descriptive word or phrase.(As a homeschool mom, I love that it includes some sneaky vocabulary practice, too.)
Catch Phrase is the second most often played game at our extended family gatherings, and the go-to game when we are with a large group of friends. Teamwork is essential and everyone has a chance to be in the hot seat as they describe a phrase in ways that will help the others guess it correctly before the time runs out. (As a homeschool mom, I love that there is so much brain training, oral speaking, and descriptive language required.)
Scattergories puts everyone in the hot seat at the same time as you race to write words for certain categories that all begin with the same letter. Correct spelling isn't required, but at least some knowledge of spelling is necessary to play. (Of course, as a homeschool mom, I love the spelling practice!)
Spoons is fast-paced and fun for anyone who can match numbers on cards. As cards fly past, you are hoping to be the first to collect a set of four of the same number so that you can grab a spoon in the middle of the table. If you see someone else grab a spoon, you'd better act fast to grab your own to stay in the game because there are only so many spoons to go around! Add more spoons from your kitchen if necessary. (As a homeschool mom, I like the brain training that comes from the fast pace.)
Pictionary is such a classic game that doesn't need much explanation and almost anyone can enjoy. We love using a large whiteboard and dry erase markers to make the sketches easy to see for large groups. (As a homeschool mom, I appreciate the creativity in thinking and drawing.)
Likewise is a game that only comes with six boards, but it's very easy to use alternate writing surfaces to add lots more players. Everyone is given the same category and the goal is to write something that fits into that category that matches at least one other person in the group. (As a homeschool mom, I'm happy about the vocabulary practice.)
Codenames is a game that's rather new to us, but we have fallen in love. Two spy masters work against each other to be the first to have their teams contact all of their spy agents first. This is done by the spy masters giving one word clues for their teammates to decode. Several rounds can be played quickly, so lots of people can have the opportunity to act as spy master for their team. (As a homeschool mom, I find the creative language and thinking skills, plus the debate opportunities to be great.)
Five Crowns is one of our most favorite card games for groups of up to seven people. It's not a fast game, so set aside plenty of time. The goal is to make particular sets of cards at various levels before anyone else. There is a lot of thinking about numbers and grouping that is likely easiest for anyone at least 8 or older. (As a homeschool mom, I appreciate the logical thinking and math that go hand in hand with the game.)
Taboo is kind of hard, but can easily be played by anyone willing to try. The goal is to get others to guess a certain word or phrase while NOT saying certain other words or phrases. (As a homeschool mom, I love the quick thinking and creative language required.)
Yahtzee is another classic game that is very easy for groups to play together. Usually, one person rolls the dice at a time and tallies their score based on the score card combinations while everyone else waits their turn. We've found that having two or three sets of dice going at once can save a lot of time and boredom from waiting. (As a homeschool mom, I love the math aspect to this game!)
Tellestrations is kind of like the game of telephone, except it uses written phrases and sketches. The first person writes a phrase. The second person draws a picture of the phrase. The third person writes what they believe the phrase is based on the picture of the second person, and so on. When everyone has had a turn, it's hilarious to see whether or not the phrase is the same in the end as in the beginning. (As a homeschool mom, I love the creativity and logical thinking necessary.)
Trivial Pursuit can be hard for kids and adults alike, but we have really enjoyed this version that has a special set of easier trivia cards that you can use for kids. Set aside plenty of time because this game can take an hour or more to play. (As a homeschool mom, I love that all sorts of trivia from science to history to sports is covered.)
Farkle is a dice game that lots of people can play at the same time. The goal is to make wise decisions with continuous rolls because you will either gather more points or lose them all. Anyone who can read numbers on dice can play, but older ones will need to be around to keep score. (As a homeschool mom, I appreciate the math and decision making that are required.)
The Logo Game is one that I'm either in the mood for or not. But, when I'm in the mood, it's super fun and challenging as individuals or teams try to guess the trivia questions about several popular brands. In order to enjoy the game, children need to be old enough to know about lots of brands and their marketing. (As a homeschool mom, I enjoy talking about marketing techniques and even economics after this game.)
Charades is a fun game for groups who are in the mood for a little silliness. As you probably know, everyone gets a chance to act out words or phrases for others to guess. We used to play charades without the help of game cards, but it's SO much easier when you don't have to think up words or phrases to act out on your own. (As a homeschool mom, I appreciate the creativity, drama, and public "speaking" necessary to play.)
Other Posts You Might Like