Economics for Kids: Productive Resources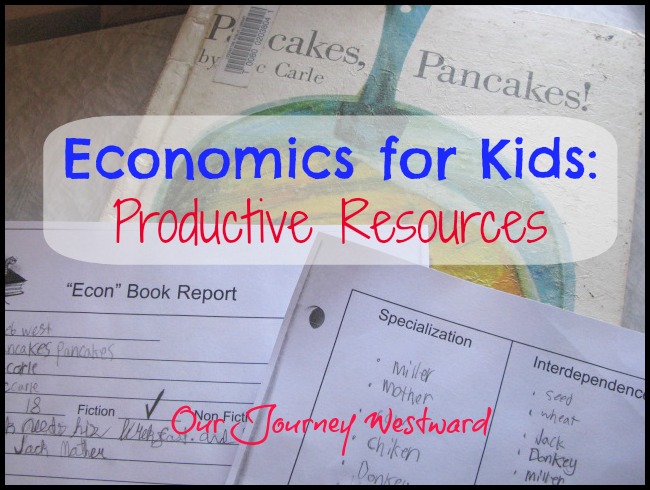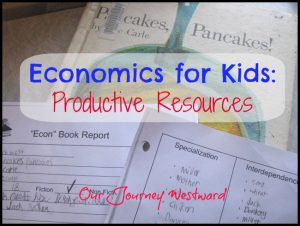 (This post contains affiliate links and links to my business website, Shining Dawn Books.)
Target Age Range: 3rd-8th
Skills Covered: economics, productive resources, natural resources, capital resources, human resources, sorting
Last January, I took a professional development class on incorporating economics into your classroom.  Yes, apparently homeschool parents can take professional development classes…they knew I was a homeschool mom and gladly accepted me.  Why would I want to take a professional development course?  Well, I never had a course on economics in either high school or college, so I felt pretty much in the dark on the topic.  Since economics is one of the major driving forces of our country, I felt like I ought to understand economic principles myself AND pass economic understanding on to my children.
For my participation in the professional development class, I received Teaching Economics Using Children's Literature
.  The book is definitely geared toward classroom situations, but I have been able to adapt it easily to the homeschool environment.  Additionally, the book was written with elementary students in mind, but I've found it to be even more beneficial in the middle grades.  Several of the lessons use literature meant for younger children, but they are quick and easy ways to introduce in-depth economics topics.
I thought I'd share one quick economics for kids lesson we've completed using the book Pancakes, Pancakes!

.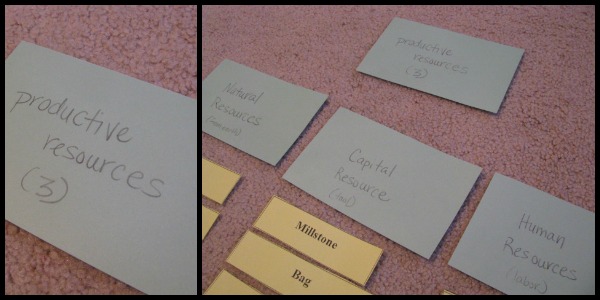 After reading the book, we talked about the term "Productive Resources".  These are the resources that allow us to be productive and include natural resources, capital resources and human resources.
Natural resources are things that occur naturally.  Examples would include oil, dirt, rocks and animals.
Capital resources are otherwise known at tools.  Examples include factories, machines, hammers and spoons.
Human resources are otherwise known as laborers.  Examples would include the factory worker, the farmer who harvests corn and the child who cleans his room.
Using vocabulary cards from the literature book we sorted each productive resource into the correct categories.  I found a free printable for you so you can do this activity at home today if you like.  It doesn't include quite the number of vocabulary cards as I have, but it does include a few extra activity ideas.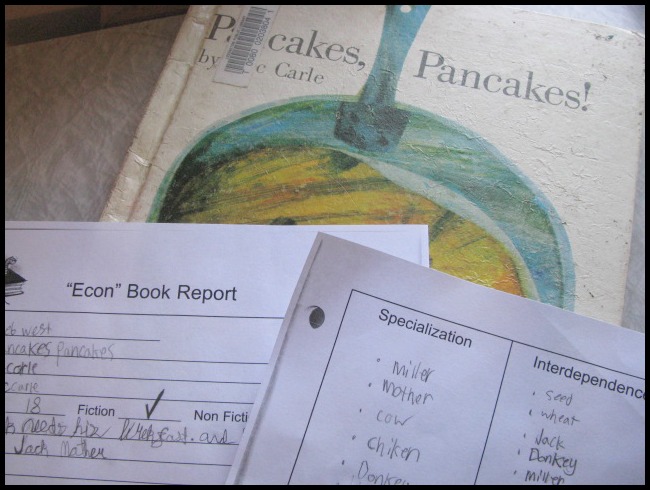 We talked about several other economics terms (provided in the book) and completed an economics book report to chart examples of each from Pancakes, Pancakes!  I'm telling ya, my kids know and understand more economics terms from the lessons in this resource guide
than I ever even heard of when I was in school.
After we worked through Teaching Economics Using Children's Literature
, I wanted to dive even deeper into economics understanding.  For your middle and high school students, I cannot recommend highly enough Whatever Happened to Penny Candy?  It's fantastic and very timely!
__________________________________________________________________
Need a living math "how-to" guide? You might like Loving Living Math!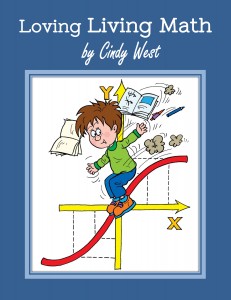 Be sure to skip your way through all the other bloggers taking part in the Hopscotch, too!