Build Homeschool Excitement with These Easy Outdoor Ideas
It's almost time to begin again! We are getting ready to kick off another year of homeschooling, and, as usual, I'm filled with excitement and anticipation! I've been resting and reading all summer, getting our curriculum selected and our schedule fine-tuned. I've got supplies, I've got ideas, and I've got the spark ready to go.
Kids, sometimes, are a different story.
It seems that the older your children get, the less enthusiastic they are for schoolwork to begin again. Especially if they've always been homeschooled, the idea of staying home to learn may not hold as much novelty as it once did. Rather than the beginning of a fun, new school year, they see the end of freedom.
And sometime around middle school, or early high school at the latest, you find yourself poking, prodding, and pleading with the kids to show just a little bit of enthusiasm for the first day of school.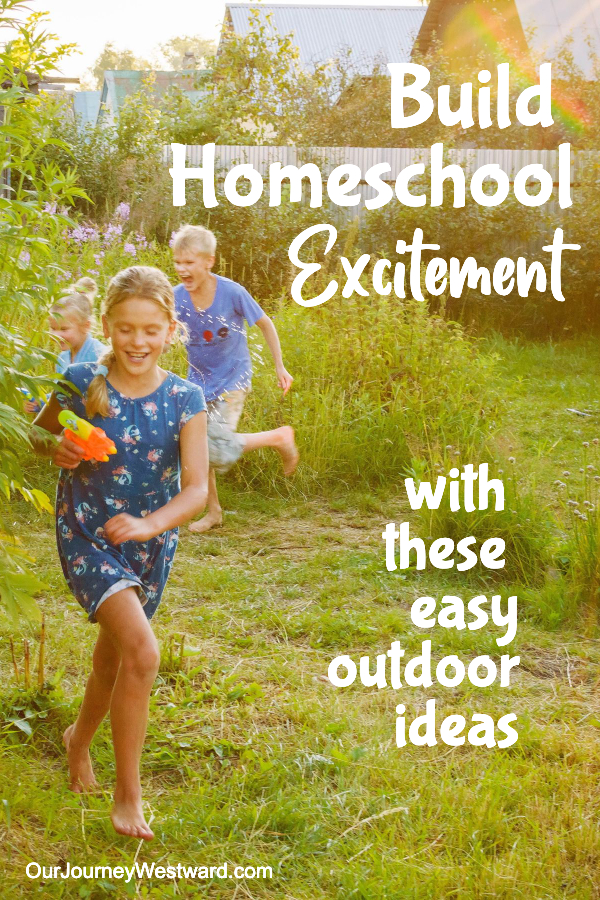 This post contains affiliate links.
Build Homeschool Excitement Easily
Whether your kids are itching to get started or moaning from their bedrooms that they don't want to get up, here are a few ideas to build homeschool excitement without a lot of extra work on your part.
Your kiddos can help you plan these activities or you can surprise them. Either way, they are fun and EASY ways to set the day apart and make the kick-off to a new school year stand out as a day unlike any other.
As an added bonus, all of these activities can be done outside! Enjoy the summer sunshine you've got left and help ease the transition by doing as much as you can in the great outdoors. It's good for the body, mind, and soul to be outside!

Get Outside To Build Homeschool Excitement!
As you try out some of these back-to-school, first-day-of-school activities, don't forget to tag me on Instagram @ourjourneywestward so I can see how much fun you had!
---
Enjoy a supply scavenger hunt. My personal favorite part of a new school year is stocking up on supplies. You can laugh at me, but something about fresh packages of erasable pens and colorful highlighters makes my heart flutter with excitement!
Kids don't necessarily feel the same way about their new supplies. New trays of watercolor paints, perfectly sharpened pencils with entire erasers intact, fraction bars that will help them with math lessons, and shiny spiral notebooks might make some kids jump for joy, but not everyone is convinced of their awesomeness.
Adding in the fun element of a scavenger hunt can make new supplies more fun than they expected! Hide the new school supplies outdoors and write clever riddles as clues or draw a treasure map. Give your kiddos a basket to collect the goodies and watch the excitement build!
---
Prepare new nature journals. I sure hope you're using nature journals in your homeschool and plan to enjoy lots of wonderful nature studies in your homeschool this year. Remember, nature study IS science!
Personalizing new nature journals is a perfectly fun back-to-school activity! Your children can decorate the covers with drawings or other artistic things. Consider offering washi tape, ribbon, stickers, and scrapbooking supplies. Pretty fabric or scrapbooking papers could be used for decoupage. Calligraphy tools or stencils could help your children create fancy lettering and pictures. And, if you happen to have a nature journal with wooden or leather covers, you could even use a wood-burning kit or metal stamps for added pizzazz.
Depending on the materials you plan to use, enjoy this activity on a blanket under a shade tree, at a picnic table in a park, or even out on the back deck.
---
Take a hike – and pack a picnic! A special way to commemorate one of the first days back to school when you're homeschooling is to blow the day off completely. At least, this is how your kids will see it.
Take a family hike on a brand-new trail, through a beloved forest, or at a destination that's ordinarily too far away. Wherever you go, make sure it's a special location that will mark the significance of the day.
Don't forget to pack a picnic lunch full of everyone's favorites! It's never a bad idea to pack a couple of picture books or a family-friendly chapter book, too, just in case you find a peaceful spot to relax.
Be sure to make this particular trip more about enjoying each other and celebrating the new school year than about collecting specimens, identifying tree species, or working in nature journals.

---
Pick a tree to visit throughout the year. Start a fun family tradition that can turn into a wonderful nature study experience that will last all year long.
Choose a single tree (or bush) that is both close by and easily recognized so that you can come back to check on it monthly or seasonally. Each time you visit, you can draw or paint how the tree looks, noting the changes that have taken place since your last visit.
Not only will your children observe seasonal changes in the life cycle and growth, but they will also make connections to other things in nature as new plants grow and change nearby and new animals visit here and there.
---
Create nature art. Whether you go on a nature walk or just stay in your backyard, there are all kinds of nature art possibilities!
Challenge your children to collect ten things that will fit in a ziplock baggie and then turn those things into a 3-D piece of art.
Ask them to grab five crayons from the crayon box and challenge them to find something in nature that's somewhat close to each color. Then, ask them to figure out a way to use all five colors to sketch something in nature. Depending on the colors they chose, it might turn into abstract art, but that's just as wonderful as realistic art!
Bring out the non-toxic watercolors and sit by a pond or stream. Use the water from the pond or stream to clean your paintbrush as you paint a beautiful landscape painting of the scenery around you.
---
Take first day of school measurements. Spend the first day of school doing some hands-on (and sneaky) math outdoors!
Have your children lay on butcher paper in the driveway and draw an outline of their bodies on the butcher paper. Let them measure and write on the butcher paper the lengths, widths, and circumferences of all their body parts.
Store the items somewhere in your house, so that you can pull them back out at the end of the school year to see how much everyone has grown.
To extend the activity, you could also note things on the butcher paper like the price of gas per gallon, a favorite movie or book, or how many pieces of pizza each child can eat! These make such fun memories.
---
Host opening ceremonies. When something as momentous as the Olympics begins, the world comes together for opening ceremonies. You can kick off the year with a spectacle, too, maybe even joining up with a few other homeschool families!
The end of the year is when people usually think about a fun field day full of obstacle courses and relay races, but it's a great way to start a school year, too. You could also consider songs, presentations, snacks, banners, group games, and maybe even a torch lighting.
You could call it a party, but celebrating the beginning of a new school year is just so much more exciting when you refer to it as the opening ceremonies, isn't it?
---
Plan for the year. The beginning of a new school year is the perfect opportunity to plan for the year. Not tests and texts, but goals, hopes, and accomplishments. This activity doesn't necessarily happen outdoors, but I couldn't help adding it to the list because it's a nice way to start the year.
If you haven't already, sit down as a family and draft a homeschool mission statement. Map out what matters most and how you plan to get there together.
Have the kiddos create a bucket list for the upcoming year.
Share your plans with the kids. What your educational or spiritual goals are for them? What specific unit studies, trips, or projects are you personally looking forward to?
Take the day to get everyone excited for what's to come so that the first day of the year becomes about so much more than just that day, but all of the good things to come!
---
The first day of school, whether you're homeschooling or attending a traditional school, can be a day to look forward to, but also a day filled with uncertainty and nerves. Try any of these ideas to help your kiddos ease back into learning with a smile on their face, to remind them that what you're about to embark on is exciting and special.
The start of a new school year is a gift, an opportunity, and more than anything, it deserves to be marked with something special. So in the midst of all of your planning, as you dig through book stacks and sweat over schedules, don't forget to plan for how you'll kick the year off. And don't forget to take lots of pictures!
Other Posts You Might Like