Win a Back-To-School Toolkit!

This post contains affiliate links and links to my business website, Shining Dawn Books.
Are you thinking about back-to-homeschool yet?
How would you like to win a Shining Dawn Books creative learning e-book bundle with a bonus $5.00 gift certificate to CurrClick?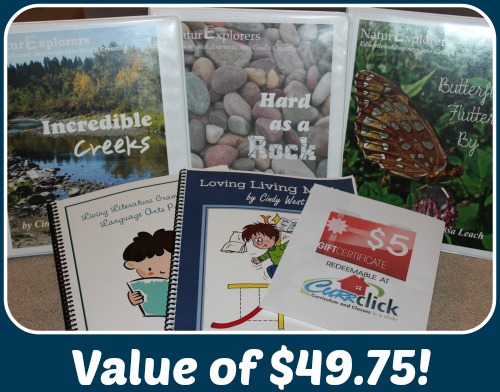 Here's your chance to win!
The Shining Dawn Books back-to-school toolkit includes:
Incredible Creeks NaturExplorers study: "You'll discover the power of water, but investigate rocks, erosion, freshwater animals, and the health of a creek.  You'll dig deep into the riparian zone learning about its protection, and the abundance of plants and critters who live near the creek.  Get wet or stay dry – you get to choose how to complete the activities!"
Hard as a Rock NaturExplorers study: "Learn how rocks were formed from a creationist viewpoint and learn about the amazing rock cycle.  See how vast and interesting rock types are, learn to test rock characteristics, find fossils,  discover signs of weathering, and much more.  And that only covers the first section!  Another entire topic awaits you in Hard as a Rock that sends you on a journey to explore life under rocks.  Through many observations and experiments, you'll discover an entire little world full of creatures who prefer to stay hidden.  Snails, slugs, ants, earthworms and pillbugs name just a few of the amazing creatures you'll learn about."
Butterflies Flutter By NaturExplorers study: "In this unit, you'll learn how God created flowers to catch the attention of butterflies by performing experiments.  You'll also learn such things as why butterflies can be found in groups around a puddle of water, how you can provide them a safe habitat, and how their body parts benefit them.  You'll, of course, find out about the complete life cycle and metamorphosis of the butterfly, as well as learn where to look to find the butterfly in each of its life cycle stages."
Loving Living Math: "Understand what living math is, learn why it can be so effective in your homeschool, and consider various ways to incorporate it into your homeschool schedule.  Don't get the impression that Cindy wants you to get rid of math textbooks!  Although some parents use living math exclusively, this book encourages you to supplement textbook lessons with living math lessons and shows you how to effectively do that."
Living Literature Grammar Packets: "This is a series of 15 weekly language arts lessons centered around various twaddle-free fiction, non-fiction, and historical fiction picture books. Each week, the 3rd- to 4th-grade student is asked to read one of the books and complete a packet of language arts activities that relate to the book. The lessons are short and sweet, yet cover a vast array of language arts skills."
$5.00 Currclick Gift Certificate: Find oodles and oodles of homeschool titles at CurrClick, a top-notch provider of curriculum and online classes for all subjects, ages and homeschooling styles.  With this gift certificate, you'll enjoy $5.00 off any product of your choice at CurrClick!

Also, you won't want to miss CurrClick's 2013 Fall Live Class Open House, which scheduled for July 23-25th from 6:30-9:00 each night!  
Enter to win my back-to-school toolkit using the form below!
Go Win More!