The first year with my other two didn't go this fast. Everybody always says, "Where did the time go?" But I really mean it. How is it possible that my wee one has been with us a year already??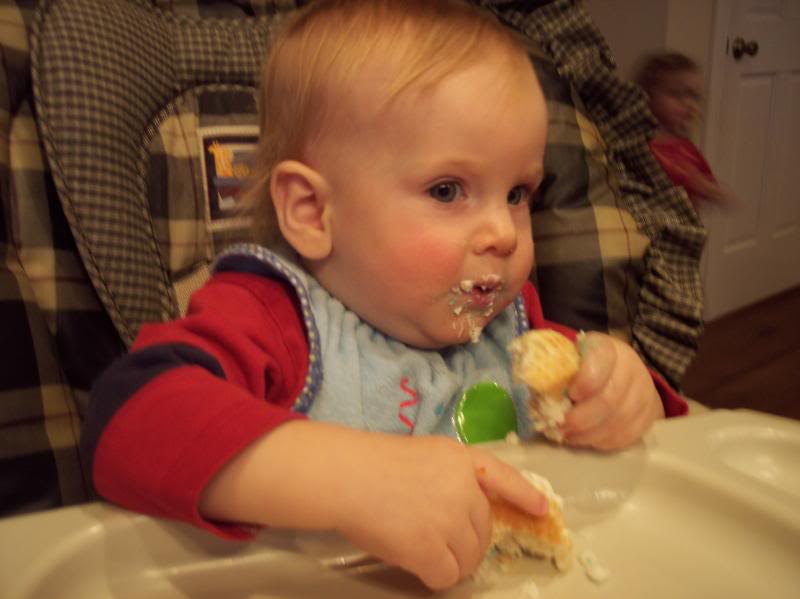 What a precious little boy he is. He loves to snuggle and he thinks he needs to be a part of every piece of action that comes around. There's a lot of action in this house! He's my constant helper as I try to fold clothes and cook with one hand. He's also my shower companion – peeking in every few seconds to be sure I haven't been pulled into the drain, I suppose. He never has been a very good sleeper unless in my arms. I feel very sad that it's time to work on that again. There's just something about holding a sleeping baby.
He's just on the verge of walking and actually took two steps to me the other day without having any idea what he had just done. 🙂 He tells us all the time about dada on the tata (tractor) and wants to tu (touch) the baoo (ballon) whenever he sees one. He loves his iee (sissy), bubub (brother) and papa, but I know he loves his nana (me) best of all. Soon, his preferences may change, but for now I'm his favorite and I wouldn't have it any other way! I'll admit that his sister runs a close second.
Lately, one of his favorite things to do is to hang out with the boys (Daddy and Caleb) every evening as they crash toy cars. I can hear him laugh all the way downstairs as his brother (dramatically, I'm sure) sends cars flying all over the bedroom. And wrestling – what is it with boys and wrestling? Eli loves when Caleb gently wrestles with him. After he's been with Caleb for a few minutes, Mahayla and I have to block ourselves so Eli can't use his new moves on us. 🙂
He has a sweet tooth. I've known that for awhile. He can pick out a candy bar a mile away! There's no hiding chocolate from him. When he sees it, his eyes brighten and he starts bouncing with his little hands reaching into the air. He's chanting something along the lines of "uh hu, uh hu, uh hu", which I'm assuming means, "Yes, please, I'd like some." Never mind that no one offered to share. So, at his party yesterday, there were no problems diving into the cupcake. He went at it like he's eaten cupcakes his whole little life. In fact, he enjoyed it so much that he thought he'd like another. His daddy and siblings were very upset that I didn't think a one-year-old need TWO cupcakes, but they agreed after I mentioned that they were welcome to stay up with him all night if they liked.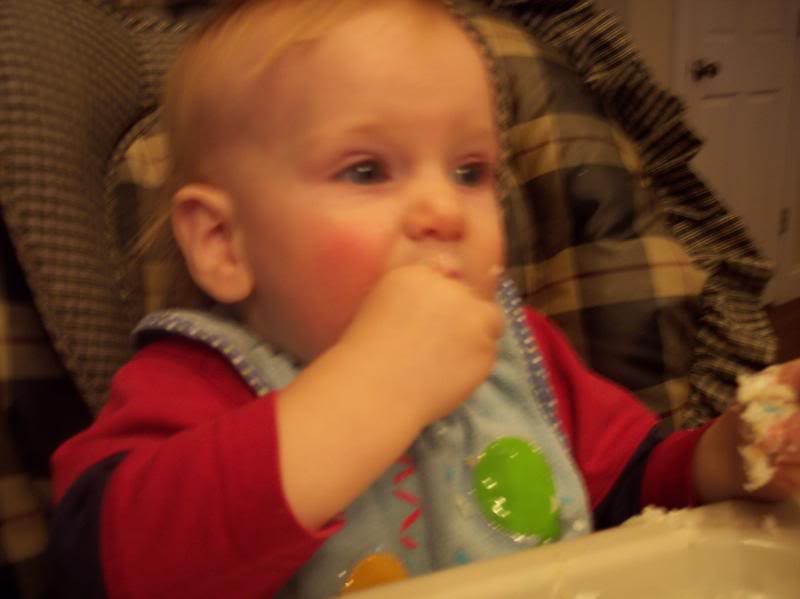 Trying to treasure this time while keeping up with my older two has proven to be very tough for me. I remember the sweet early days with my oldest when time stood still. I could cuddle and play as long as needed – a few chores and fixing dinner were about the extent of my "other" responsibilities. This time around has been much harder. Bigger kids bring bigger responsibilities. On top of cuddling, there's school work, plenty of big kid laundry, big kid activities, lots of grocery shopping and such. Just trying to give everyone the attention they need and deserve has been hard.
One of my good friends once said, "I don't feel human again until my children turn eighteen months. It's like I live in some sort of foggy funk. Then they turn eighteen months and, poof, I am normal again." I think I know what she means. I'm beginning to see out of the fog, but it hasn't all lifted yet. I wouldn't trade baby days for the world, and I'm certainly not wishing my children to grow faster than they already are, but it will be nice to feel normal again. I hear some of you laughing and saying, "Girl, nothing is ever normal again with three kids!"
But for now, I'm just going from day to day trying to soak in every bit of a cuddly and busy one-year-old, an active and ever-so-funny seven-year-old and a sweet, sensitive and ever-so-helpful almost eleven-year-old. The laundry can wait.