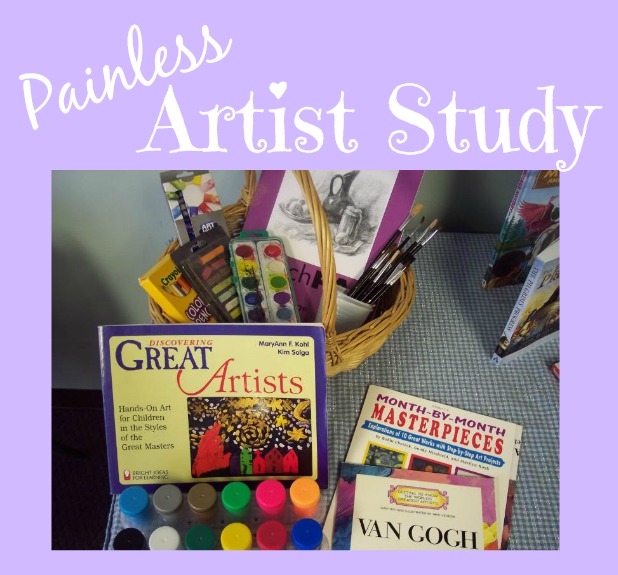 (This post contains affiliate links.)
Cheating Just a Little
Okay, so my Charlotte Mason friends may raise their eyebrows to this post. I can get overwhelmed with all the "stuff" that's out there to teach. Good stuff like artists, composers, Latin…. Things that just seem to slip by the wayside sometimes when the phonics and math lessons drag on far too long.
Even though it may be considered cheating, there are times when I leave art/artist study to chance. I know, I know. You're gasping right now. But, I feel that this method at least gives the kids a fighting chance to soak in some artist knowledge when mom takes off for the day to finish the laundry, start supper and chase the wild toddler.
Mind you, there are times when all is right in the homeschool week and we joyfully sit down to gaze at beautiful artwork, learn about an artist and try our hand at some fabulous technique. But, ahem, those weeks are coming fewer and farther between as the school year plugs on and the baby becomes more mobile! So, just how do I try to teach art without really teaching art?
Independent Artist Study Learning Centers
I use the same learning center plan that I've used so many times in the past:
Choose an artist.
Find info books about him/her from the library.
Set the books out on a table with various art supplies.
I might try to find a poster or print some pictures from the internet of some of the artist's work to tape to the wall.
Let the kiddos read the info books, look at the art and use the art supplies to try their hand at what they've seen.
They typically enjoy the free art time. I do have to admit, though, they almost always do better artwork after a lesson with me. But, masterpieces aren't my main goal (although it would be nice.) I'm simply aiming for art appreciation and enjoyment right now.
Books That Help
As a side note: Discovering Great Artists: Hands-On Art for Children in the Styles of the Great Masters
is a WONDERFUL book for ideas and artist information!
Also, Month-by-Month Masterpieces
is a nice addition because it comes with poster sized prints of ten pieces of art that are studied in the book.