Our American Lit Selections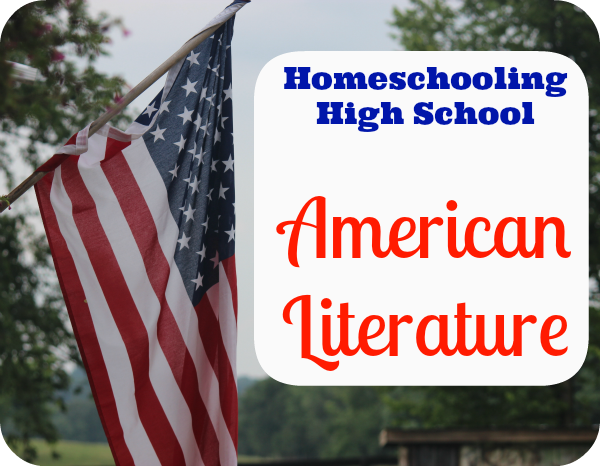 (This post contains affiliate links.)
High School American Lit
I love meeting the particular needs and interests of my children in our homeschool studies. Once my children reach high school, the same philosophy applies. Thus, the reason I'm pulling bits and pieces of various American Literature courses and adding some of my own choices in as well.
I certainly don't want to make you feel bad if you've found one curriculum choice that works for you and your child. Since so many people ask, though, why (and how) I eclectically put together subjects, I thought I'd share a little of the workings in my mind as I planned Mahayla's American Lit class for her junior year.
Home-Base English
Home-Base English is a unique curriculum that covers several literature works which have been turned into movies. I like being able to assign comparisons between text and film versions.
I also like that the introductions to each book share a bit about the author and from where his or her motivation for writing about certain themes likely came. In other words, you learn a little about the history of the time period and why the author chose to convey the message that comes through in the book.
Of course, there are lots of questions provided that could be used for discussion and/or assignments. But, there are also leading questions concerning book themes and plenty of assignments that ask high school students to research, debate, write essays and more.
I love the higher order thinking skills required in these assignments.
Why did I choose to supplement this curriculum if it's so good?  Some of the book choices weren't appropriate for my daughter.  At least that's how my husband and I feel about it at this point.  For instance, Who's Afraid of Virginia Woolf? covers some very mature marital topics and, quite frankly, doesn't portray the idea of a Christian marriage.  Good literature can include debatable topics without all the "baggage" of this world.
LLATL Gold
Learning Language Arts Through Literature has been a gold standard language arts curriculum for many years.
The American Lit (Gold) edition for high school covers short stories, novels, essays and poetry – and all of the selections (at least the ones I know about) seem acceptable. However, there were several on the list that I was having a hard time finding and didn't want to fork out the money to purchase them all.
I really like how this curriculum dissects the parts of each kind of writing style and encourages vocabulary building – to build better writers, as well as critical readers.
While their are many questions and mini-assignments that go along with each book, I don't feel like the assignments hit higher order thinking skills quite as hard as Home Base English.
Mom's Choices
There are at least a few books that weren't covered by either curriculum that we really wanted Mahayla to read. So, we simply added them in. Since the Home Base English and LLATL Gold do a good job with in-depth assignments, we won't expect much more than some lively discussion around the supper table for the Mom's Choice books.
Yes, yes.  I know Orwell was a British author.  The themes of his book are very timely in America today, though, which is why we are reading them this year.
Whittling the List
Man, it was HARD choosing which of the many possibilities to read! So hard, in fact, that I've woven at least a few of the classics into Mahayla's American History course. I'll share more about that another day.
Other Posts You Might Like