Planning a Small Unit Study
We're finally into some practical posts in my series about unit studies!  In my first post, I posted about how I design unit studies for our homeschool.  In the second post, I wrote about incorporating project-based learning into the units.  Now, I'd like to share with you a very short and simple study we completed on magnets.  I'm sharing this one so you can see how easy it really can be to pull together a thorough study.  Next time, I'll share the planning process of a much longer unit.
One week.  That's all the time it took for us to efficiently cover the physical science topic of magnets.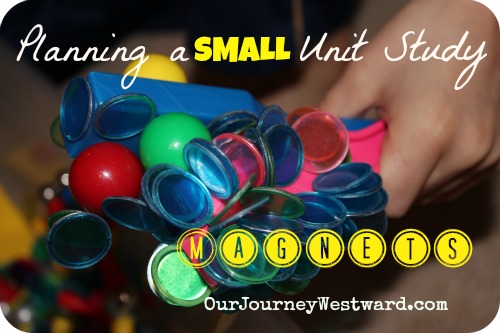 (This post contains affiliate links.)
Planning a Small Unit Study

I own three books with teaching and activity ideas for magnets: Magnets & Electricity
, Mostly Magnets
, and Janice VanCleave's Magnets
.  Browsing through each book, I jotted down the main topics that needed to be taught.
Magnets attract objects containing iron.
They have north and south poles that will attract and/or repel one another.
They have a magnetic field.
They have varying strengths.
They can pull through gas, liquids and solids depending on their strength.
The earth has a magnetic field.
Electricity can make nonmagnetic objects act as magnets in some cases.
Under each of the topics listed above, I noted activity ideas from the resource guides as I went through them.  There were way more ideas under each topic than I needed, so I simply placed a little star beside the best of the ideas.  As I was planning, I also kept a running list of supplies I would need.  It's so much easier for me to follow through with school plans when the supplies are ready and waiting!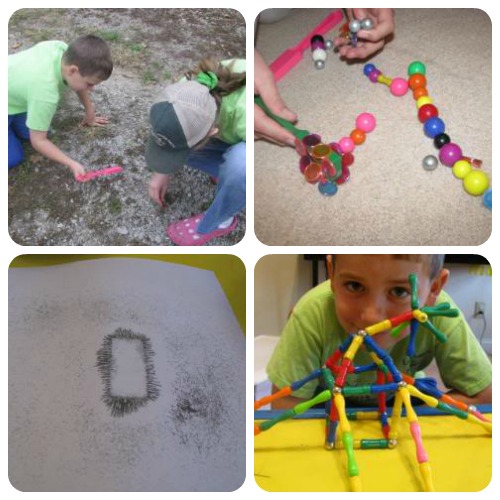 Before the Unit Started, I Did Just a Few Things
1.      I made sure all the supplies were gathered, including a good set of magnets
for many of the activities.
2.      I checked out two or three good informational books from the library. (See booklist below.)
3.      I noted which activities I wanted to try to accomplish each day during the week.
Implementing the Unit



Since this unit was so short and sweet, we simply read a book (or parts of a book) each day and did several experimental activities to learn about the main topics of magnets listed above.  Some days, I would expect my children to keep notes about the experiments in their science notebooks.  On the final day, I asked them to design some sort of magnetic demonstration using the information learned during the week.  They were responsible for presenting the demonstration to the entire family with detailed explanations about the magnetic principles.  And that's it!
Many of our longer unit studies tend to incorporate several academic areas like science, history, language arts, art, music, drama and even some math.  Like this small unit study, sometimes plain and simple is sufficient.  Even though it looks like science was the only topic, reading, writing, speaking and project-based learning were all quietly taking part.  Even my children are fooled sometimes!
Informational Books About Magnets
 What Makes a Magnet? (Let's-Read-and-Find-Out Science 2)
 Magnets: Pulling Together, Pushing Apart (Amazing Science)
 What Magnets Can Do (Rookie Read-About Science)
 Magnets (All Aboard Science Reader)
 Driving Force: The Natural Magic of Magnets
 Amazing Magnetism (Magic School Bus Chapter Book #12)
Fun Magnet Activities and Experiment Books
Janice VanCleave's Magnets: Mind-boggling Experiments You Can Turn Into Science Fair Projects by Janice VanCleave (1993-02-17)
Magnets & Electricity
Thomas Edison for Kids: His Life and Ideas, 21 Activities (For Kids series)
Learning Resources Super Magnet Lab Kit, 124 Pieces
Lauri – Fun with Magnets
Magnets and more 24 piece set by toysmith
Imagination Magnets
Magformers Standard Set (62-pieces)
Magnetic Stick N Stack Magnetic Tiles Starter set With 4 Windows, 60 Piece, Red, Orange, Blue, Green & Yellow
Our Journey Westward Unit Studies
Over the years, we've enjoyed many unit studies in our homeschool.  You can find an index of all those studies by clicking the image below.