Over 100 quarts of beans have been canned, and I've decided to stop! But the kitchen was still a busy place one morning last week as Mahayla and I prepared many of our homemade mixes for the year. I'll be telling you my MSG story one of these days, but basically I can't have it in any form or fashion. Finding spice mixes and such without MSG is nearly impossible. So, for several years now, we have been making our own mixes.
In less than two hours we made everything from taco seasoning to shake-n-bake mix to Emeril's BAM. Here are a few pictures from our morning.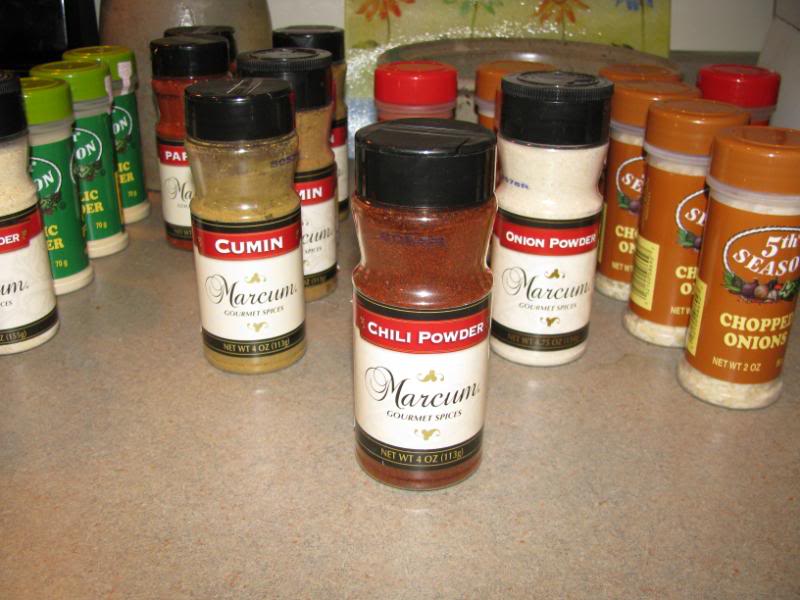 I find the cheapest possible spices. Usually, I can find most of what I need for 50 cents to a dollar at Save-A-Lot or Walmart.
I try to recycle old containers as much as possible. Empty spice containers, baking powder containers, oatmeal boxes, sherbet containers and even yogurt containers all work well. If I plan to use something a lot, like pancake mix for instance, I'll usually designate a hard plastic container (like Rubbermaid) for that mix. Sometimes, I'll simply use zip top bags.
I always write the name of the mix and directions for using it on the container. That saves a lot of time when using it, so you don't have to pull out any cookbooks or recipe cards. If you write neatly the first time, the containers can be used over and over again and you will save yourself a lot of work for future mix making days, too.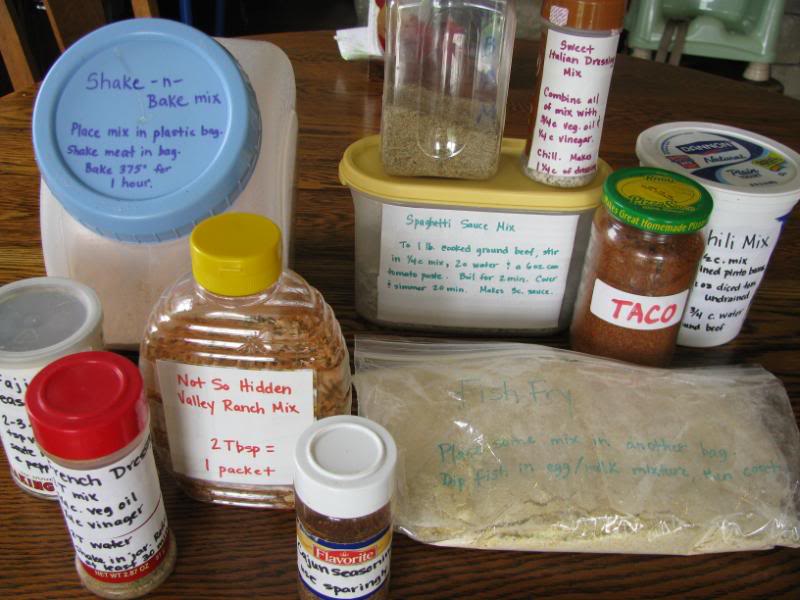 Although we make other mixes, these are what we accomplished in less than two hours. Really, it was probably closer to one hour's time. Most of these will last me between six months and a year. We made shake-n-bake, fajita seasoning, not-so-hidden valley ranch mix, cajun seasoning, french and sweet Italian dressing mixes, taco seasoning, a meat rub, chili mix, BAM, and fish fry batter mix. I can't begin to tell you how much better these taste than most of the pre-packaged mixes and foods you might buy!
What other mixes do we prepare? Pancake mix, biscuit mix, brownie mix, hot cocoa mix… My mind is drawing a blank on others, but we've found mix making to be economical and easy. A little preparation in buying the ingredients will keep your pantry well stocked with foods of which you know ALL the ingredients.
Instead of writing a post with my mix recipes, I think I'll just pass on a few websites to you.