My sweet daughter is a teenager. That's so hard to believe! She's one of the most loving, helpful, kind, and hardworking young ladies you'll ever meet. I love watching her grow each and every day in Christ's beauty and wisdom. Her daily life is a powerful witness for Him and I can't wait to see what He has in store for her future!
One of her greatest passions is horses. Her Papaw Bill has waited years to have a companion in the barn who loves horses as much as he does, and he's finally found that partner in Mahayla. They spend hours feeding, cleaning stalls, grooming horses and riding trails together. She gets up before the crack of dawn every morning to help take care of the horses before her Papaw heads off to work. They're an equine pair, that's for sure.
Papaw gave Mahayla a very special gift, indeed, for her 13th birthday – a new trail riding saddle. The first picture shows her expression when she saw the saddle (Papaw Bill is in the background of the picture.) And the second picture shows Eli taking over the saddle before Mahayla ever had a chance to look at it. 🙂 Now all we need is a little warm weather and I have a feeling the trails will be worn often.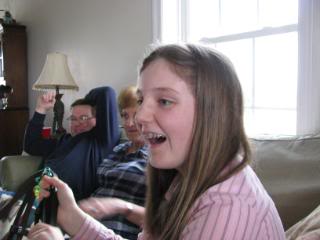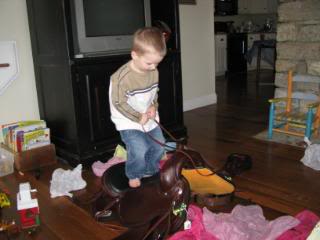 Happy birthday, Mahayla!