I'm planning to get my act together with preschool during summer break.  I've found it really hard to add Eli into the schedule and his time has suffered more than I had hoped.  We still manage to do fun things, just not quite as often as I'd like.  Here are a few things we've done to celebrate spring so far.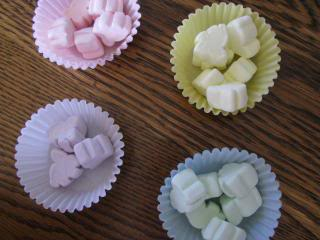 Sorting marshmallow bunnies into cupcake holders was very simple for him.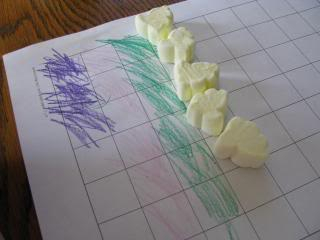 Graphing the marshmallow bunnies was a little harder, but placing the bunnies on color at a time on the graph and them eating one as a square was colored made it exciting and yummy.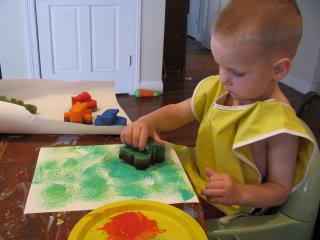 Sponge painting with spring sponges was messy, but worth it.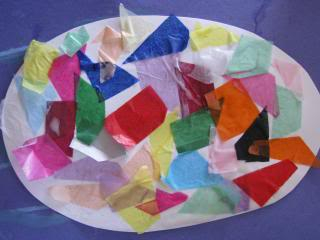 He used a paintbrush to paint glue all over the egg shape and simple placed tissue paper pieces all over the glue.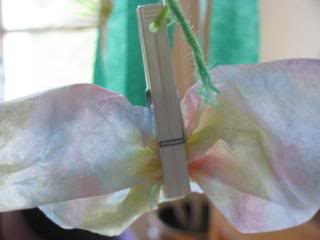 These coffee filter butterflies were very easy. I let him use and eye dropper to place water that I had colored with food coloring on the coffee filters. Once dry, we just crimped them with clothes pins and hung them.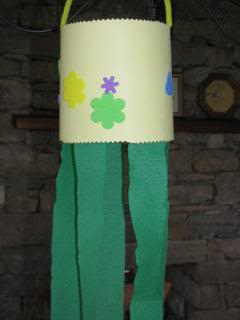 Eli loved making this wind chime and still blows it every time we sit at the kitchen table where we hung it from the light fixture. He placed foam stickers on a long piece of construction paper, then we turned it over and taped streamers to the back. I taped the paper strip into a circular shape and added a pipe cleaner hanger.