No Sweat Nature Study LIVE Membership
From: $25.00 / month
Nature study is important because it provides real-life foundations for all the sciences. Yes, all of them. It encourages higher order thinking skills through observation, investigation, research, comparison, classification, experimentation, and so much more. Mrs. Cindy is here to help you make nature study a reality in your homeschool…and you won't have to do anything more than turn on the computer twice a month!
If you need to purchase a gift membership, please click here to be redirected to the gift page.
Description

What's Included in a No Sweat Nature Study LIVE Membership?
Two Live Nature Study Classes Each Month
All No Sweat Nature Study LIVE classes are geared toward 1st-8th grades, but younger and older students are welcome to join and get a lot from the lessons.
Each class lasts 30-60 minutes and includes opportunities for your students to learn about the science topic at hand, complete a nature notebooking page, gain rich scientific vocabulary, interact with the teacher via a chat function, and generally have fun!
All classes are recorded and placed in a library for you, so there are no worries about scheduling conflicts.
Printable Class Packets + Podcast
Note: You do not have to print anything in order to enjoy the live classes.
The packet available for each class includes a brief overview of the topic for pre or post-learning, a list of important vocabulary, an image of at least one item that we use during the notebooking portion of the lesson, and a few extra learning ideas you might like to use.
The packet can help you in several ways – to prepare for the lesson ahead, to use during the notebooking portion of the lesson, to use as a review, and/or to continue the learning.
A podcast episode is available to use to support each lesson, too!
Access to the Complete Video Library
All live classes are recorded and placed into a video library for you to access at any time during your membership.
Frequent bonus videos are placed in the library as well!
FREE Curriculum Download Each Month
Each month a new curriculum from the Our Journey Westward Shop will be made available for members to download for free.
Between the No Sweat Nature Study LIVE classes, the podcast, and the free curriculum download each month, you'll have science covered!
25% Off the Our Journey Westward Shop
Members automatically receive 25% off all purchases from the Our Journey Westward shop for the duration of the membership.
Regular Newsletter
A regular email serves to remind you about upcoming classes and offers special teaching tidbits here and there.
Science Lessons · Nature Notebooking · Interactive Fun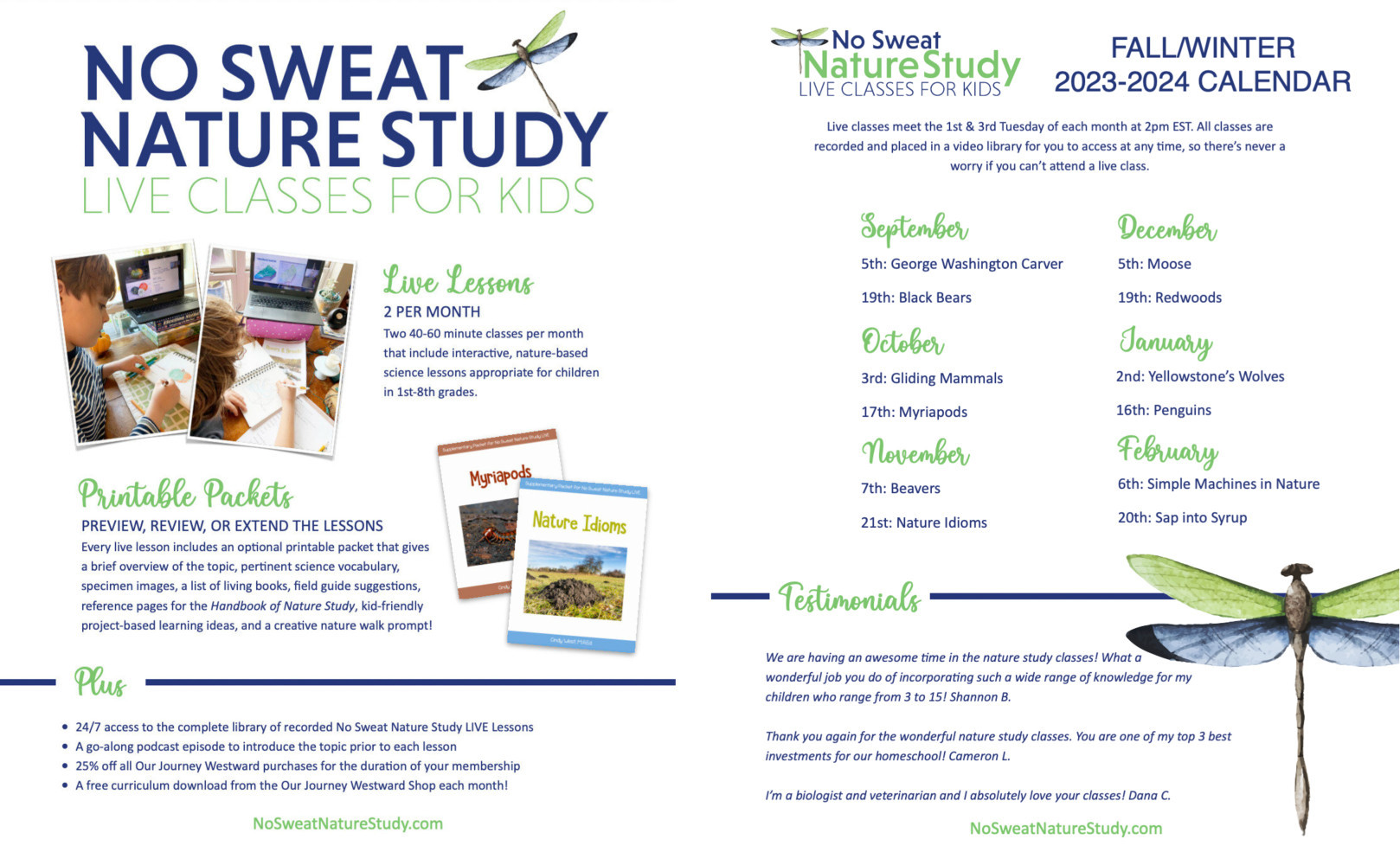 Click here to download the 2023-24 fall & winter schedule.
Click here to download a list of all the videos waiting for you in the member library.
Click here to view a sample class.
Who Should Join the No Sweat Nature Study LIVE Membership?
Everyone!
Ok. Maybe not everyone, but it's appropriate for any student in 1st-8th grade. Homeschool families, co-op classes, after-school programs, and even regular classrooms will love it. The membership works well for:
Families or groups with multiple ages
Children of all learning abilities
Children of all learning styles
Children who like to get outside and those who don't
Anyone living anywhere in the world during any season of the year
Testimonials
"We love your classes! They are absolutely one of our favorite homeschooling activities!" Cameron
"We have enjoyed Cindy's classes for a while now and always learn something new. My two boys are loving the nature studies! They are excited to get outside to discover things after every class, too!" Jen
"Thank you so much for your nature studies! Thank you for teaching my kids- they LOVE it. And THANK YOU for teaching me how to TEACH!!! I can't thank you enough." Kristin
Pricing
1 month = $25 (That's only $12.50 per lesson!)
3 months = $65 (That's a free lesson every quarter!)
12 months = $225 (That's 3 months free!)
Meet Your Teacher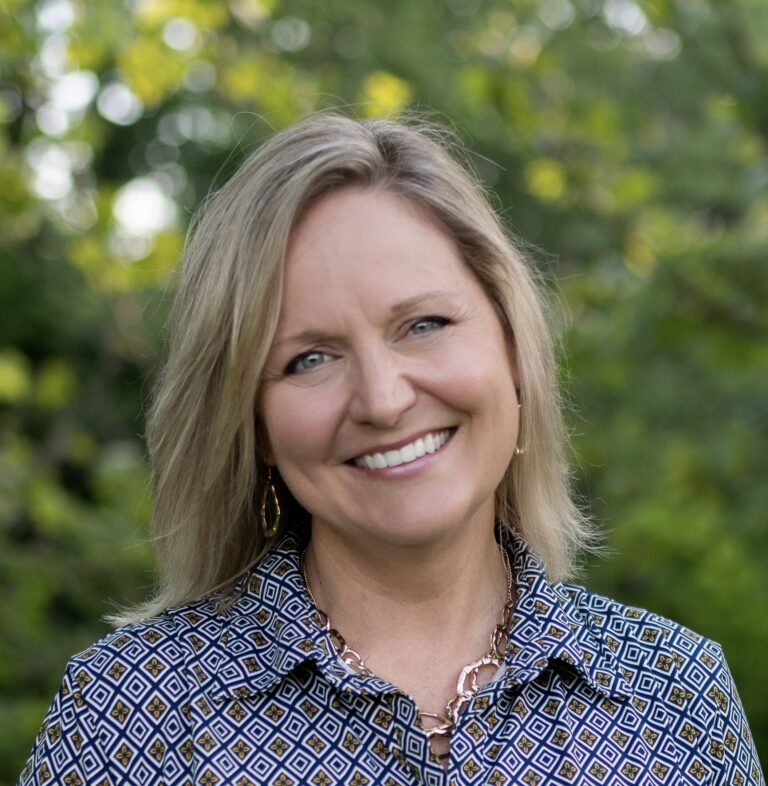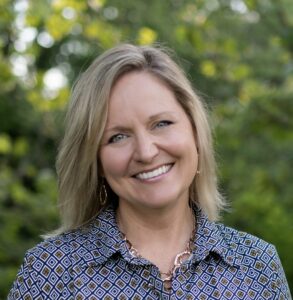 Cindy West is a 20-year veteran of homeschooling with a master's degree in education. A popular homeschool speaker and author of more than 30 nature study curriculum guides, she's a very engaging teacher who loves to make learning fun, yet meaningful.
Do Y
ou Have Other Questions?
Scroll back up just a tad and click on the Frequently Asked Questions box. You should find answers to just about all your questions there. If not, let me know and I'll be happy to answer!
Additional information
| | |
| --- | --- |
| Length | Monthly, Quarterly, Yearly |
Frequently Asked Questions
How long do the classes last? Each class lasts 40-60 minutes.
When do the classes meet? Lessons take place on Tuesdays at 2pm EST during the 1st and 3rd weeks of each month.
Where do the classes meet? Classes are taught on the Zoom platform. You will preregister for each class (it's easy) and receive a private access link via email.
What happens if I can't attend a live class? For the duration of your membership, you can watch any and all recorded classes from the video library. It's definitely not necessary to attend live.
Can I download the recorded videos to my device? The videos cannot be downloaded to your device. They must be streamed.
Do I get access to any videos or other membership materials once my membership ends? No, your access to the live classes, video library, supplementary packets, and free monthly curriculum downloads ends when the membership ends. However, any free curriculum downloads you have saved to your computer over the course of your membership are yours to keep.
Do you have a sample lesson we can view? Yes! Click here to enjoy a full sample lesson.
What class topics are already in the video library? Click hereto see the list of previously taught classes. This list is updated every quarter or so.
Will you teach classes during the summer? Yes. Many schools and homeschools follow a year-round schedule, so lessons continue through the summer. If you take a break from school during the summer, you can use the classes as fun boredom busters or simply catch up on the missed classes using the video library once your school is back in session.
Do I have to print the class packet? No. It's simply available to you as an additional resource. Nothing within the live lesson requires the packet.
What's included in the class packet? Introductory material to get children excited about the topic, specimen images, booklists, lists of previously recorded videos and curriculum that complement the topic, kid-friendly research-based activity ideas, and a printable nature walk challenge. These resources are particularly valuable when using No Sweat Nature Study as your main science curriculum or for families who enjoy unit studies or rabbit trail learning.
What supplies will we need? Most of the time, each student will need a nature journal (or plain, white paper) and colored pencils. Occasionally, other supplies like watercolors, a tape measure, or a magnifying glass are suggested – none of which will be mandatory. Supplies are listed in the registration and email reminders.
Where should we sit to view the class? You student(s) will need a sturdy surface in order to complete the nature journaling activities. Gathering around a table of some sort is probably best.
What if we don't live in the same area as you? Will the lessons be pertinent to us? Yes, the lessons will be pertinent to everyone no matter where you are in the world or your current season. None of the lessons require you to have certain specimens in order to complete the activities.
How will No Sweat Nature Study lessons fit into my current science schedule? You have a few options:
Use the lessons as a supplement to your regular science curriculum.
Use the lessons in place of your regular science lessons for the day (or week if you plan to complete the follow-up activities).
Forego the live lessons and choose topics from the video library that fit with whatever science or seasonal path you have planned.
Use No Sweat Nature Study as your entire curriculum for a season. This is done successfully by utilizing the extra resources located in the supplementary packet alongside the video classes.
Is there a scope and sequence to the lessons? No. The lessons cover a variety of topics within all the sciences, particularly botany, animal science, earth science, and space science. They frequently have connections to geography, history, language arts, and math topics, too.
Do students need prior knowledge about a topic to get the most from a class. No. Cindy teaches everything necessary to understand the topic of the day.
Which membership level should I purchase? It's always suggested that you begin your membership at the monthly level so you can be sure it will work for your family before making quarterly or yearly commitments. We are not able to process partial period refunds. You will have member access until your period expires.
What is your refund policy? We are not able to process full or partial refunds at any membership level. It's always suggested that you begin your membership at the monthly level so you can be sure it will work for your family before making quarterly or yearly commitments. You can upgrade or cancel at any time. Upon cancellation, you will have member access until your period expires.
May I share my membership with another family? No. I'm sorry. Each family needs to purchase their own membership.
Is there special licensing for co-ops and classrooms? Yes. Please contact cindy@ourjourneywestward.com to learn more about a group rate. This licensing is only available to teachers who meet in-person with their students and use the membership while they are meeting together in-person with their students. No virtual co-ops or classrooms are allowed under any circumstances. You may not share the membership, video streaming, or supplementary packets with your co-op families or other teachers. Physical copies of the supplementary packets can be reproduced for each child in the class, but no digital files are to be shared with the students or their families. To reiterate, this special group license is available for one teacher to use in her own in-person classroom.
Do you offer special pricing for groups of families who wish to purchase individual family memberships at the same time?I'm sorry, but we do not offer group rates.
How do I renew or cancel my membership? Your membership will automatically renew. You should receive an email notification a few days before renewal. You may cancel the membership at any time from your account dashboard. Upon cancellation, you will have member access until your period expires. We are not able to process full or partial refunds at any membership level.
Can I pause my membership? No. If you aren't interested in year-round access, consider monthly or quarterly options that make it easy to cancel and renew at your convenience.
How can a grandparent or charter school pay for my membership? It's easiest for them to purchase a gift card for you to apply to your own membership. Gift cards can be added to your account and applied toward future payments. You can find more information and purchase the gift card here.
What if I need a receipt for reimbursement from a charter school? You should receive a receipt via email that works for most charter schools. If not, please send an email to cindy@ourjourneywestward.com for a more detailed receipt.
What if my charter school wants to use a purchase order toward my membership? It's highly preferred for a charter school to purchase a gift card for you, but purchase orders are accepted. Please ask the charter school to contact cindy@ourjourneywestward.com.
Only logged in customers who have purchased this product may leave a review.