I can teach music theory.  I can teach voice.  I can teach at least a little piano.  I cannot teach guitar.  And, when you can't find a steady guitar teacher, that makes life hard on a kid who really wants to learn the instrument.
My Caleb has been learning to play the guitar for a few years now, but we haven't always had a teacher.  The teachers he has had have rocked (literally) and have each taken him to a new level.  But, the dry spells between teachers are frustrating for him.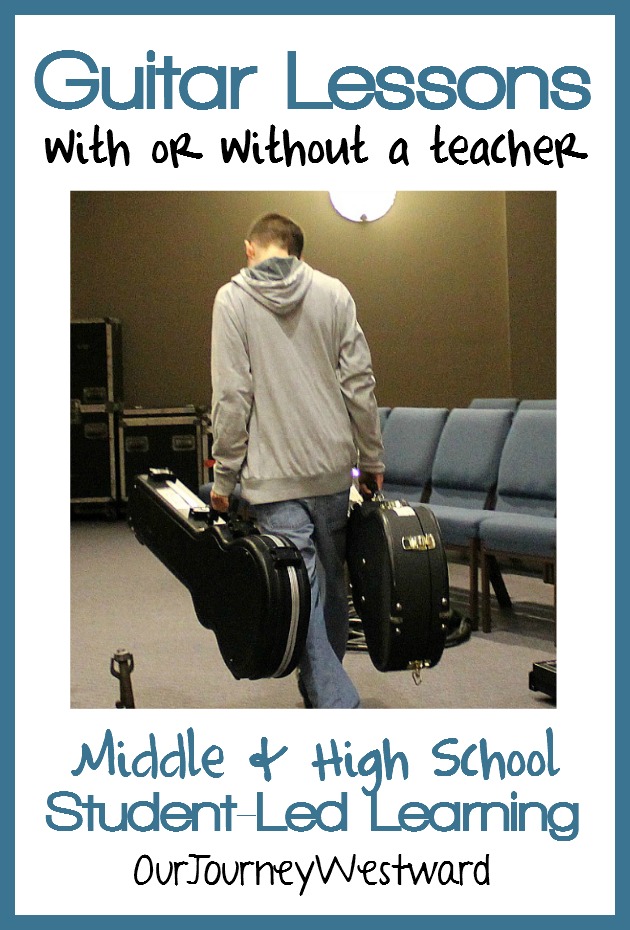 (This post contains affiliate links.)
When a kid is really interested in something, though, he learns pretty quickly how to make things happen.  In this case, he decided to take lessons into his own hands – which makes this momma super-proud of his perseverance!
With the help of technology and a few dollars spent here and there, Caleb has learned to take himself to new levels.  I thought I'd share with you today exactly what he's been doing.  And, how I've been quietly watching and noting the progress toward a student-led high school course for the transcript.
Basic Music Theory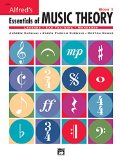 In between teachers the first time, Caleb wanted to understand a bit about reading music.  I was very happy to supply him with the Essentials of Music Theory, Book 1.
While I had to help here and there, he completed the book on his own for the most part.  It was nice having a piano in the house to help him understand the theory, but it wouldn't have been necessary.
Basic Guitar Theory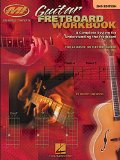 Also during that first break between teachers, he continued practicing guitar using the Mel Bay Guitar Chords book that his teacher had assigned.  This led to his decision that a workbook in guitar theory would probably be useful now that basic music theory was under his belt.  We went with the Guitar Fretboard Workbook.
I was no help to him in this book.  Well, a little maybe, but he was pretty much on his own.  If he came to something he didn't understand, good ol' Google or a friendly guitarist at church came to the rescue.
YouTube Tutorials
By the time the second break between teachers rolled around, Caleb knew more about the guitar and craved to actually play real music.  Of course, he knows what all good homeschoolers know – – – you can pretty much learn anything on YouTube.  And, he went all over that site soaking in every bit of guitar goodness he could find.  He started with actual lessons and then moved on to listening to worship songs and rock songs trying to pick out leads and chords.  These practice sessions even helped strengthen his ability to play a bit by ear.
The Complete Guitar Manual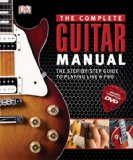 During his third hiatus, Caleb knew he needed more depth to his self-taught lessons.  He found The Complete Guitar Manual and has been working his way through it steadily.  The book is really pretty cool.  It's in full-color and highly step-by-step illustrated (which works well since Caleb is a very visual learner.)  It's almost like a guitar textbook with lessons on everything from finger positions to music theory.  There's even a DVD to show him how to play.
I'm happy to report that Caleb just started guitar lessons with a real live teacher again!  However, I'm noticing that he hasn't given up on his own plan at all.  In fact, I've even heard him talk to the teacher a few times about how the lessons can help him reach his own goals.  I love his passion!
Oh, and I almost forgot to mention that he wanted to round out his guitar instruction with learning about audio/visual equipment having to do with musicians.  He began helping in the sound room during youth band at church and quickly moved into helping in the sound room during church services.  This experience has taught him a ton!
High School Credit
We are definitely turning all this passion into high school credit.  In Kentucky, 120 hours of learning time equals one credit.  I've simply been logging the time spent on guitar and noting the materials used.  That's it.  Not every course has need for a formal textbook or intricate plan.  It's student-led learning at its easiest.
This post has been linked to:

Cindy