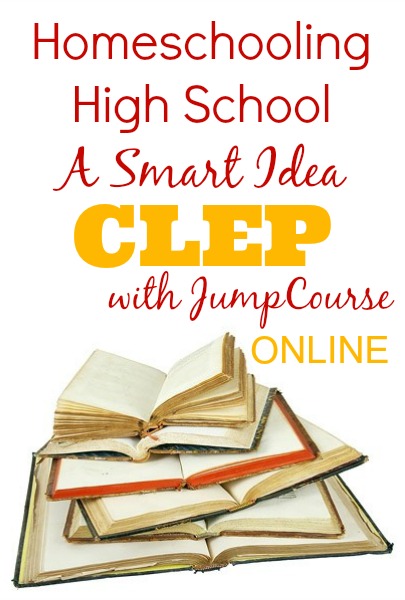 (I received the following e-course for free and was reimbursed for my time spent reviewing it.  As always, all opinions I've provided are strictly my own and I never recommend a product I don't like.  This post also contains affiliate links.)

What is CLEP?
CLEP stands for the College Level Examination Program.  Many colleges will allow high school students to take CLEP exams to prove their knowledge in various subjects.  If a student meets or exceeds the minimum score (which is different depending on the college), she can be granted college credit.  Probably most intriguing about "clepping out" of college courses is the money you save.  A CLEP test only costs $80 – as compared to MUCH higher fees to actually take a college course.
Online CLEP Prep
To be well-prepared for a CLEP test, it's wise to take a preparation course.  There are books available for study, but even better, you can take vibrant, self-paced courses online through JumpCourse.com that can easily count towards high school credits – for only $99 per course!
Did you catch that?  You can earn high school AND college credits – INEXPENSIVELY!!
JumpCourse.com thoroughly prepares your students for CLEP tests!  At the same time, the courses make great options for online homeschool high school classes, too!
Why JumpCourse.com?
There are several reasons I really like JumpCourse.com…
The site is very easy to use.
The course materials are professional quality.
There are video and text components.
The courses are self-paced.
All lesson materials are easily accessible.
Directions are very clear.
You can easily see your progress.
You cannot go on until you've reached a certain level of mastery.
My daughter (a junior) has just begun the 16-unit Financial Accounting course, but already loves the format and feels like the course is very worthwhile.  Knowing she likes the course as much as me means a lot to this momma!
Take a Peek!
The Multi Learning Style Lessons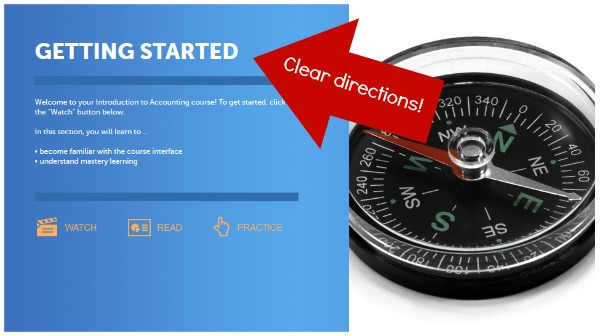 An introductory lesson walks you through every detail of what to expect to get you started on the right foot.  You'll know exactly what to do and can get started right away.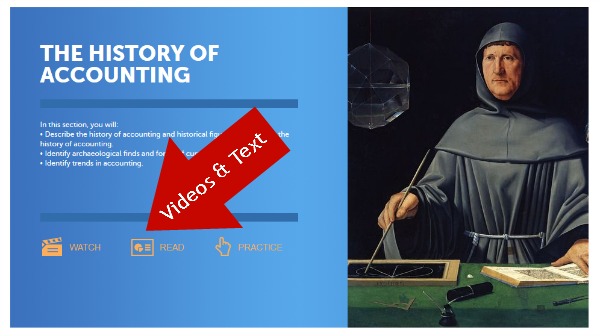 The lessons have video and text components.  This is SO cool!  You can watch the lesson on a video OR read it in text.  Whichever learning style works best is what you use!  There are several lessons per unit and each lesson has its own video/text.  So, in only a few minutes, you can watch/read a small chunk of the material.  Since you decide when to stop for the day, these short chunks are perfect.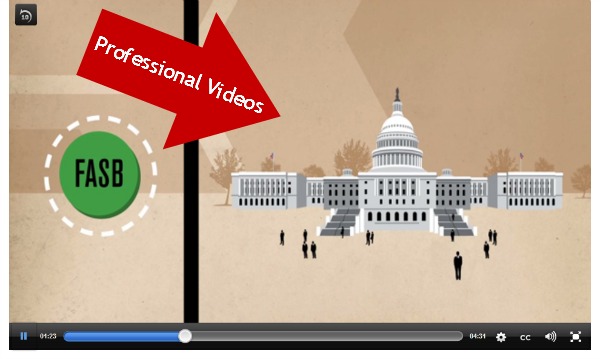 The videos are very professionally done!  A teacher gives a lecture, but this isn't your normal, boring lecture.  There are wonderful graphics, like the one above, that make the lecture interesting and engaging.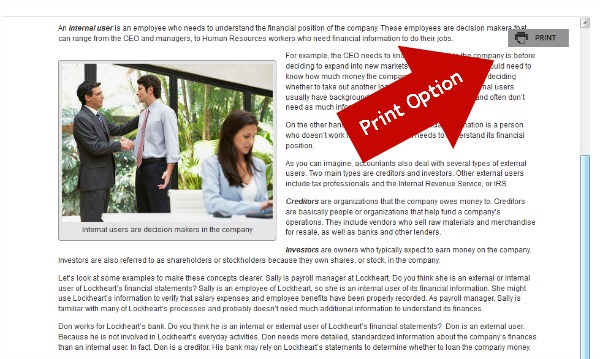 If you choose to read the text, it's word for word what you would hear on the video, so there are no worries that you'll miss any material.  Graphics are included in the text lesson, as well, but they are not as fancy as those included on the video.  There's a print option for the text lessons in case you'd like to have a paper copy.
The Adaptive Quizzes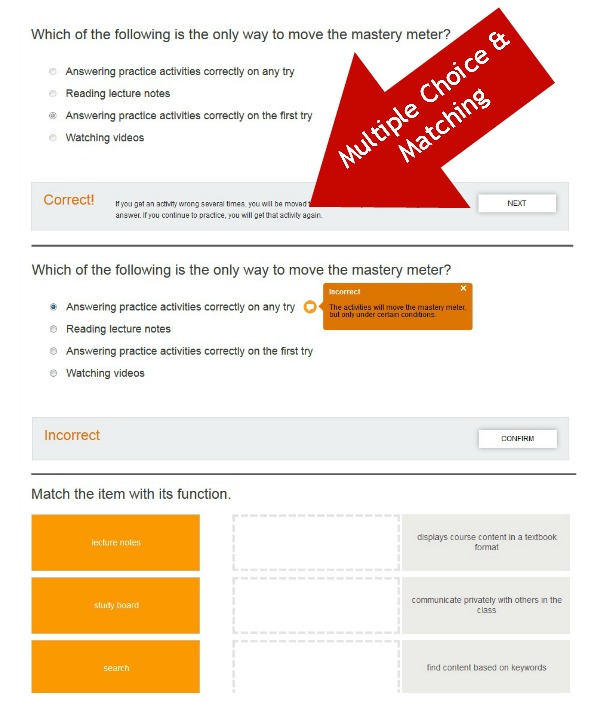 After finishing the lessons in a unit, you must pass a quiz (called practice) in order to unlock subsequent unit materials.  These quizzes are adaptive.  That means the material changes based on how quickly the student grasps the material.  If you get an answer wrong, that question will show up again later in the quiz (after the correct answer was shown to you the first time around.)  I love that the material is adjusted to ensure understanding!
Your "mastery meter" only moves when a correct answer is given on the first try, but you can retake quizzes to improve your mastery level if needed or desired.  Throughout the quizzes, previous material is also reviewed, meaning you don't just learn for the quiz and dump the information.
Expect multiple choice, matching and fill in the blank questions on the quizzes.  It makes me happy that various types of quiz questions are utilized!
The Self-Explanatory Dashboard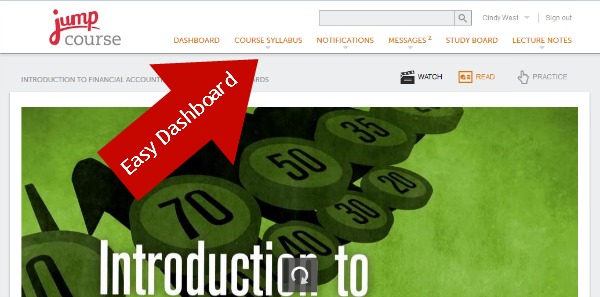 Let me tell you, I've had experience with several online homeschooling courses and they are not all equal!  So many of them are difficult to navigate or seem to send you on a scavenger hunt to find what you need.  Not so with JumpCourse.com!  This is one of the easiest, most self-explanatory formats I've ever used.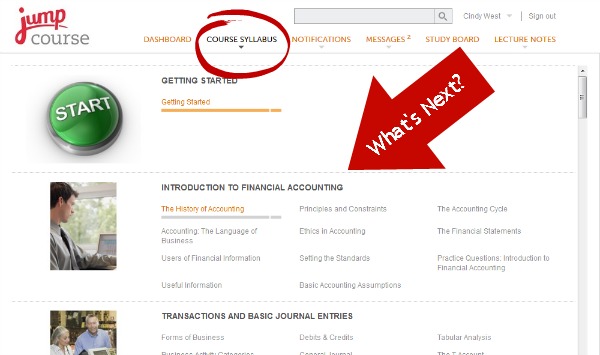 At any time in the dashboard, you can pull up the entire course syllabus.  It shows you not only every single chapter in each unit, but what you've completed and your mastery level.  You can see from my daughter's syllabus that she had 100% mastery of the introduction and is now working on the first chapter of the first unit.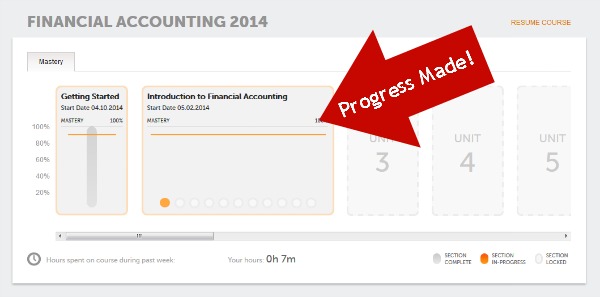 For a more detailed look your mastery level and what you still need to accomplish before moving on to the next unit, a different type of graph is easily accessible.  If you're ever displeased with a mastery percentage, you are free to retake practice quizzes to bump up those scores.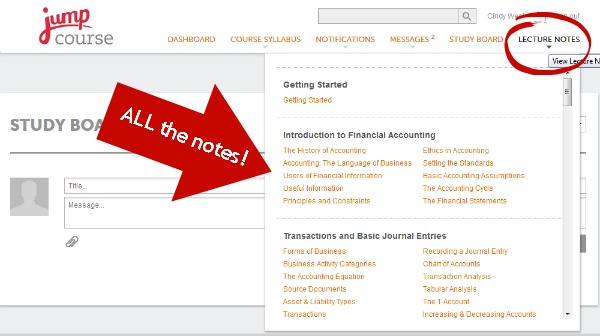 Each and every lecture note and video is easily accessible whenever you need it.  Rather than search through pages and pages of notes, just point and click to find exactly what you need for review.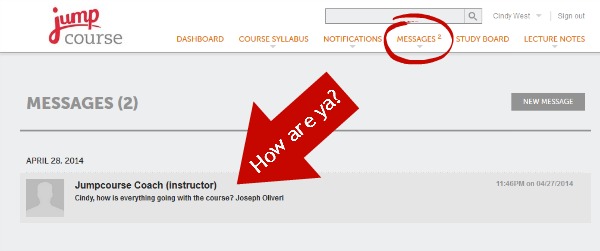 Your coach loves you!  He or she can easily contact you via a private message system.  You're free to ask the coach questions at any time, too!  There is also a social component where you can join "study groups" with other students.  We chose not to take advantage of this, so I can't really speak about its use.  Just know that option is available to you.
Online CLEP Prep Courses
While we only have experience with the Financial Accounting course, there are others available – Psychology 101, Sociology 101 and Organizational Behavior with more courses in the works.  It's important to note that JumpCourses are not Christian in nature.  We have not run into any concerns with the material presented in Financial Accounting, but the nature of the other classes may raise a few red flags.  Just be aware.
Ready or Not?
Whether you have Christian concerns or aren't completely sold just yet, you'll be glad to know JumpCourse.com offers a FREE TRAIL!  Or learn more about how the courses jive with homeschooling on their special homeschool page.
Need more convincing?  Complete your JumpCourse and take your CLEP exam within six months of starting the course, and they guarantee you will earn credit. If not, they allow you to retake the course for free!
Ready?  Get 50% off any one course through June 30, 2013 using the code HOME50! 
OR, get 20% off an unlimited number of courses through August 30, 2014 using the code HOME20!
Win a Kindle!
JumpCourse.com is hosting a Kindle Fire giveway,too!  The deadline to enter is June 4, 2014.
Hook Up with JumpCourse.com
Keep up to date with everything JumpCourse.com has to offer by following them on your favorite social media platform.
Homeschool High School
If you've used a JumpCourse before, I'd LOVE to hear about your experiences!  What do you like about using CLEP exams in your homeschool?
We are loving homeschooling during the high school years!  Be sure to check out my other high school posts and my high school Pinterest board for plenty of ideas and encouragement.
This post has been linked to: