A local museum offers classes a few times a year that are always lots of fun!  The theme this time was butterfly batiks.  It was such a great springtime art project, I thought I'd share it with you.  I'll take you through the steps below, but you'll be looking at three different butterflies since I was snapping shots of all three of my children during the class.
1.  Cut out a symmetrical butterfly figure by folding a large piece of paper in half, cutting on the fold and opening again.  After observing photos of real butterflies, use oil pastels to color the butterfly heavily.  Leave some white space for the wax resist in the next step.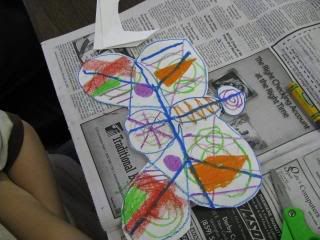 2.  Place the colored butterfly in a tub of water and crinkle it up.  Shake off the excess water and place the wet butterfly flat on a paper towel.  Paint watered down black tempera paint over the entire surface of the butterfly.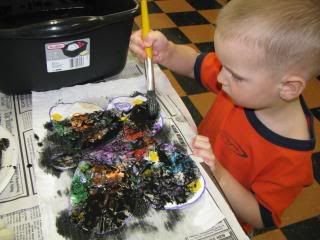 3.  Use a dry paper towel to blot over the painted butterfly to remove excess paint and water.  The result is a wax resist where the black paint clings to the paper, but not the oil pastels.
4.  Finally, paste the butterfly on a large piece of paper where your child has drawn a habitat.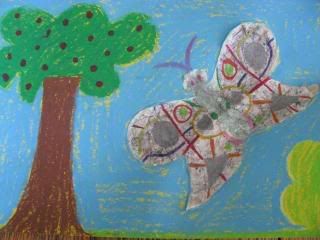 Fun!  And a great extension to a nature study outing!