My children and I have just ended a wonderful month of nature study focused on wildflowers. Wonderful, beautiful, magnificent wildflowers. I could go on and on about my feelings toward wildflowers, but I'll spare you the gushy words!
I've already posted about our scavenger hunt and dissections. I hope you'll take a peek if you're planning to study wildflowers anytime soon.
To end the study, we went on a short walk to the back of our farm. The goal was to see how many wildflowers we could find and how many of those we could identify. In about 500 feet, we tallied 30 types of wildflowers! Considering it's late August and many of the flowers are gone already, I was amazed!
After much practice, we're getting pretty good at knowing the flowers around our farm. I'd estimate that we were able to name half of them without using our field guide. Of the other half, we only lack the names of three or four of them. Not bad!
I couldn't help including this picture! As we were in some weeds trying to get a good picture of the Spotted Touch-me-not, Mahayla screamed. She was standing right beside an orb web almost as tall as her. Right in the middle was a really big Black and Yellow Argiope. It was absolutely beautiful!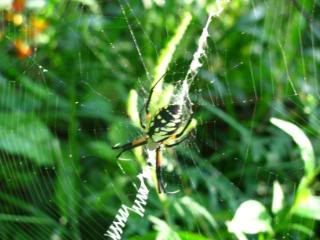 You can find these ideas for studying wildflowers and MANY more in the Wonderful Wildflower NaturExplorer unit!